Summary

The primary aim of digitalisation in healthcare is to facilitate the circulation of data between patients and healthcare service providers.
Digitalisation accelerates workflows, improves security for hospitals and medical staff, and offers more clarity for patients.
Some key trends in healthcare digital transformation include the internet of medical things, augmented reality, virtual reality, artificial intelligence, and telemedicine.
Digitalisation in the healthcare space assists medical service providers to generate a robust and critical foundation by focusing on the requirement of patients. The future of digitalisation in healthcare looks promising as patients get more comfortable using digital services for complex issues related to healthcare and medicine.
The process has transformed the way healthcare service providers and patients function and interact. This is making medical care services accessible to every person by certifying the wide availability.
Copyright © 2020 Kalkine Media
In the healthcare sector, digitalisation is not only about helping patients with their diseases or physicians with their tasks, but it also accelerates workflows, improves security for hospitals and medical staff, and offers further clarity for patients.
RELATED: Virtual care is booming amid pandemic: A glance at the pros and cons of telehealth
Besides, COVID-19 has driven significant changes in the healthcare system with more interactions moving to virtual health care, such as eHealth, mHealth etc.
As the ongoing pandemic has moved the healthcare delivery to digital channels, it has become essential for healthcare providers to remain on top to monitor their complex IT infrastructures, guaranteeing they are operating at an optimal level. Moreover, this smart method allows the medical teams to provide the highest-quality frontline care without any technical obstacles.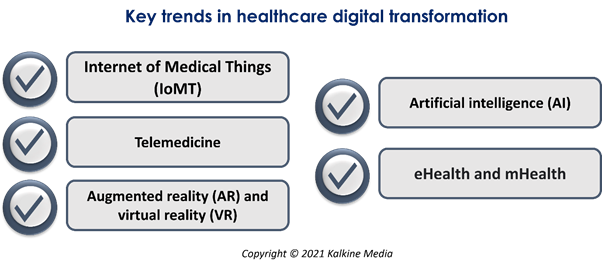 Benefits and challenges of healthcare digitalisation
With the ongoing developments in software security, the healthcare sector can also take advantage of digitalisation. The advent of digital healthcare solutions has empowered hospitals, clinics, and other healthcare facilities to significantly boost the delivery of services and medical products to the patients.
From supporting medical professionals in identifying serious disease indications at their earliest stage to reducing medical errors, digital healthcare software solutions have made it all possible.
ALSO WATCH: What is Telehealth & How Does Telehealth Work?
Despite all the benefits, digitalisation has its fair share of challenges that health professionals face. For example, at times, health professionals feel threatened by new technologies. However, digital transformation should be viewed as a tool to complement the professional's service rather than a replacement.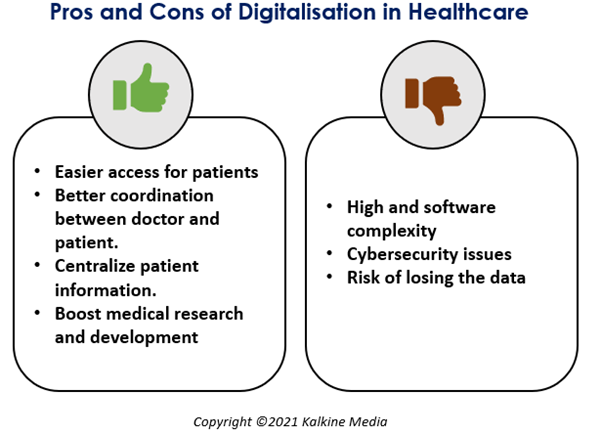 Let us quickly glance through the benefits and challenges of digitalisation in healthcare-
Key benefits
Better coordination between doctor and patient: Digitalisation makes it easier for patients to maintain a history of their medical records. Maintaining a physical file on every appointment is not required anymore with the adoption of digitalisation.
Furthermore, medical history for patients is critical in emergencies when a physical copy may not be available. In this case, digitalisation can help by providing information about the patient's medical history to physicians in every situation.
Centralise patient information: Digitalisation deployment also helps centralise patient information. The information contained in patient records, medical bulletins, patient medical histories, and doctors' instructions is critical to a patient's medical treatment. A digital healthcare solution streamlines the process of monitoring and categorising patient information while substantially minimising errors.
Boost medical research and development: The advances made in research and development in the medical field are fueled by data collected from the world. With digital healthcare systems and other technologies, patient's information can be easily collected, verified, as well as used for the research and development of new drugs and treatments.
Prevention before medication: Digital health technologies can also support patients self-manage their health conditions by regularly monitoring and tracking disease symptoms. Besides, monitoring is a tool for early detection of the significant changes of disease progression in a patient.
Barriers to digitalisation
Data Processing: One of the major challenges of digitalisation in healthcare is to process and analyse the data. Moreover, with the increase of telemedicine use, patients are visiting doctors via multiple channels, making it harder for health professionals to update the records of patients.
Cybersecurity: Cybersecurity is a challenge for many industries, and the healthcare sector seems no different. Healthcare organisations must remain vigilant against cyber threats, which can be extremely costly.
High cost and complexity: Every technological advancement leads to research and development, and it is no secret that innovative technologies are expensive.
ALSO READ: ASX-listed telehealth stocks to look for in August 2021