It is said that "Data is the new oil. Like oil, data is valuable, but if unrefined it cannot really be used." It was famously first coined by Clive Humby, UK Mathematician, and architect of Tesco's Clubcard.
Data seems to be most sought and fought after since the second half of the second decade of the twenty first century. Many industry experts believe that the world has entered Industry4.0 – where new economy has grown in importance and traditional has declined.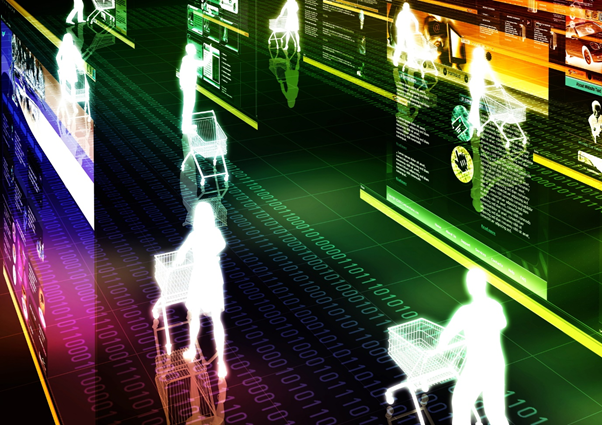 Internet Shopping, Image Source: © Nmedia | Megapixl.com
Yes, that is true as well. Look at ecommerce and digital payments. They have picked up really fast over the years – most of the times on expense of physical retail. Pandemic has just given a fillip to this trend – if anything.
And in digital economy, data is more important as ever. It's the key to the smooth functioning of everything from the government to local companies.
Jio , Reliance Jio Infocomm Limited, Image Source: © Mohammedsoliman4 | Megapixl.com
Nothing can symbolise it more than the strategy of Asia's richest man Mukesh Ambani. Traditionally into primary business oil refining, Mr Ambani controlled Reliance Industries Limited, has been fast moving with scaling its digital business – which it has spun off from the main company as Jio Platforms.
So, what is data?
Facts and statistics collected for reference or analysis, data is defined as units of information, often numeric, that are collected through observation. In a more technical terminology, data are a set of numbers of qualitative or quantitative variables about one or group of persons or objects, while a datum is a single value of a single variable. To put it for the layman, data is a collection of facts, such as numbers, words, measurements, observations or just descriptions of things.
Data can be anything and become valuable if aggregated properly. The weight of people in a particular locality can be a set of data. The prices at which you bought your grocery throughout the month of June 2021 can be data. Data can be anything – from information about things of common use to more complex things such as weather movements and stock volatility.
How is data collected and where is it stored?
Data collection is an elaborate process. It is referred to as process of gathering and measuring information on targeted values in an established system. This then enables one to answer relevant questions and evaluate outcomes based on facts. Data collection is seen as a research component in all the study fields, and is part of curriculum in every course – from humanities to business. There are four ways you can collect data from –
in-person interviews,
mail,
phone and
When you need in-depth and a high degree of confidence on the data, you go for in-person interviews or phone surveys (in case you want it to be less time consuming). When you to reach anyone and everyone for data collection, you go for mail surveys. If you are looking at cheap, self-administered, very low probability of data errors, you go for online surveys. However, of late, with pick-up of digital economy, your browser history and search data on various big tech companies has also been allegedly collected – which has become a bone of contention and raised privacy concerns. After filtering and analysing, all this data is stored in data servers placed in data warehouses and data centres.
Why is data so important?
We should remember that good data beats any opinion – from marketers to sectoral experts. So, rather than relying on opinions, we should rather focus on the data. However, till now, most companies see their data infrastructure still as a cost center. This should ideally become a profit center when firms start using the data to improve everything, day by day.
Firms should begin treating data as an asset, which would enable sharing of data about products and customers –providing opportunities to up sell, cross sell, improve customer service and retention rates. The combination of internal data with external data can create a huge opportunity for the businesses around the world to create new products and services across lines of business. Imagine this: let's take example of simple data like weight of people in a particular city. If it is observed that most people in the city are overweight, the companies can use it to sell health products in that region.