Summary

Electoral College Vote 2020 has affirmed President-elect Biden as the next US President.
Biden surpassed the 270-vote mark with 306 votes, while Mr Trump secured 232 votes.
On Monday, 14 December 2020, the US president-elect Biden got a substantial majority of votes in the Electoral College. This confirms his victory in the last month's presidential elections and affirms that he would be the next president of the US.
In the voting, Biden exceeded the 270-vote mark with 306 votes, whereas Trump got 232 votes in total. The votes of the electors will be sent to Washington, DC, and tallied in a joint session of Congress on 6 January 2021.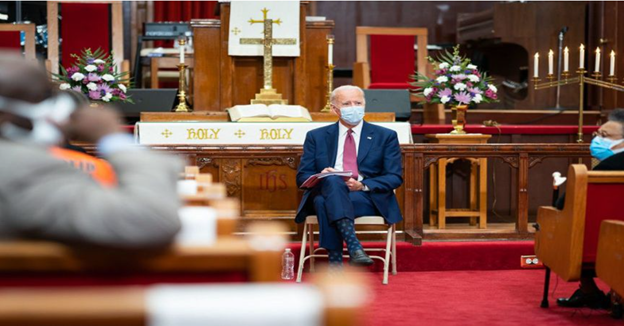 Image Source: joebiden.com
Though this is a procedural step, this year, it has much more significance due to President Trump's refusal to accept the election outcome.
The elections are over, but Trump's efforts to undermine the election results are raising serious concerns about the safety of the electors. It is a unique situation. The lawmakers of both parties have been reportedly receiving threats while legislative offices have been closed over threats of violence.
Also read: Biden Gets Ready for White House Despite Trump's Refusal to Concede
The Electoral College Vote Procedure
Amid all the threats and high-level security in some states, 538 electors met on the day, selected by the federal law, to cast paper ballots in gatherings, which took place in fifty (50) US states and the District of Columbia. All pandemic-related measures were in place, and everyone was following social distancing and wearing face masks.
In the six battleground states -- Nevada, Pennsylvania, Georgia, Michigan, Arizona and Wisconsin – where Biden beat Trump, electors voted for Biden and Vice President-elect Kamala Harris in low-key proceedings.
President Trump Not Ready to Take the Vote Outcomes
Image Source: Shutterstock
As per the White House and campaign aides, Mr Trump remained in the Oval Office long after the sunset in Washington, DC, and was keeping a track of the running Electoral College tally. The vote follows Mr Trump's unprecedented efforts for around six months, aimed towards overturning the November 2020 election outcome.
Even after the latest results, few Republicans are refusing to accept the reality, which makes no practical effect on the electoral procedures.
Must read: Trump comes closest to compromise; says will leave White House if Biden gets electors' nod
After the count had completed, Mr Biden addressed the country, stating that it was time to turn the page on the election.