Highlights

The price of ACH token was up over 44%
It gave a return of over 2,645% over the past 12 months
Binance announced that it would list the ACH token on its platform
The Alchemy Pay (ACH) token was in the limelight on Monday, following a recent rally in its prices. Its price surged over 44% at 3:51 am ET on January 10, while its volume for the last 24-hours was up over 356%.
What is Alchemy Pay (ACH)?
Alchemy Pay has reportedly pioneered the first payment gateway solution in the world for filling the gap between fiat and cryptocurrency economies. Apart from the payments, it also provides smooth and easy access for investing in cryptocurrencies, blockchain services, decentralized finance (DeFi) solutions, while serving the crypto enthusiasts and new investors in the crypto and blockchain technology.
It was founded in 2018 and as it continued to grow, it partnered with Binance and QFPay, which also helped in increasing its end-user and merchant touch-points. ACH is an ERC-20 token that is primarily utilized for incentivizing the participation of all major roles in the hybrid ecosystem of Alchemy Pay crypto-fiat.
Also Read: Why is Dash (DASH) crypto trending?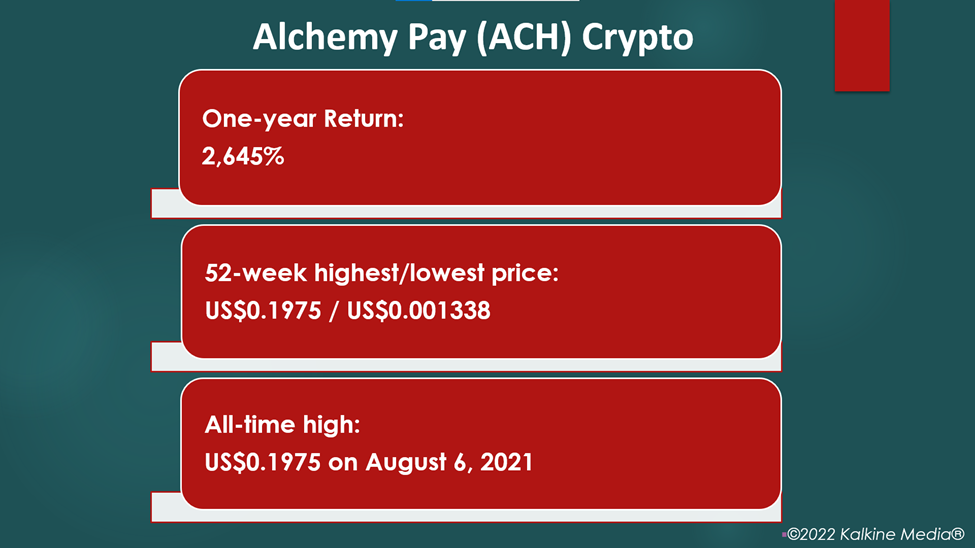 Source: *Data provided by CoinMarketCap.com
Also Read: MetaGods crypto launches single staking pool for MGOD – Know more
Total supply of Alchemy Pay (ACH) token:
The maximum supply of ACH is ten billion, while its circulating supply is derived from initial allocations of 62% for utility and 38% for stakeholders.
The token can be purchased from a number of exchanges like Coinbase, Uniswap, Gate.io, etc. In addition, Binance also announced that it would list Alchemy Pay (ACH) in its platform for trading at 5 am ET on January 10.
Also Read: TrumpCoin (TRUMP) gets a thumbs-up on meme contest
Pricing of ACH:
The ACH token was priced at US$0.08688 at 4:12 am ET on January 10, up 44.95%. It has a market cap of US$332.85 million and its volume for the last 24-hour was US$101.05 million, representing an increase of 356.29%.
The token saw the highest price of US$0.1975 and lowest price of US$0.001338 in the last 52 weeks. It reached its all-time high of US$0.1975 on August 6, 2021.
Also Read: Why is SuperFarm (SUPER) crypto drawing attention?
Bottom line:
The token has witnessed a robust gain in recent months. The ACH token jumped more than 2,645% over the past 12 months. However, the volatility in the crypto market is also higher than in the other markets. So, an investor should closely evaluate the risks and uncertainties related to digital assets before considering an investment.