Highlights

The SuperFarm (SUPER) token's trading volume was up over 36% in the last 24 hours.


The token touched an all-time high of US$4.73 in March 2021.


The SUPER token gave a return of over 51% over the past 90 days.
The SuperFarm (SUPER) token was gaining investors' attention on Thursday, Jan 6, as the price plummeted over 15%. Its trading volume, however, was up over 36% in the last 24 hours.
What is SuperFarm (SUPER)?
SuperFarm is a cross-chain decentralized finance (DeFi) protocol created to process the launch of new non-fungible tokens (NFTs) without the aid of programming.
Furthermore, it helps bring utility to any token. For instance, it can turn a token into a non-fungible token (NFT) farm without requiring any programming or coding. Also, its visual tools aid users in customizing rules and fine-tuning incentives while deploying a new farm.
Also Read: GM unveils electric version of its top-selling pickup Chevy Silverado
The farms reward the liquidity providers while stimulating long-term stakes or giving access to the services of a project by an NFT with utilities.
It means SuperFarm is a comprehensive NFT marketplace that enables users to create their non-fungible tokens or farm coins for NFTs. In addition, it allows users to create ERC-20 tokens while binding NFTs to gaming products.
SUPER coin is the utility token on the SuperFarm platform, primarily used for governing, paying fees, staking, NFT drop purposes, etc.
The platform was launched on March 31, 2021, with NFT Drops and Launchpad. It was co-founded by American crypto enthusiast Elliot Wainman who is also its CEO.
The SUPER token's maximum supply is one billion. It can be traded on exchanges, like Binance, Uniswap, QuickSwap, etc.
Also Read: Stocks that could give FAANG companies a run for money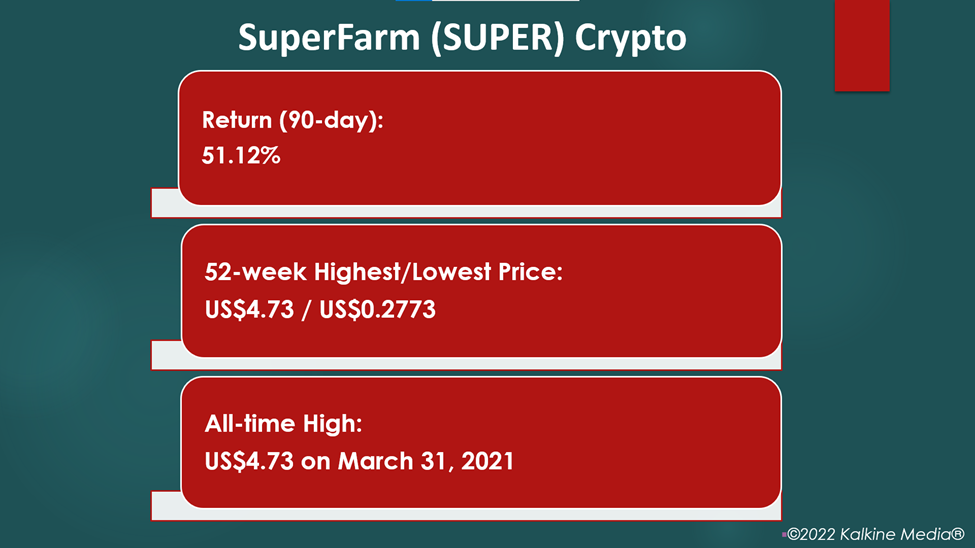 Also Read: Kasta token (KASTA) launch on Bybit – all you need to know
Pricing and other details of SuperFarm (SUPER) token
The SUPER token was priced at US$1.03 at 11:40 am ET on Jan 6, down 15.54%. Its market cap is US$416.19 million, and its fully-diluted market cap is US$1.03 billion.
The token's trading volume in the last 24 hours to Thursday evening was US$66.77 million, up 36.67%. Its highest price was US$4.73, and the lowest price was US$0.2773 in the last 52 weeks. It reached an all-time high of US$4.73 on March 31, 2021.
Also Read: Seven hottest IPOs to explore in 2022
Bottomline
The SUPER token rose rapidly in recent months. It gained over 51% in the last three months. The crypto market, however, is volatile. Hence, investors should closely evaluate the cryptos and the associated risks before investing in digital assets.