Highlights

Natural gas prices surged by a staggering ~13.44% in the last week.

The prices of industrial metals including aluminium, zinc, lead, and palladium also jumped in the last week.
Battery metal lithium remained stable during the week while nickel prices surged more than 15% on Thursday.
Last week witnessed a strong rally in commodity prices as Western sanctions on Russia, the world's second-largest producer of commodities, impacted the global supply chain, triggering supply shortage concerns.
Crude oil prices saw a strong rally last week with the international benchmark Brent crude oil settling at US$120.65/bbl, 12.23% higher over the previous week. WTI crude oil, on the other hand, logged a weekly jump of 8.34% to close at US$113.90/bbl on Friday.
Meanwhile, the US and its allies are discussing a possible further coordinated release of oil from strategic reserves to help calm markets roiled by the Russia-Ukraine conflict. 
Must Read: Crude oil dips on rising COVID-19 cases in China
Apart from crude oil, natural gas prices also surged staggeringly by ~13.44% in the last week. The US natural gas futures exchanged hands around US$5.57/MMBtu, the level last seen in November 2021. The rise in prices is underpinned by a double whammy of colder weather forecasts and record overseas demand. Meanwhile, European gas prices remain buoyed in the US, as the region struggles to replace energy imports from Russia.
Additionally, uranium prices also jumped nearly 5% in the last week while Newcastle coal futures logged a weekly decline of more than 3% due to the latest COVID-19 induced restrictions in China, primarily in Tangshan.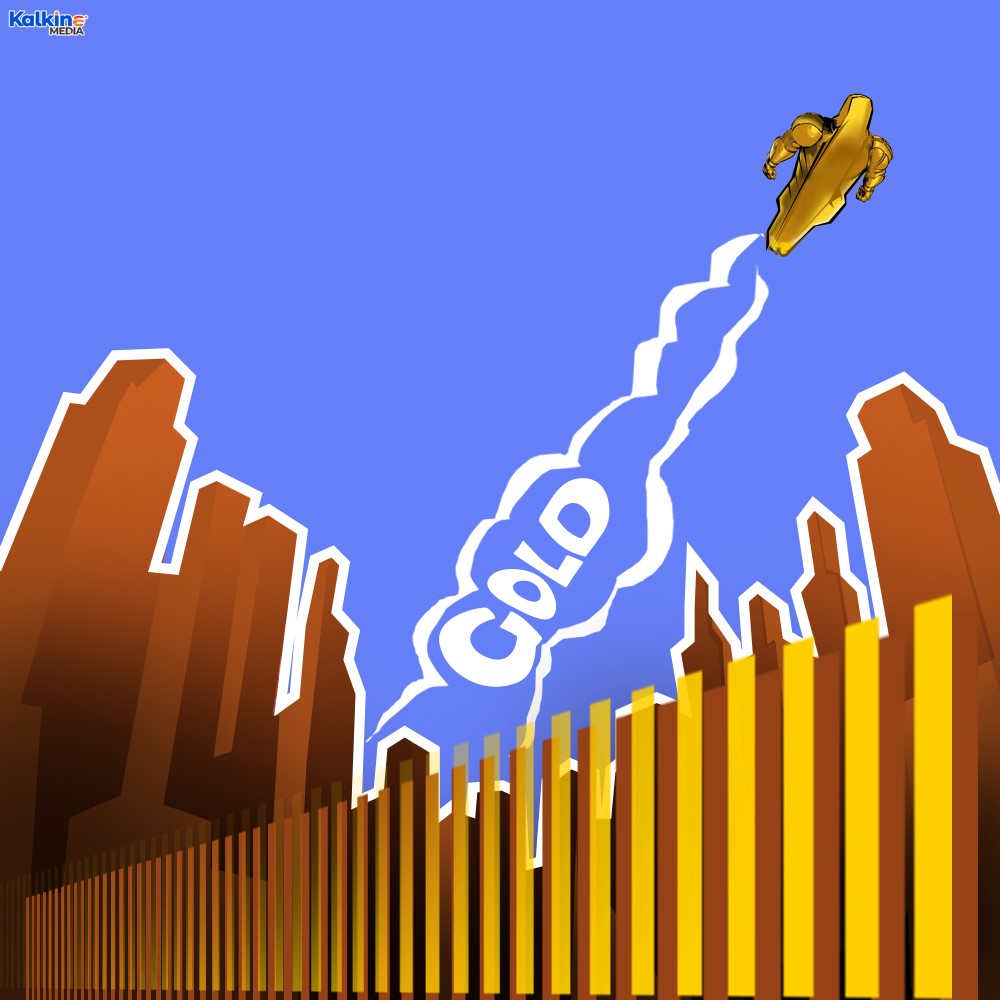 Source: Copyright © 2022 Kalkine Media®
Talking about gold, the glittering yellow metal surpassed the all-time high level of US$2050/oz on 8 March 2022 and has given investors a 25% return between March 2020 and March 2022. The prices of one-month COMEX gold gained 1.48% in the last week. On the other hand, silver surged 2.20% weekly to shoot past US$25.58/oz on Friday.
Base metals, meanwhile, have been on investors' radar, amid uncertainties surrounding the Russia-Ukraine conflict and a list of long sanctions being imposed on Russia. Iron ore, copper, platinum recorded marginal weekly gains.
Also Read: Crude oil surges to 14-year highs on delays in Iranian talks
Apart from this, the prices of industrial metals including aluminium, zinc, lead, and palladium also jumped last week. Aluminium and zinc gained more than 5% weekly as Australian Prime Minister Scott Morrison announced a ban on alumina and aluminium exports to Russia on Sunday.
Battery metal lithium remained stable during the week while a more than 15% rise in nickel prices on Thursday helped in squeezing the weekly price decline to 11.66%.
Given this backdrop, let's skim through few commodities that were popular among traders in the past week.
Data Source: Eikon Refinitiv
Here are a couple of significant commodities that recorded substantial volatility during the last week.
Coal
Newcastle coal futures consolidated below US$330 per tonne on Friday, a level not seen in the last three weeks. This came on the back of the latest coronavirus-induced restrictions in China, particularly in Tangshan, which hurt transportation and led to increased inventories at mines while also dampened demand. China's coal output rose dramatically 10.3% in the first two months of 2022 relative to last year, after Beijing asked miners to increase production for the winter season, amid an export ban in Indonesia.
Also Read: Crude oil slides from multi-year highs as Iran talks rev up
Crude oil
Crude oil prices tumbled significantly on Friday with an ease in supply concerns as European Union countries remained in dilemma on imposing sanctions on Russia while the US and its allies considered releasing more oil from storage to cool down boiling oil prices.