1. Low 302, Darlinghurst
(Image Source: https://concreteplayground.com/sydney/bars/low302)
Popular for its scrumptious food, great cocktails and peppy music, Low 302, is a restaurant that is serves 7 days a week and is popular for its live gigs and jazz music. Low 32 has a pleasant sitting and is known for reasonably priced wholesome meals and warm service staff. Must try on plates would definitely be Whole Roast Chicken, Roast Veggies, Cheese Platters, Barbeque grilled vegetables, Burgers, Seared Salmon Sticks and Tender Lamb Racks. Low 302 also does some very amazing and delicious meals at highly economical and affordable prices, as low as 10 dollars!
2. Big Poppa?s, Darlinghurst

(Image Source: https://www.quandoo.com.au/place/big-poppas-50162)
Nestled at the hustling oxford street is the famous restaurant serving delicious Italian cuisine. The restaurant is open till late and food lovers can enjoy a hearty meal late night till 3 am. Big poppas is known for its pleasant indoor seating and its nightlife. A meal for two would cost you approximately 70 dollars. Some of the dishes that can be highly recommended would include- Lamb Raggu Pappardelle, Spaghetti Bolognese, thick Garlic Bread, Steak Tartare, Burrata, Gnocci and Parpadelle.
3. Frankie?s Pizza, CBD

(Image Source: https://thecitylane.com/frankies-pizza-sydney)
Famous for its pizza?s Frankies Pizza is situated at Hunter Street. With a fully stocked bar available and cozy indoor seating and Frankies Pizza is popularly known for live music, friendly staff and service, nightlife (restaurant is open late at night till 3 am) and an exclusive and dedicated vegetarian-friendly food options to choose from. An average cost of meal at Frankies Pizza would cost you approximately 80 dollars.
4. Arisun, CBD

(Image Source: https://sweetandsourfork.com/arisun/)
Popular for its casual dining style Arisun serves pan-Asian cuisines and especially famous Korean delicacies and fried chicken. The restaurant is also vegetarian-friendly and caters late till 1230 at night. Some of the popular must try dishes would include- Korean fried chicken, Spicy Pork, Seafood Pancakes, Japchae and Hot Pot. Arisum usually keeps busy on a Friday night, hence it is advised to reserve a table.
5. Golden Century, CBD

(Image Source: https://www.goodfood.com.au/golden-century-seafood-restaurant-haymarket)
Operational late till 4 am is the Sussex street, Haymarket situated Golden Century Seafood Restaurant. Golden Century enjoys a high reputation for its Chinese delicacies, especially lobster dishes. Being a popular restaurant, the Golden century is a very food outlet and it is highly advisable that you book your table and serve your seat for a memorable culinary experience. The restaurant is situated at a walking distance from the hustling Darling Harbor
6. Crackles Carryout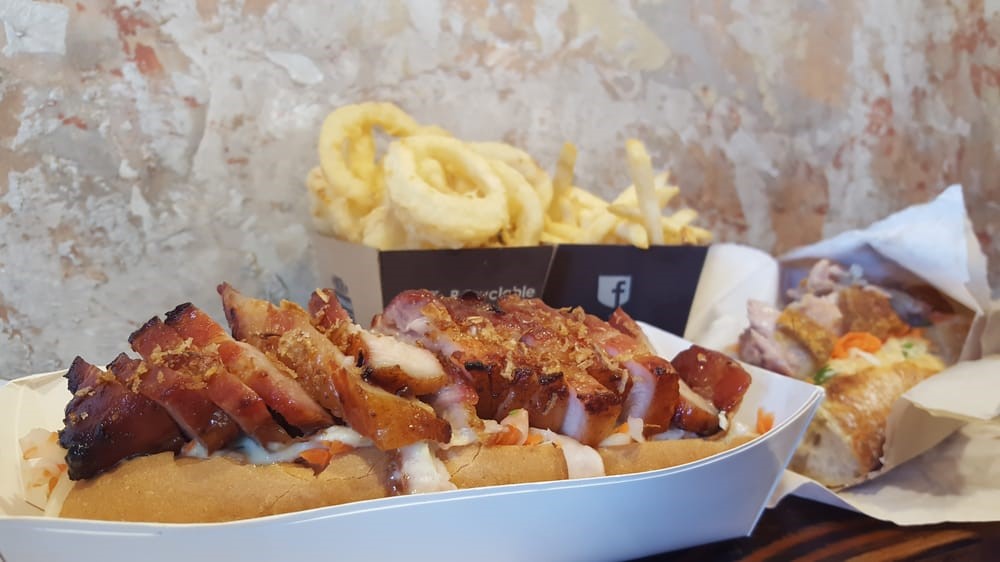 (Image source : https://www.yelp.com.au/biz)
If you are walking down the Oxford Street and you smell roasting pork, you would know you are around Mr. Crackles Carryout. While they offer other savories like their Chicken Katsu, Rosemary Lamb, fries, salted crackling but their roast pork roll is what is the most loved, famous and most repeatedly placed order.
?Started by Chefs Sam Horowitz and Carlos Justo, who started selling their mouth watering roast sandwiches at Rozelle Market, have now set up camp in a shop in Darlinghurst. They also have a special sandwich which is made with twice the meat and very less salad. The portions are filling and the meat is well cooked and soft.
7. Dodee Paidang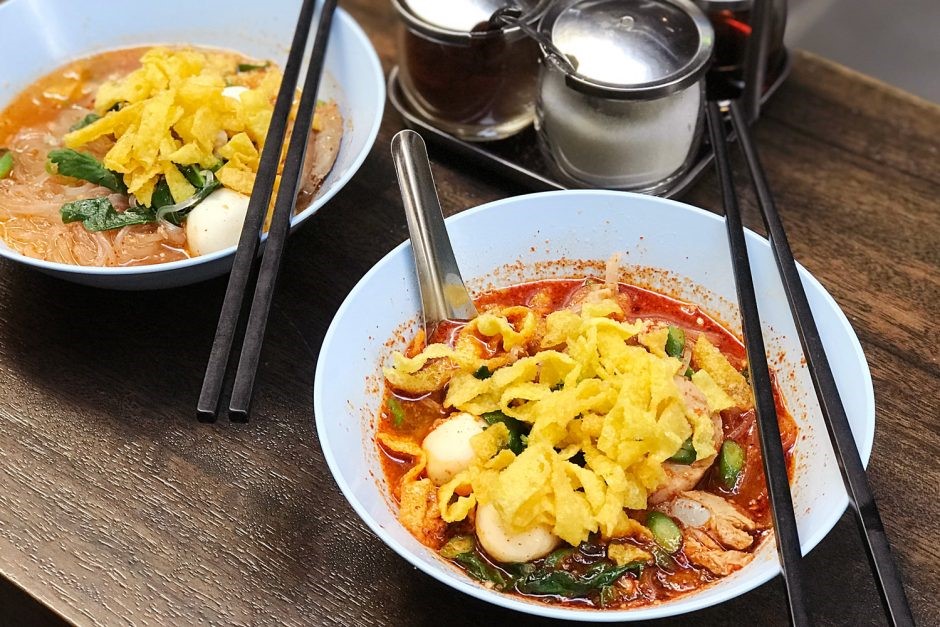 (Image source: https://asianinspirations.com.au/restaurants/dodee-paidang/)
Craving for Thai food? You got to visit this Haymarket eating joint that is an iconic eating place and has become legendary among tourists and locals alike. Its soups and lava hot noodles are mouthwatering and if you are looking to enjoy a sumptuous slice of Isaan, there is no looking further. ?
With generous use of fried garlic, this place draws in people from far away to come in and try their signature tom tum noodles which are topped with wonton strips. You can choose between different toppings and noodles which could be an option between instant, glass or rice and you can top this up with your choice of seafood or pork. With interesting and catchy names for levels of chilly where you can test your threshold for spice and enjoy a lip smacking authentic north eastern Thailand flavors.
8. Indian Home Diner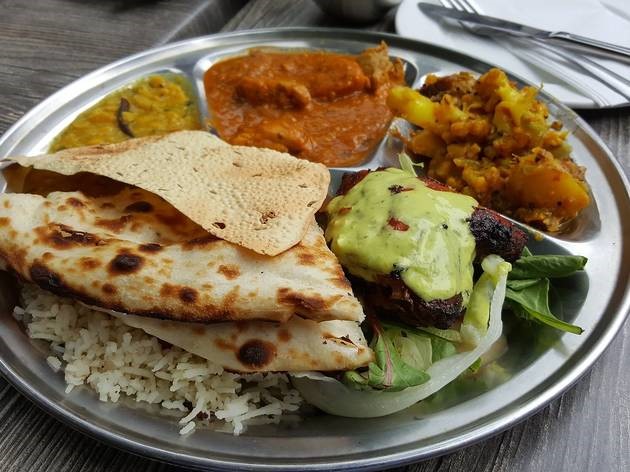 (Image source : https://www.timeout.com/sydney/restaurants/indian-home-diner)
This Indian eating joint might not be too fancy on its outside d?cor, but if you are looking to celebrate with authentic Indian food with intoxicating flavors, you would know where to check in on Oxford Street.
Be it your mid night hunger pangs or your usual dinner cravings, you will keep going back for their famous Kebab. The famous and most loved Indian bread ? naan is of course an important part of their menu and comes in variants of cheese for days when you want to indulge. Also, worth mentioning is their grilled chicken tikka with sides that enhance its taste. You can also pick a curry sauce and get a filling wrap prepared and have your full.
9. The Lansdowne Hotel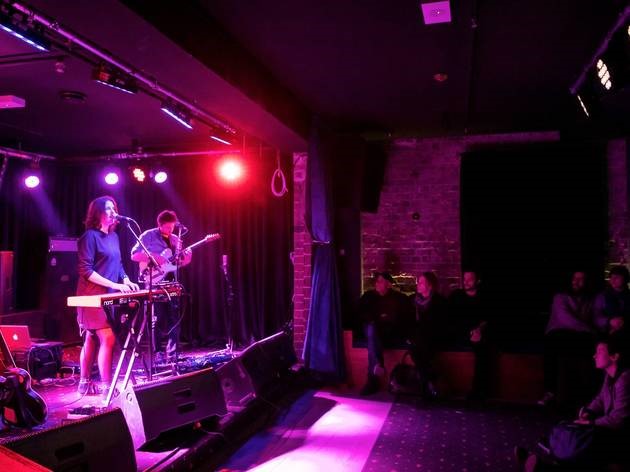 (Image source : https://www.timeout.com/sydney/bars/the-lansdowne-hotel )
With a central location in between Sydney?s pubs, this hotel is known for its live music and fish finger sambo on a sesame-seed bun stuffed with a white fish, cheese, tartar.
If you are a vegetarian, there are also green variants on the menu, and if you are short on budget, this would be a good place for a pocket friendly meal. For a counter meal, you would just have to shell out a ten and you can enjoy steak and a generous serving of fries. The reason why this place is famous and often packed is its music scene and its classy junk food that draws tourists and locals of all aged alike.
10. Chat Thai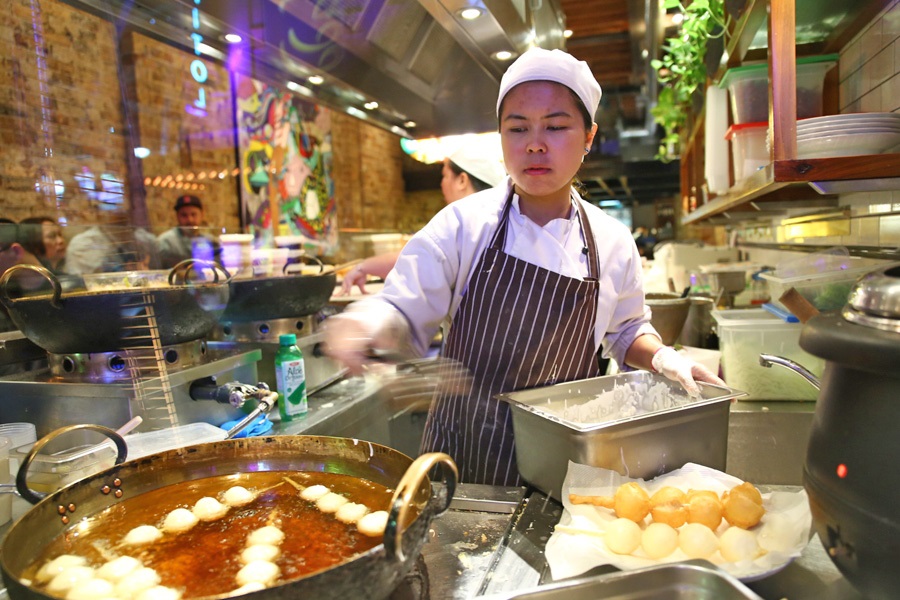 (Image source : https://danielfooddiary.com/2015/05/12/chatthai/)
With a lot of grill and barbeque choices, this Thai food eating joint focusses on indulging in a lot in small bits at one time. You can start with redfish fritters with juicy pickled cucumber. Accompanied with a mouthwatering dip, the wantons are to die for. The barbecue lamb is also widely ordered and loved among Thai food enthusiasts along with soup of pork belly which has classy street food type flavor hawker classic. You can eat waffles and banana fritters for dessert or a gluttony serving of rice balls.