Highlights

In Q3 2022, Emera's adjusted net income was C$ 203 million.
Algoquin Power's revenue in Q3 2022 was noted at US$ 666.7 million.
Fortis' net earnings were reported at C$ 326 million in Q3 2022
Most utility companies are considered regulated monopolies. Different companies there may go through different movements. This is dependent on consumer behaviour and may behave differently than other stocks. For your utility stocks, analyze the overall stock and the factors that impact your selection.
Along with the company valuations, check the dividend and cash flow for better insights. Once you check the overall scenario, pick up the stocks that sync with your portfolio needs. The market is uncertain, and so are the stocks. Therefore, operate with the aim of stability throughout. Here are three stocks to assess with their recent financial highlights:
Emera Incorporated (TSX: EMA)
Emera Incorporated is an energy company investing in utility services, distribution, and electricity generation. Primarily, it operates in North America and Caribbean Countries.
In Q3 2022, Emera's adjusted net income increased to C$ 203 million from C$ 175 million in the year-ago quarter. Meanwhile, the adjusted earnings per share rose to C$ 0.76 from C$ 0.68.
The company distributes a quarterly dividend per share of C$ 0.69 and noted its EPS of C$ 3.01. Emera reported its five-year dividend growth at 4.59 per cent with a dividend yield of 5.347 per cent.
Market Capitalization of EMA, AQN and FTS: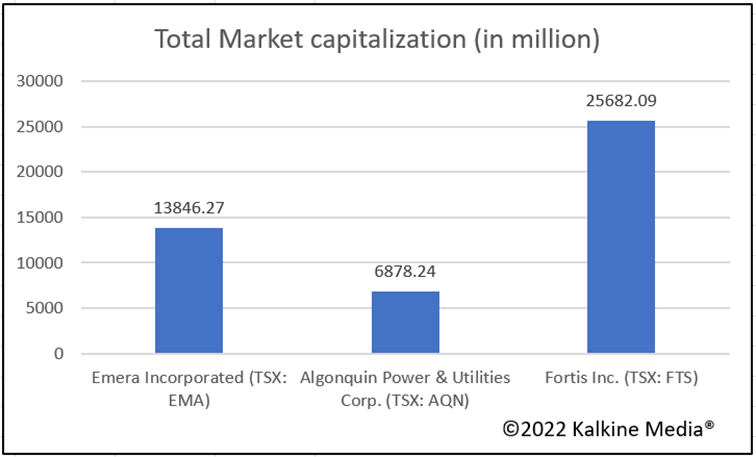 Algonquin Power & Utilities Corp. (TSX: AQN)
Algonquin Power & Utilities Corp. operates through its two business groups- Renewable Energy and Regulated Services. The company has a wholly owned subsidiary-Liberty that is into transmission and distribution utility. Through its groups, Algonquin claims to provide sustainable energy that is safe, cost-effective, and reliable. The company majorly has a presence in the US and Canada.
In Q3 2022, Algonquin Power's revenue was noted at US$ 666.7 million compared to US$ 528.6 million in Q3 2021. The adjusted funds from operations rose by 21 per cent year-over-year (YoY) to US$ 205.5 million. The adjusted EBITDA grew by 10 per cent YoY and was noted at US$ 276.1 million. Meanwhile, the dividends per common share increased to US$ 0.1808 from US$ 0.1706.
Fortis Inc. (TSX: FTS)
Fortis Inc. caters to gas and electricity customers and focuses on assets pertaining to distribution and utility transmission. Further, the company has small stakes in Caribbean utilities and electricity generation.
In Q3 2022, Fortis' cash and cash equivalents jumped to C$ 395 million compared to C$ 225 million in Q3 2021. In the same period, the company's net earnings grew to C$ 326 million from C$ 295 million. The company's total expenses rose to C$ 1,856 million from C$ 1,598 million. Meanwhile, the operating income jumped to C$ 697 million from C$ 598 million for the reported quarter.
Bottom Line
Staying alert in the stock market is a crucial step. Every investor must focus on their stock selection as it decides their portfolio's fate. Operating with a long-term approach can stabilize the portfolio and mitigate the risk. The market is prone to fluctuations but as an investor, pave the way for a secure future by diversifying your portfolio. This can spread the risk overall and shield the portfolio effectively.
Please note, the above content constitutes a very preliminary observation based on the industry and is of limited scope without any in-depth fundamental valuation or technical analysis. Any interest in stocks or sectors should be thoroughly evaluated taking into consideration the associated risks.