Summary

Stocks of Blackberry rose 19 per cent on January 19, as the company settled a patent lawsuit with the social media giant Facebook.
Approximately 16 million shares of the company traded on Tuesday, pushing BB stock among the top volume actives on the TSX.
The tech stock has zoomed 81 per cent this year, on the back of its business rejig.
Stocks of BlackBerry Limited (TSX:BB) soared nearly 19 per cent on Tuesday, January 19, after the company settled a patent dispute with Facebook Inc. (FB:US or NASDAQ: FB). This pushed the BB stock to deliver its one of the best one-month performances with 57 per cent returns.
BlackBerry (TSX:BB) has already retailed its 90 smartphone patents to giant Chinese telecom firm Huawei. The company is currently focused on its futuristic software platform that offers end-to-end communication solutions. Thus, the Canadian tech firm is getting rid of its mobile phone business.
Let us have a look at this software stock's performance and market fundamentals:
BlackBerry Limited (TSX:BB)
Current Stock Price: C$ 15.69
Stocks of the tech company have gained approximately 81 per cent year-to-date (YTD) or in the last 19 days. Its shares have yielded 79 per cent growth in one year. BB stocks have finally joined TMX's top tech performers.
Over 16 million BB shares changed hands Tuesday that pushed its 10-day average trading volume to 7.2 million. On the Toronto Stock Exchange, Blackberry has total outstanding listed shares of nearly 562 million. Thus, the stock has been ranked as one of the top volume actives on TMX.
In the wake of rising stock charts, Blackberry's market fundamentals have also improved. The software stock's price-to-cashflow ratio is 91.80, and a price-to-book ratio is 3.836, as per data on the TMX site. BB's debt-to-equity stands at 0.33.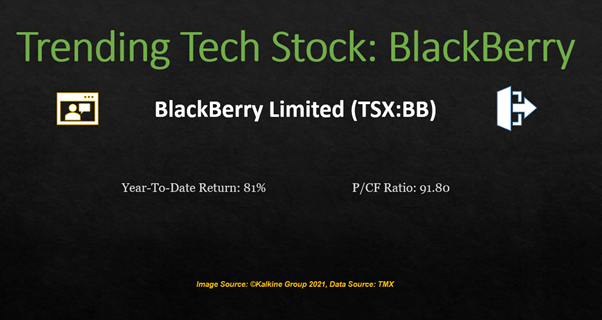 Once a master of smartphone technology, the company is now generating more of its revenue through its cybersecurity solutions.
In the third quarter FY21 earnings, its Software and Services GAAP (Generally Accepted Accounting Principles) revenue was US$ 162 million. Blackberry recorded a total GAAP revenue of US$ 218 million in Q3 FY21, as compared to US$ 683 in Q3 FY20.
The software firm earned net cash from operating services of US$ 29 million as of November 30, 2020.