Over the past few years, the risk of cyberattacks has significantly grown. The world has witnessed numerous cases of data breaches, crypto-jacking, attempts on hacking government servers, etc. Most recently, US company Colonial Pipeline was forced to temporarily shut its services after facing a substantial cyberattack.
Colonial Pipeline, which is responsible for the transport of about 45 per cent of petrol and diesel consumed in the US' east coast, was attacked by a criminal group known as DarkSide. Each time such cybercrimes are committed, there's an increase in the demand of services provider by cybersecurity companies.
On the back of this incident, let's analyse the stocks of two Canadian tech companies dealing in different aspects of cybersecurity.
Absolute Software Corporation (TSX:ABST)

Absolute Software Corporation specializes in data risk management and endpoint security. The company announced on Tuesday, May 11, that it is acquiring NetMotion Software Inc, a provider of security and connectivity services, to increase its presence and enhance security systems.
The Vancouver-based company also posted its Q3 FY21 results recently, noting an 18 per cent year-over-year (YoY) increase in its revenue of US$ 30.7 million. Its cash generated from operating activities stood at US$ 7.3 million in the same quarter, up from US$ 3.7 million in Q3 FY20.
Absolute Software's price-to-earnings (P/E) ratio is 71.7 and it offers a 5.6 per cent return on assets (ROA). It distributes a quarterly dividend of C$ 0.08 and its dividend yield is 1.7 per cent.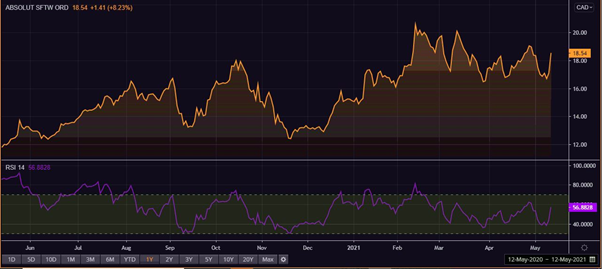 1-year chart of stock performance of Absolute Software (Source: Refinitiv)
In the past week, ABST shares grew by about nine per cent. The stock expanded 22.4 per cent year-to-date (YTD) and closed at C$ 18.54 apiece on Wednesday, May 12.
TECSYS Inc (TSX:TCS)

As the world continues to reel under the COVID-19 crisis, it is expected that there will be an increased focus on supply chain management. Canada-based TECSYS Inc's supply chain management software provides end-to-end visibility in operations and also safeguards data.
The company claims that it monitors and protects the servers round the clock.
With a debt-to-equity (D/E) ratio of 0.29, TECSYS offers a 10.6 per cent return on equity, as per TMX.
TECSYS achieved record revenue of C$ 31.9 million in Q3 2021, representing an increase of 19 per cent YoY. Its profit from operations surged 89 per cent YoY to C$ 2.6 million.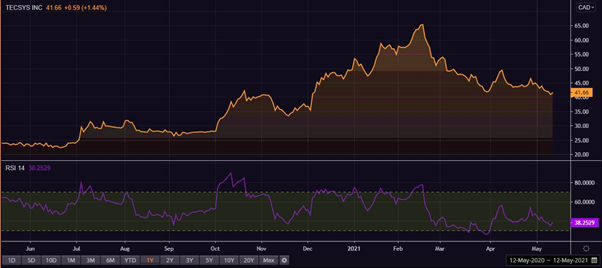 1-year chart of stock performance of TECSYS (Source: Refinitiv)
TECSYS pays a quarterly dividend of C$ 0.065 and the dividend grew at the rate of 8.5 per cent in the last three years.
In the past six months, TECSYS stock grew by 12.6 per cent. Its one-year growth sits at 73.6 per cent. At the market close on May 12, the shares were priced at C$ 41.66 apiece.
The above constitutes a preliminary view and any interest in stocks should be evaluated further from an investment point of view.