After facing a major blow to its operations last year due to the COVID-19 pandemic, the Canadian retail sector, particularly the apparel industry, seems to be gradually healing. This recovery was primarily triggered by expanding online businesses.
While repeated lockdowns across Canada pose a threat to retail companies' commercial operations, some believe that sales through online channels could keep the industry afloat.
Let's analyze some retail stocks from the apparel industry to gauge their performance.
Gildan Activewear Inc (TSX:GIL)
Stocks of Gildan Activewear recorded a substantial growth of 132 per cent in the last one year. The Canadian apparel manufacturer currently posts a market capitalization of over C$ 8.5 billion and a quarterly dividend payout of US$ 0.154 per share.
Gildan posted a net income of C$ 98.5 million in the first quarter ending March 2021, as compared to a quarterly net loss a year ago. Its revenue in the latest quarter rose to C$ 589.6 million.
Gildan benefitted from strengthening its online channels and widening its casual clothing base, among other factors. The latter strategy may also improve the company's operating performance going forward, as it reportedly did in the March quarter.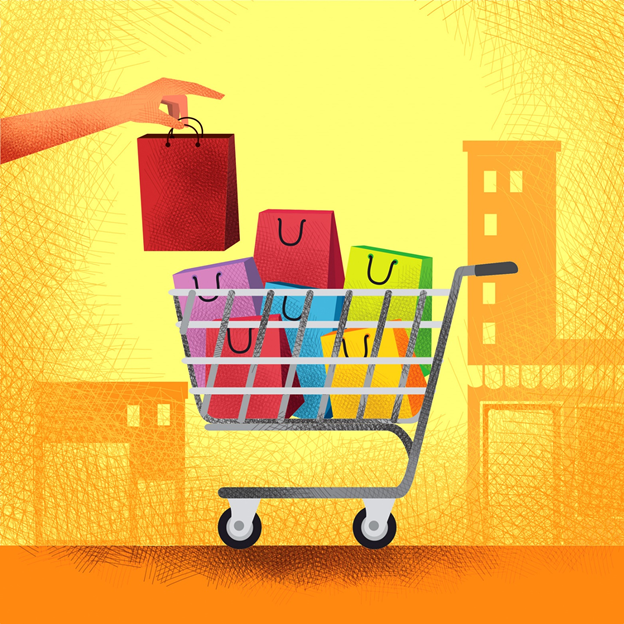 Copyright © 2020 Kalkine Media
Aritizia Inc (TSX:ATZ)
Amid the stretched-out lockdown periods, luxury apparel manufacturer Aritzia Inc saw its stocks rise about 24 per cent in the last six months. The COVID-19 pandemic's impact on the retail stock seems to have been more pronounced during September and October 2020.
However, the scrip remained largely resilient against the resurgence of the pandemic in in 2021.
The manufacturer has a market capitalization of about C$ 2.5 billion, with a price-to-earnings ratio of 130.40, as per TMX.
Aritzia posted a net revenue of C$ 267.5 million in fiscal year 2021, which was down nearly three per cent on a year-over-year (YoY) basis.
While the company took a hit due to the closure of about 39 per cent of its retail outlets amid a resurging pandemic, its online business reflected significant growth.
Its e-commerce segment sales catapulted by about 88 per cent YoY in the latest fiscal year, comprising about half of the total revenue earned by the apparel maker during this period.
Canada Goose Inc (TSX:GOOS)
Winter apparel maker Canada Goose Inc saw its global e-commerce revenues surge by about 123 per cent YoY in the fourth quarter ending March 28, 2021. Its total revenue also ballooned by 33.7 per cent YoY in the same period.
Canada Goose stock posts a growth of over 73 per cent for the last one year. It has a market capitalization of about C$ 5 billion, and a price-to-earnings ratio of 74.70, as per TSX data.
While Canada Goose saw the closure of many of its retail outlets in Canada and Europe amid COVID restrictions, the company expects its total revenue to cross the C$ 1 billion-mark in fiscal 2022.
The above constitutes a preliminary view and any interest in stocks should be evaluated further from investment point of view.