Highlights

The TSX benchmark index lost over 12 per cent in 2022

The TSX Venture Composite Index posted a loss of roughly 37 per cent this year

RGD stock gained by over 292 per cent in a year
The TSX benchmark index, which is currently trading in red, has lost over 12 per cent in 2022. Stock markets worldwide remain exposed to economic pressure as rising policy interest rates, aimed at cooling down inflation, continue to hurt investors' sentiments.
Volatile investment options may not be ideal at the moment, but investors with a high risk appetite can look for a few penny stocks, like Reunion Gold (TSXV: RGD), Spectral (TSX: EDT), Atlas (TSXV: SALT) etc, that have outperformed the TSX and TSXV benchmark indices this year.
So, here are five Canadian penny stocks under C$ 3 that have returned over 60 per cent in 2022.
1.

Reunion Gold Corporation (TSXV: RGD)
Junior gold explorer Reunion operates in the Guiana Shield region, South America. The C$ 211-million market cap company saw its stock rise by almost 11 per cent to close at C$ 0.255 on Wednesday, July 13.
RGD stock zoomed by over 82 per cent year-to-date (YTD) and returned more than 292 per cent in a year. According to Refinitiv, Reunion held a Relative Strength Index of 50.32 on July 13, representing a moderate trend in the market.
2.

Spectral Medical Inc (TSX: EDT)
Spectral is a TSX-listed healthcare company engaged in developing and commercializing septic shock treatments. The medical diagnosis and research firm recorded a low debt-to-equity (D/E) ratio of 0.26, which generally signifies lower financial risk.
EDT stock grew by almost 73 per cent so far this year. As per Refinitiv findings, EDT seems to be on a mixed trend, with an RSI of 53.25 on July 13.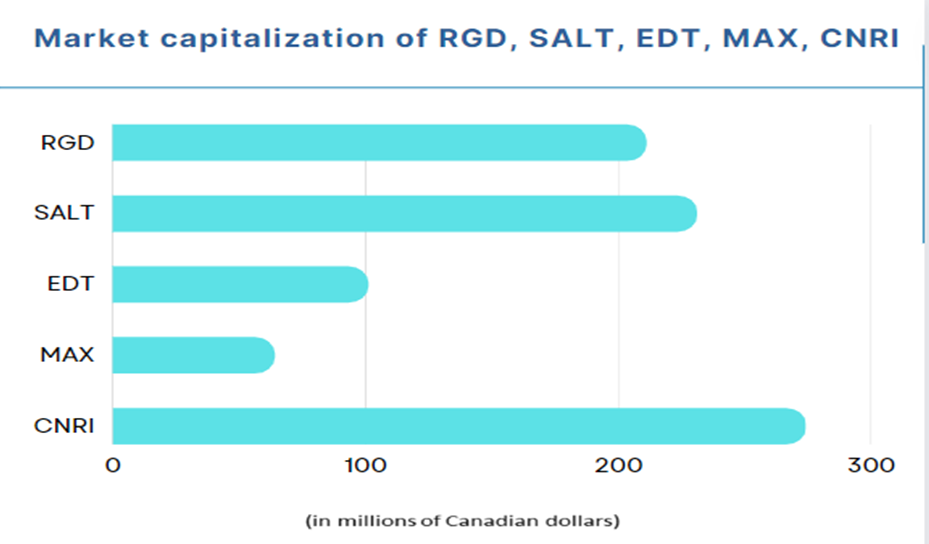 ©Kalkine Media®; ©Garis Studio via Canva.com
3. Atlas Salt Inc (TSXV: SALT)
Atlas Salt is focused on advancing its 100 per cent owned Great Atlantic Salt Project into salt factory in western Newfoundland. The SALT stock gained roughly 70 per cent in 2022 and galloped by nearly 226 per cent in nine months.
As per Refinitiv, Atlas Salt almost hit the overbought territory on July 13, with an RSI of 69.64.
4.

MAX Resources Corp (TSXV: MAX)
MAX is a junior metal company focused on mining precious metals like gold, silver and copper. With a YTD gain of over 63 per cent, MAX stocks provided a return of more than 105 per cent in 12 months. According to Refinitiv, MAX had an RSI of 41.25 (above the oversold territory of 30) on July 13.
5.

Canadian North Resources Inc (TSXV: CNRI)
Canadian North is a TSXV-listed basic materials company with over C$ 274 million in market capitalization. CNRI scrip swelled by about 63 per cent so far in 2022. As per information from Refinitiv, CNRI scrip had an RSI of 48.75 on July 13, representing a moderate trend (above the 30-mark).
Bottomline
Though these stocks could be a way to earn returns in the short term, these can also result in losses if decisions are taken without proper research and understanding. Hence, getting well-versed with all aspects of the stock market and penny investing is ideally necessary.
Please note, the above content constitutes a very preliminary observation based on the industry, and is of limited scope without any in-depth fundamental valuation or technical analysis. Any interest in stocks or sectors should be thoroughly evaluated taking into consideration the associated risks.