Stocks of Enbridge Inc (TSX:ENB) climbed to a one-year high on Monday, June 14, as the Minnesota Court of Appeals permitted its Line 3 oil pipeline replacement project in the US.
The pipeline will carry Canadian oilsands crude from Alberta to northwestern Wisconsin, US.
The permission comes after the project faced strong opposition from the indigenous community and environmental activists.
Enbridge expects to increase the capacity of the pipeline to 760,000 barrels of oil a day by the fourth quarter of this year.
The Calgary-based energy company's share price surged more than two per cent to C$ 49.44 apiece on the back of this development. The energy stock's dividend yield, on the other hand, improved to 6.75 per cent.
Copyright ©2021 Kalkine Group
Let us delve into this dividend-paying energy stock's price movement and financials.
Enbridge Inc (TSX:ENB)
One of the leading Canadian energy firms, Enbridge has a market cap of over C$ 100 billion. It distributed a quarterly dividend of C$ 0.835 on June 1.
The bluechip stock has yielded over 21 per cent this year to outperform the S&P/TSX Oil & Gas Index, which dropped 10.46 per cent relatively.
Its one-year return stands at 17 per cent, and it holds earnings per share of C$ 3.13.
At the previous record closing price, Enbridge stock was up 14.47 per cent from its 200-day simple moving average, representing a robust long-term rally.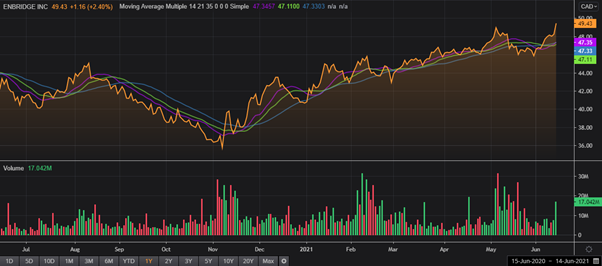 Enbridge's one-year stock performance against moving average multiple and volume. (Chart Source: Refinitiv)
Its one-day volume jumped to 17 million shares on Monday, as compared to the 10-day average volume of around seven million.
Enbridge stock has maintained a bull run this year and surpassed its moving average multiple, with a rise of nearly eight per cent month-to-date (MTD).
In the first quarter of 2021, Enbridge's GAAP earnings rose to C$ 1.9 billion or C$ 0.94 per share, up against GAAP loss of US$ 1.4 billion or C$ 0.71 per share in Q1 2020.
The company generated cash of C$ 2.6 billion from its operating activities during the first quarter of 2021, as compared with U$ 2.8 billion in 2020.
Its quarterly adjusted EBITDA were C$3.7 billion, down by C$ 10 million from C$ 3.8 billion in Q1 2020.
Enbridge's outlook for 2021
Enbridge reaffirmed its previous debt to EBITDA forecast within an estimated range of 4.5 times to 5.0 times for the current year. The energy firm expects EBITDA between C$ 13.9 billion to C$ 14.3 billion for 2021.
Please note: The above constitutes a preliminary view and any interest in stocks should be evaluated further from an investment point of view. The reference data in this article has been partly sourced from Refinitiv.