Highlights

The Canadian real estate market has been reeling since this year.
Investing in Canadian real estate stocks for the long-term could help investors in future.
If you are looking for real estate stocks, you may consider exploring this article.
The Canadian real estate bubble has reached epic dimensions, yet it is contained by controlling measures and market sentiment. Although the market may not cool down to reach affordable levels for an average Canadian, a crash is unlikely.
Also Read: 5 top TSXV clean tech and life sciences stocks to buy in June
If you own real estate stocks, you may have several concerns. The stock market is gradually declining, and the real estate industry is currently undergoing a severe correction. It could be an issue for existing assets, but it could also be a chance to invest in future expansion at a lower cost.
Hence, let's explore the following real estate stocks:
Killam Apartment Real Estate Investment Trust (TSX:KMP.UN)
Killiam focuses on purchasing, maintaining, and developing multi-family apartment complexes and manufactured home communities (MHC). Apartment, MHC, and Commercial divisions are the company's three primary operating segments.
The KMP stock traded near its 52-week low of C$ 17.85 per share and closed at C$ 19.26 apiece on June 2. Also, it pays a monthly dividend to its shareholders. Recently, it announced to pay a monthly dividend of C$ 0.058 per unit.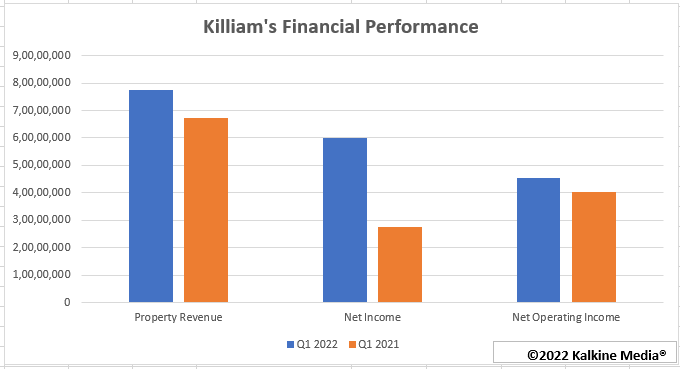 In the first quarter of this year, Killiam's net income catapulted to C$ 60 million, representing an increase of C$ 32.6 million in Q1 2021.
Bridgemarq Real Estate Services Inc. (TSX:BRE)
Bridgemarq is a real estate services company established in Canada. Through a portfolio of real estate services brands, it provides information and services to real estate agents.
The first quarter of 2021 had solid revenue of C$ 13.4 million, up 2 per cent from the same period of the previous year. The increase was fueled by a year-over-year increase in the number of REALTORS® in Bridgemarq's network.
On a fully diluted basis, Bridgemarq earned C$ 4.7 million in the first quarter of 2021 compared to a net loss of C$ 2.5 million in Q1 2021. The BRE stock closed at C$ 14.67 per share on Thursday.
Tricon Residential Inc. (TSX:TCN)
Tricon is a middle-market rental housing company with locations across North America. The company owns and manages thousands of rental homes through an integrated, technology-enabled operating platform.
Compared to its 52-week high of C$ 21.58 per share, the TCN stock closed at C$ 15.82 apiece on June 2. Tricon holds a dividend yield of 1.9 per cent and pays a quarterly dividend to shareholders.
Notably, Tricon's net income from continuing operations jumped 290 per cent year-over-year (YoY) in Q1 2022 to US$ 163.5 million.
H&R Real Estate Investment Trust (TSX:HR.UN)
H&R is one of the largest REITs has pro forma assets of about $10.7 billion post-Primaris spin-off. H&R is amid a five-year strategic repositioning to become a simpler, growth-oriented corporation focused on multi-residential and industrial assets.
In Q1 2022, the company said that it had C$ 1 billion in favourable fair value adjustments due to rental growth and capitalization rate compression.
H&R REIT distributes a monthly dividend to its shareholders and has a dividend yield of 4.8 per cent. Meanwhile, the stock had surged 0.8 per cent during the trading session on Thursday and closed at C$ 14.25 per share.
Choice Properties Real Estate Investment Trust (TSX:CHP.UN)
Choice maintains and develops retail and commercial properties. The company's portfolio consists mostly of shopping malls with supermarkets as anchors and standalone supermarkets.
Choice's net income was approximately C$ 387 million for the three months ended March 31, 2022. Meanwhile, the REIT posted a net loss of C$ 62.19 million in the same period of the previous year.
On June 2, the CHP stock had declined by 0.2 per cent and closed at C$ 14.98 apiece.
Also Read: Can Cenovus (TSX: CVE) be next Suncor as it restarts West White Rose?
Please note, the above content constitutes a very preliminary observation or view based on digital trends and is of limited scope without any in-depth fundamental valuation or technical analysis. Any interest in stocks or sectors should be thoroughly evaluated taking into consideration the associated risks.