Highlights

According to a recent report, home sales in Canada surged by 8.6 per cent in October.
A real estate stock mentioned here has zoomed by more than 38 per cent year-to-date (YTD).
A real estate firm listed below is scheduled to pay a quarterly dividend of C$ 0.15 per share on December 31.
The Canadian Real Estate Association (CREA) released fresh data on Monday, November 15, which showed that the country's home sales surged by 8.6 per cent in October from the previous month.
On the other hand, Canada Mortgage and Housing Corp (CMHC) has noted that seasonal annual housing starts in the country dropped from 249,922 in September to 236,554 in October.
2 real estate stocks to buy as Canada's home sales surge
This uneven demand and supply, some market experts believe, is affect real estate prices.
On that note, let's glance through two TSX-listed real estate companies.
1. Morguard Corporation (TSX: MRC)
Morguard Corporation is a Mississauga, Ontario-headquartered real estate firm that holds a residential, industrial and commercial properties in Canada and the United States.
Also read: Can Cineplex (TSX:CGX) be a phoenix stock?
After hitting a day high of C$ 146.55, Morguard stocks closed in green at C$ 145.5 apiece on Tuesday, November 16.
The real estate stock jumped by more than four per cent in the last week and swelled by roughly seven per cent on a month-to-date (MTD) basis. It also soared by about 36 per cent in the past year.
Morguard reported a net income of C$ 108.8 million in the third quarter of FY2021, as against a net loss of C$ 37.6 million incurred in Q3 FY2020. Its normalized FFO grew by 34.1 per cent year-over-year (YoY) to C$ C$ 58.7 million in the latest quarter.
The Canadian real estate firm is scheduled to pay a quarterly dividend of C$ 0.15 per share on December 31.
On the valuation side, it held at a return on equity (ROE) of 2.11 per cent (as of Wednesday, November 17).
1. Altus Group Limited (TSX: AIF)
Altus Group Limited provides advisory, software and data solutions to the real estate businesses in North America and other parts of the world.
Altus Group's stock clocked a one-year high of C$ 70.39 on November 12, 2021, after it announced the acquisition of data analysis software firm Scryer Inc for US$ 201.5 million.
The Toronto-headquartered company saw its stock close at C$ 67.87 apiece on November 16, up by about a per cent. It touched a day high of C$ 68.59 during the session.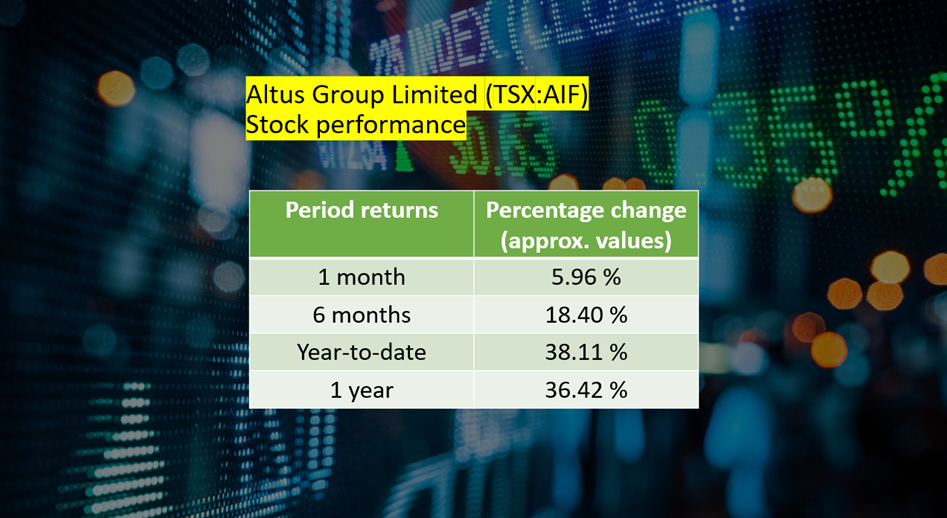 Image source: © 2021 Kalkine Media Inc
Altus Group stock has grown by more than 18 per cent in the last six months and zoomed by more than 38 per cent year-to-date (YTD).
The firm posted a YoY increase of 12.5 per cent in its consolidated revenues of C$ 151.8 million in Q3 FY2021. Its adjusted EBITDA, on the other hand, grew by 1.5 per cent YoY to C$ 24.4 million in the latest quarter.
Also read: 3 Canadian healthcare stocks to keep on your radar
As of November 17, Altus held a price-to-book (P/B) ratio of 7.45 and an ROE of 8.47 per cent.
Bottom line
With the rise in home sales and tight supply, the Canadian real estate sector could again heat up.
Due to this, some investors believe that they could fetch notable returns while venturing in the real estate market. However, timely investment decisions should ideally follow a thorough market research.