Source: heychli, Shutterstock
Canada's largest airline landed a breakthrough C$ 5.9-billion deal on Monday with the Canadian government, which includes cheaper interest loan rate of less than 2 per cent annually and an equity stake sale. On top of that, five new credit facilities will also be available for Air Canada (TSX: AC).
The federal government is acquiring ~6 per cent equity stake in the airline for C$500 million.
Letko Brosseau & Associates Inc., one of largest shareholders in Air Canada, has endorsed the federal government rescue deal. The stockholder expects the carrier's stock price to rise by almost 50 per cent from the current level once the pandemic curbs ease.
The stock had tumbled below the C$ 20-apiece mark in the month of February. However, it bounced back to C$ 31 per share on March 15, led by lower interest rate loan reports from the federal government.
Bay Street analysts were not expecting an equity acquisition, and if the government exercises all the warrants, it will hold up to a 9.7 per cent stake in the airline. Canadian taxpayers are infusing their money in this deal for better returns, but existing shareholders might not be happy with the discounted sale of shares.
Feds will buy common shares and warrants worth C$ 500 million at a 14.2 per cent discounted price of C$ 23.1793 against its Monday closing price of C$ 27 apiece.
Due to this aspect of the deal, Air Canada stock declined marginally on Tuesday to C$ 26.88 per common share.
Let us glance at the carrier's financial health and the stock's price performance:
The stock has maintained its long-term uptrend and gained 39.20 per cent in the past one year. It has improved by over 18 per cent year-to-date (YTD). However, its short-term price movement has dipped by nearly 9.55 per cent in one month.
Major shareholders have been eyeing ~C$13 increment following mass inoculation campaign and reopening of businesses. Previously, the stock rebounded by 110 per cent from its 52-week low of 12.80 apiece (Recorded on May 14, 2020).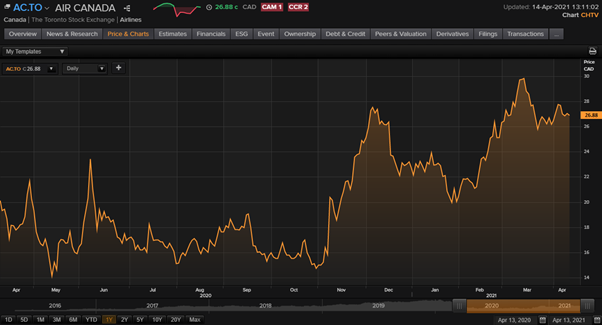 Air Canada's One-Year Stock Price Performance Chart. (Source: Refinitiv)
Since the COVID-19 outbreak in March 2020, the carrier has compensated over C$ 1.2 billion to its passengers by refunding ticket fares.
The company Tuesday announced that it will refund its customers for canceled and delayed flight tickets from February 1, 2020, to April 13, 2021. The airline can withdraw these expenses from the government offered credit facilities.
Air Canada's Loss Due to COVID-19
The aviation company reduced its previous quarter flight operations by around 83 per cent compared with the same period of 2020.
But it is now set to resume operations and is expected to minimize its average cash loss of approximately 15 million a day. Because of parked flights and suspended routes, the company estimated a loss in the range of C$ 1.35 billion to C$ 1.53 billion in the first quarter of 2021.
The incumbent head of Air Canada, Michael Rousseau, has received an opportunity to revive the airline with the updated working capital and government-back liquidity support. As Air Canada flights resume their operations, its stock price could also fly to new highs.