Highlights

TFI International (TSX: TFII) stocks rose by 3.31 per cent at 9:57 AM EST on Friday, July 29.
The transportation and warehousing sector reportedly expanded by 1.9 per cent in May
TFII stock spiked by over 24 per cent in one month
Stocks of TFI International (TSX: TFII) rose by 3.31 per cent to C$ 125.34 at 9:57 AM EST on Friday, July 29, a day after the Canadian industrial company posted a double-digit revenue surge in Q2 2022 compared to Q2 2021. The stock price rise also came as Statistics Canada reported the country's latest Gross Domestic Product (GDP) numbers.
Canada's real GDP remained unchanged in May after a noting growth of 0.3 per cent in April, said Statistics Canada on July 29. However, the data agency added that the transportation and warehousing sector (which includes urban transit systems and air and rail transportation) expanded by 1.9 per cent in May compared to April this year.
On that note, let us explore TFI International's latest quarter results and stock performance.
TFI International Inc (TSX: TFII)'s Q2 2022 financial results
The Montreal-headquartered transport company saw its total revenue zoom by 21 per cent year-over-over (YoY) to US$ 2.42 billion in the second quarter of FY2022.
Revenue before fuel surcharge was US$ 1.98 billion in the latest quarter, relatively higher than US$ 1.65 billion in the same quarter of 2021.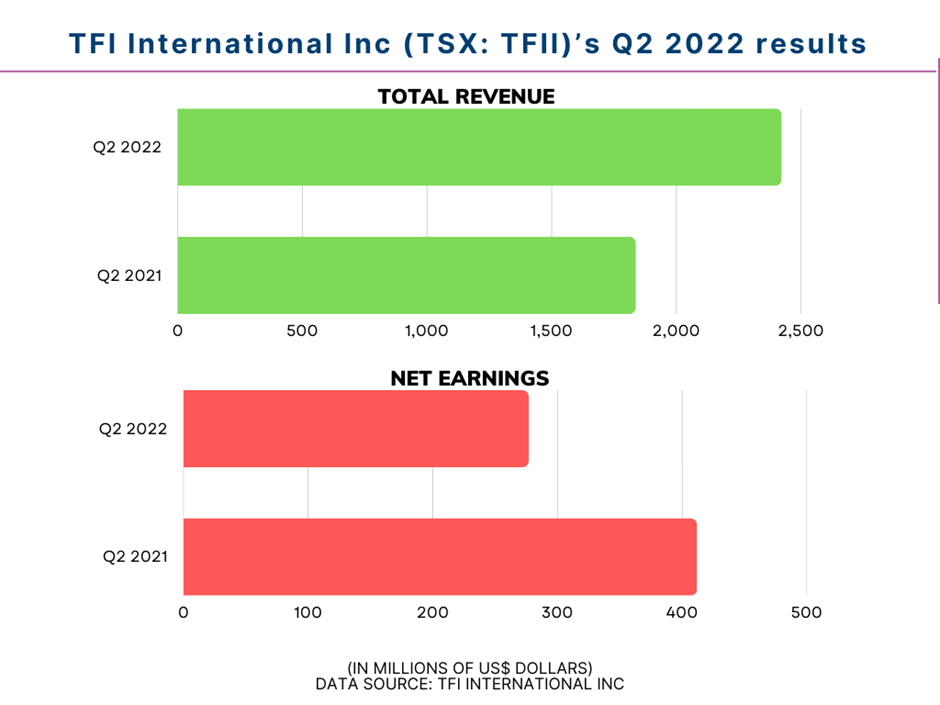 ©Kalkine Media®; ©Garis Studio via Canva.com
The logistics service provider reported an adjusted EBITDA of US$ 441.9 million in the latest quarter, notably up from US$ 285.4 million in Q2 2021. However, the large-cap company noted an operating profit of US$ 391 million in Q2 2022, down from US$ 470.9 million. As a result, TFI International posted aa net profit of US$ 276.8 million in the second quarter of 2022, noting a drop from US$ 411.8 million a year ago.
TFI International's stock performance
The TFII stock spiked by over 24 per cent in one month. This TSX transport stock was up by almost 34 per cent from a 52-week low of C$ 93.63 (June 17). According to Refinitiv information, TFII stocks recorded a Relative Strength Index (RSI) value of 73.8 on July 29, which can represent a high momentum in the market.
Based on Refinitiv data, TFII stock seems to be on an upward trajectory with a Moving Average Convergence Divergence (MACD) above the base line and moving upward.
Bottomline
Canada's national data agency estimated that the real GDP could rise by 0.1 per cent in June, as output in the construction, accommodation and food service, and manufacturing sectors had increased.
With this positive estimate, investors can consider this TSX transportation stock for the long horizon. Income-focused investors can also explore this stock as TFI International also delivers a quarterly dividend (currently US$ 0.27).
Please note, the above content constitutes a very preliminary observation based on the industry, and is of limited scope without any in-depth fundamental valuation or technical analysis. Any interest in stocks or sectors should be thoroughly evaluated taking into consideration the associated risks.