Split stocks of Canadian Pacific Railway Ltd (TSX:CP) started trading on Friday, May 14, after opening at a value of C$ 98.38 apiece against its previous close of C$ 487.27.
CP Rail stock has surpassed its peers in terms of price performance in the past year. After splitting its share at 1:5, it could hit C$ 100 apiece this month.
Meanwhile, railway operator Kansas City Southern has bypassed CP Rail's offer to accept a revised superior takeover deal proposed by rival Canadian National Railway Co (TSX:CN).
Although the development gives CP Rail until May 21 to raise its bid, it has categorically denied entering any bidding war with CN Rail. However, it could negotiate with KC Southern on its existing offer.
Canadian Pacific Railway might get an upper hand once the Kansas City Southern acquisition bid goes through the regulators' scanner. Earlier, the management of both the companies had agreed to the original deal, and the joint entity was expected to deliver US$ 8.7 billion in revenue and generate nearly 20,000 jobs.
But later, CN Rail came up with a superior proposal that was not in line with the regulatory framework.
Let us check out the CP railway stock's movement in detail against its peer.
Canadian Pacific Railway Ltd (TSX:CP)
One of the leading railway companies in Canada, Canadian Pacific has a market cap of C$ 65.47 billion. It has a notable one-year return of 57 per cent and a dividend of C$ 0.95 apiece for the current quarter.
The railway stock topped its previous 52-week high of C$ 97.87 apiece and recorded a fresh peak of 98.41 apiece post its share split trading session.
CP Rail share has rebounded by nearly 59 per cent against its 52-week low of 61.85 apiece (May 15, 2020) and outpaced the S&P TSX Railroads Index this year.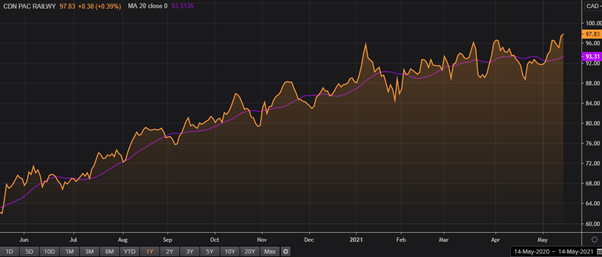 CP Rail's One-Year Price Against 20 Moving Average Chart. (Source: Refinitiv)
At the previous close price of C$ 97.85 apiece, the stock was trading almost five per cent above the 20 Moving Average (20 MA) of C$ 93.31 apiece, indicating a short-term bull market.
CP Rail's Forecast For 2021
As per CP Rail's outlook for 2021, it expects to spend C$ 1.55 billion to generate estimated double-digit earnings per share of C$ 17.67.
The company could update on the final negotiation with KC Southern next week.
The above constitutes a preliminary view and any interest in stocks should be evaluated further from investment point of view.