Highlights

The healthcare index has declined 46.8 per cent year-to-date (YTD).
There were 276 instances of monkeypox in Canada as of Wednesday.
The monkeypox disease can spread from animals to people.
New, highly contagious Omicron subvariants are reportedly causing the spike in COVID-19 cases in Quebec. The Director of Public Health in Quebec, Dr Luc Boileau, reportedly said that despite the surge, it's too soon to think about reintroducing public health restrictions.
Meanwhile, the National Advisory Committee on Immunization (NACI) said that regardless of how many booster shots they have already had, people at high risk of developing serious illness from COVID-19 infection should be offered a booster injection this fall.
Apart from the coronavirus cases, Canada is witnessing a spiked in monkeypox cases. The Public Health Agency of Canada (PHAC) revealed that there were 276 instances of monkeypox in Canada as of Wednesday. British Columbia has four cases, Alberta has five, Ontario has 67, and Quebec has 202.
According to PHAC, it is conducting diagnostic tests for the monkeypox virus. As per the World Health Organization (WHO), the monkeypox disease can spread from animals to people, and the same family of viruses causes it as smallpox, which was deemed extinct in 1980.
In Canada, the healthcare sector has dipped significantly in 2022. The healthcare index has declined 46.8 per cent year-to-date (YTD).
You could consider buying a few healthcare stocks on the dip if you are a long-term investor. Let's look at them:
CloudMD Software & Services Inc. (TSXV:DOC)
With the help of primary care clinics, telemedicine, and artificial intelligence, CloudMD, is a software-as-a-service (SaaS) healthcare startup. The company provides technology solutions to medical clinics all across the nation.
In the first quarter, CloudMD's revenue was C$ 41.4 million, up from C$ 8.8 million in Q1 2021. Despite the decline in the stock price, CloudMD's financials are better than the previous year's first quarter.
CloudMD reduced its net loss to C$ 5.6 million compared to a net loss of C$ 15.1 million in Q4 2021. On June 29, the price of the DOC stock was C$ 0.403 per share.
In Q1 2022, the healthcare company claimed that it is on track to achieve profitability in future. However, investors will have to wait for the next quarter's results to see if the company is on track.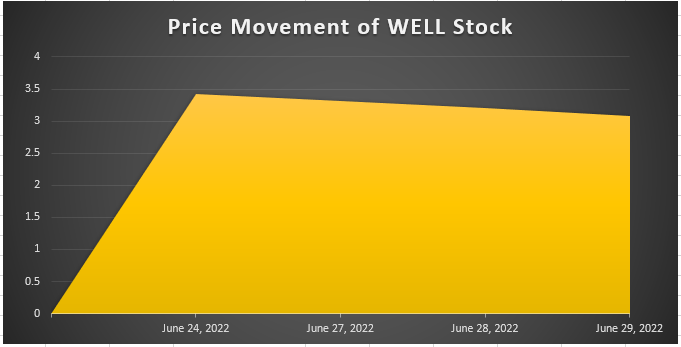 ©2022 Kalkine Media®
WELL Health Technologies Corp. (TSX:WELL)
In British Columbia, the firm owns the largest single chain of care clinics. They also offer Emergency Medical Records (EMR) services to many medical facilities.
WELL achieved record quarterly revenues in the first quarter as it jumped by 395 per cent year-over-year (YoY) to C$ 126.5 million. Meanwhile, the adjusted net income was C$ 8.6 million compared to a loss of C$ 2.4 million in Q1 2021.
Notably, the company's virtual services revenues climbed 174 per cent YoY, and as the world has moved online, the company could further expand its virtual services.
The company is also expanding its presence by making acquisitions and focusing on improving the services of its subsidiaries.
Please note, the above content constitutes a very preliminary observation or view based on digital trends and is of limited scope without any in-depth fundamental valuation or technical analysis. Any interest in stocks or sectors should be thoroughly evaluated taking into consideration the associated risks.