Learning management system (LMS) and distance learning solutions exploded as worldwide markets shuttered during the coronavirus pandemic. Organisations' clamber to adapt to the new normal was driven by agile digital transformation, reskilling and new business models. LMS emerged as the frontier tech in this upending world, helping firms survive the economic downturn.
An offshoot of the edutech industry, LMS was already trending before the pandemic arrived. Learning was among the top-rated challenges of 2019, according to a Deloitte study. The global LMS market is expected to swell to USD 25.7 billion by 2025, growing at a CAGR of 14 percent from 2020 to 2025, forecasts ResearchAndMarkets.com.
Docebo and its AI-powered LMS
Docebo (TSX: DCBO) is a cloud-based LMS platform that uses artificial intelligence (AI) to improve enterprise learning. It has an intuitive and customizable e-learning service that is used by small and medium enterprises and to train workforce.
Docebo's LMS uses SaaS (software-as-a-service) platform to automate an organisation's end-to-end learning process through a variety of strategies and formats. It also helps improve data collection, supports enterprise mobility and gamification to boost productivity and achieve higher employee engagement.
In a traditional LMS environment, employees absorb formal learning modules pushed from top down. In contrast, Docebo's AI-powered learning management tool is intuitive, community-driven and focuses on delivery, as explained in images below.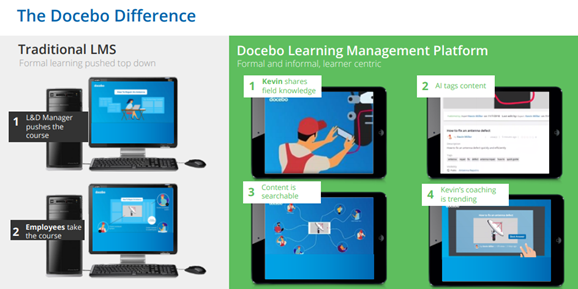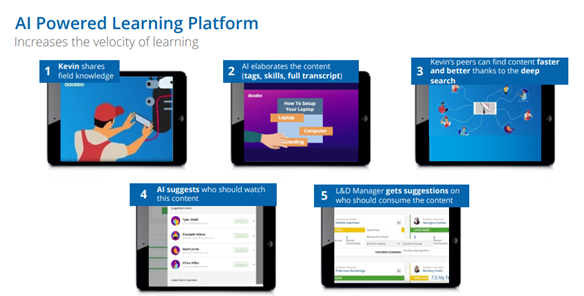 (Source: Docebo's investor deck)
Docebo, which is Latin for 'I will teach', was founded in 2005. The firms' services have been recognized over time, winning a host of awards and accolades. It is compatible with SCORM, AICC and xAPI – international standard for tracking e-Learning services.
Docebo's Comprehensive LMS/Learning Roadmap
Docebo has managed to blend LMS, Learning Experience Platform (LXP), and marketing platform in an integrated system, thereby defining the future of corporate learning. The platform adapts to existing IT systems via an application programming interface (API) system and customizes to company-specific requirements. Some of its features include AI-based automation of time-consuming administrative tasks, modern and intuitive user interface (UI) and executing and tracking instructor-led and web-based training activities.
Docebo's ability to go beyond basic LMS functionality and incorporate social learning features helps understand learner's behaviour, which in turn leads to personalized learning experiences.
The company has presence in Europe, Asia and North America. It boasts of an impressive client base including retail behemoth Walmart, human rights body Amnesty International, media giants Bloomberg and Thomson Reuters, tech firms Uber and HP, and other top companies such as Randstad, L'Oréal and BMW.
Docebo's Growing Financials
The pandemic has caused a massive surge in demand of Docebo's products, a fact reflected in its latest financial report.
In its stellar 2020 first quarter results, the company posted revenue gains of US$ 13.5 million, up 56.7 percent from Q1 2019. Its gross profit of US$ 10.7 million accounts for 79.1 percent of total revenue. Subscription revenue touched US$ 12.2 million, up 60.6 percent from the first quarter of last year. Docebo's top line soared 57 percent year-over-year (YOY), and its annual recurring revenues improved by 56 percent. Cost of revenue, on the other hand, went up from US$ 1.9 million to US$ 2.8 million, marking a 53 percent increase.
Among key business indicators, Docebo's customer base jumped by 21.4 percent, up from 1,596 in the first quarter of 2019 to 1,938 in Q1 2020. The average contract value also increased by 28 percent during this first quarter of the year. Total assets increased by 3 percent or US$ 1.6 million between December 31, 2019 to March 31, 2020.
The company generates it revenue from two sources – recurring subscriptions to its LMS platform and professional services to implementing their product and training learners. In the subscription part, most existing customers opt for recurring fees via term agreements of one to three years. The professional services are normally purchased with initial agreements and includes system and application integration, learner training and other process-change analysis.
Docebo had raised US$ 52.4 million through its initial public offering, most of which towards repaying the outstanding credit facility of US$ 7 million. The remaining proceeds were diverted to cash and cash equivalents including short-term investments with three-month or less maturity term.
Docebo's Sizzling Stock Performance
This high-flying tech stock's boom began with its IPO launch in October 2019 and has since been red hot. The company's shares have gained over 137 percent since its trading debut and is among the best-performing tech stocks on the Toronto Stock Exchange.


Docebo stocks look good on attractive market valuation of C$ 1 billion and trade volumes of over 3.3 million in the first half of 2020. Its share prices surged over 257 percent since the pandemic-triggered stock market crash in March.
Is There Any Room Left For Growth?
The pandemic's impact and a rush among organisations for digital transformation has thrust LMS firms like Docebo into the limelight. The tech company's momentum with mid-sized enterprise market and divisions of larger global companies has soared during the pandemic.
And thanks to this rapid e-learning implementation, this high-flying stock's rally is likely to continue. The firm plans to increase its market penetration by scaling the SaaS platform to meet the needs of new customers and up-selling with existing customers, a fact dependent on its sales and marketing efforts.
Docebo stocks are still undervalued given the current expansion mode in the edutech space and the future market potential, claims National Bank in an analyst note.
However, e-learning and LMS is a competitive space and already dominated by titans like Google (Google classrooms), Adobe Systems Inc., Cisco Systems, Aptara Inc., Microsoft, Oracle, SAP SE, and multiple others.
Docebo's bull run in North American markets and elite client base means its AI-based platform is unique and delivers. Moreover, the firm has been in the news not just for its stock but for also enabling frontline health workers to make use of its LMS platform – a sign that the company cares and is much more than the just bottom line.