Highlights

Not all crypto assets with 'Bitcoin' in their names have features similar to Bitcoin (BTC).

Bitcoin Cash is a product that aims to improve transaction speed and bring down costs.

Wrapped Bitcoin harnesses the power of Ethereum's blockchain that supports smart contracts.
Investing in crypto assets is no cakewalk. The investor has to be aware of many aspects. Most analysts closely watch the competition between Bitcoin and Ether, but there is more to this.
Bitcoin is the world's largest cryptocurrency, and it was lately accepted by El Salvador as legal tender. On the other hand, Ethereum's blockchain and its token Ether are fast catching up. It remains the closest competitor to Bitcoin's hegemony.
But today, let's find out if some near-namesakes are becoming as popular as Bitcoin (BTC). The altcoins, Bitcoin Cash and Wrapped Bitcoin, command billions of dollars of market cap. Are Bitcoin Cash (BCH) and Wrapped Bitcoin (WBTC) linked to Bitcoin (BTC)? What is the difference, if any? Should you invest in Bitcoin or Bitcoin Cash? Let's find answers to all questions.
Image source: Pixabay (https://pixabay.com/illustrations/bitcoin-btc-cryptocurrency-1813503/)
Bitcoin (BTC)
Bitcoin is a typical cryptocurrency with blockchain technology at its heart. Transactions are stored in a decentralized ledger. No single centralized entity has supremacy over these records. Bitcoin popularized the digital ledger tech. But the issue is Bitcoin has its own share of shortcomings.
Also read: What are the top DeFi cryptocurrencies by market cap?
One, for example, is a slow transaction speed. It is claimed that while thousands of transactions using VISA credit card services can be processed every second, Bitcoin processes only seven. Before we know how Bitcoin Cash resolves these issues, let's check out Bitcoin's performance.
At the time of writing, Bitcoin had a market cap of US$860 billion. Bitcoin's share is roughly half of the total market cap of the cryptocurrency space. Over the last seven days, Bitcoin has gained nearly two per cent. It can be bought for US$45,000 apiece.
Also read: Can Bitcoin be termed as the 'asset of the century'?
Bitcoin Cash (BCH)
Bitcoin Cash is a product developed by BTC miners. At its heart lies making transaction speed faster and cost-friendly.
This was done by increasing the block size. In Bitcoin, it is 1 MB, whereas Bitcoin Cash has a block size of up to 32 MB. It is claimed that the latter is more easily scalable than the former. BCH was created after a hard fork in 2017. A few experts claim the larger block size of Bitcoin Cash can expose it to security threats.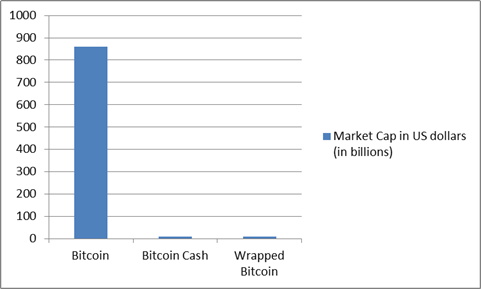 © 2021 Kalkine Media Inc.
For now, Bitcoin Cash, with a market cap of nearly US$11 billion, remains a rival to Bitcoin. At the time of writing, BCH was priced at nearly US$570. Over the past seven days, BCH has lost almost 6 per cent.
Wrapped Bitcoin (WBTC)
Wrapped Bitcoin cannot be confused with BTC or BCH. It is an entirely different crypto asset. But yes, its value is linked to the value of Bitcoin.
WBTC is an Ethereum ERC-20 token. It means the platform is linked to the world of decentralized apps and digitally stored smart contracts. At all times, WBTC maintains a 1:1 backing with BTC. The Ethereum blockchain has gained immense fame, and the WBTC altcoin aims to harness the pluses. With this, WBTC takes BTC to a supposedly more advanced blockchain network.
Also read: 5 best smart contract platforms in 2021
WBTC commanded a market cap of nearly US$9.5 billion at the time of writing. The WBTC price, due to the 1:1 backing of BTC, is close to the BTC price -- US$44,600. The altcoin has gained nearly 0.5 per cent over the past seven days.
Bottom line
The world of cryptos is not as easy as it appears. Different crypto assets have different features that make them unique. Bitcoin Cash aims to improve transaction speed with block size as compared with Bitcoin.
Wrapped Bitcoin uses Ethereum's blockchain but maintains BTC reserves. Before investing, one should look at the underlying tech of any crypto asset to make an informed investment decision.