Summary

The S&P/TSX Energy Index continues to record a decline of over 55 per cent year-to-date.
The Canadian energy industry took a major hit amid the pandemic in 2020.
Stocks of Suncor Energy (TSX: SU) and Enbridge (TSX: ENB), however, continue to trend high on the TSX.
Enbridge and Suncor have current dividend yields of 8.32 per cent and 5.166 per cent, respectively.
Canada is blessed with abundant crude oil and natural gas resources, with its largest source lying in the Western Canada Sedimentary Basin (WCSB). It is also the fourth-largest oil and gas producer in the world. The energy industry was deeply impacted this year due to the volatility in commodity prices and raging coronavirus pandemic, which caused sharp economic contractions and massive falls in global oil demand. But through this crisis, energy stocks like Suncor Energy (TSX: SU) and Enbridge (TSX: ENB) continued to draw investors' attention.
The S&P/TSX Energy Index posted a decline over 55 per cent this year and nearly 15 per cent quarter-to-date. The Organization of the Petroleum Exporting Countries (OPEC) report predicted the global oil demand will fall beyond the earlier estimates. As stocks like Suncor and Enbridge continues to trend on the TSX through these troubling times, let us find out more about these companies.
The commodity price crisis and COVID-19 pandemic inflicted a noticeable decline in the production and demand of Suncor Energy Inc. But through this crisis, Suncor Energy continued to garner high trading volumes on the stock market.
In a cost control measure, the integrated energy company cut down its quarterly dividends to C$ 0.21 in the second quarter of 2020. It currently has a market cap of C$ 24.7 billion. It has a current dividend yield of 5.166 per cent, as per the TSX data.
On the news front, Suncor Energy created a buzz around mid-September after it was put under investigation on the suspicion of securities fraud or other unlawful business practices.
SU STOCK PERFORMANCE
Shares of Suncor Energy record a 61 per cent year-to-date (YTD) decline. After dropping to a low of C$ 15.07 amid the pandemic-triggered market crash in March, its scrips rebounded about 9.4 per cent in the last six months. Currently, it records a 10-day average trading volume of nine million.
Suncor stocks saw a surge in demand after billionaire businessman Warren Buffett decided to buy a 1.3 per cent stake in the company back in August.
SU FINANCIAL RESULTS
Suncor Energy posted a net loss of C$ 614 million in its second quarter ending 30 June 2020. Its funds from operations were down to C$ 488 million in Q2 2020 from C$ 3 billion in Q2 2019.
The company saw a total debt of over C$ 21 billion. It also incurred losses worth C$ 397 million in after-tax hydrocarbon inventory. Its cash and cash equivalents stood at C$ 1.8 billion as of June 2020.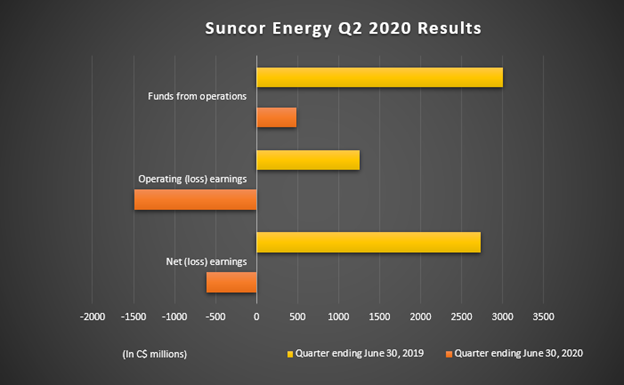 (Data Source: Suncor Energy Inc / Image Credit: © Kalkine Group)
Enbridge Inc (TSX: ENB)
Current Stock Price: C$ 38.9


Enbridge Inc is currently trending among stocks with high dividend yield and trading activity. The company continues to pay a quarterly dividend of C$ 0.81, which currently yields 8.32 per cent, as per the TSX data.
The pandemic did not hamper the energy distribution company's business quite as much. Using the steady cash flow from its ongoing operations, the Calgary-based company continued to expand its pipeline network.
Enbridge operates the largest pipeline system in North America. It transports one-fourth of the crude oil used in North America and one-fifth of the natural gas used in the United States.
ENB STOCK PERFORMANCE
Though it records a 25 per cent YTD decline, Enbridge's stock price has witnessed a steady rise since its March lows. After dropping to C$ 34.09 on March 19, its scrips rebounded nearly 39 per cent in about six months' time.
In the last 10 days, the energy stock accumulated an average trading volume of 4.8 million.
ENB FINANCIAL RESULTS
Enbridge Inc saw a substantial YoY drop in its operating revenue, amounting to C$ 7.9 billion, in the second quarter ending 30 June 2020. Its earnings for Q2 2020 were C$ 1.7 billion, down from C$ 1.8 billion in Q2 2019. The company's EBITDA stood at C$ 2.3 billion in the latest quarter.
Enbridge posted cash, cash equivalents and restricted cash of C$ 497 million at the end of June 2020.