Retail investors on Reddit-based forums seem to have developed an interest in fast-food retailer Wendy's Company (NASDAQ:WEN, WEN:US). The Ohio-based enterprise's stocks saw a jump of about 26 per cent on Tuesday, June 8, after day traders communing on Reddit group Wallstreetbets raised a discussion about the company.
The investor attention came after Reddit users started talking about Wendy's 'chicken tendies', which, reportedly, are group codes used by retail traders for trading stocks.
The sudden spike enabled WEN stock to breach its previous 52-week high of US$ 24.91 (October 16, 2020) as it hit a value of US$ 29.46 on Tuesday before closing at US$ 28.87.
Wendy's is not the only new topic of discussion on Reddit forums. Stocks of e-commerce platform ContextLogic Inc (NASDAQ:WISH, WISH:US) swelled about 50 per cent on Tuesday before closing at US$ 11.63 per share.
With both these stocks gaining attention on various discussion forums on Reddit, they could likely be the latest additions to the platforms' string of 'meme stocks'.
For the uninitiated, Reddit-based retail traders played a massive role in causing stocks like GameStop (NYSE:GME) and AMC Entertainment (NYSE:AMC) to record frenzied buying sprees this year.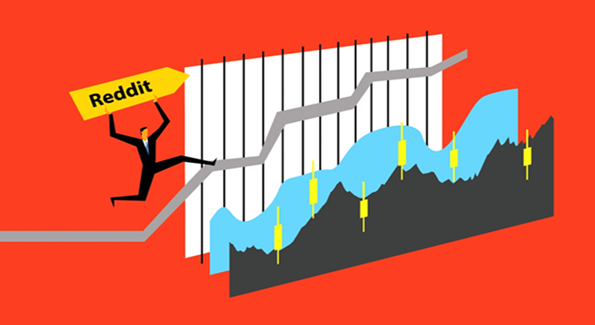 Copyright © 2021 Kalkine Media
Wendy's Company (NASDAQ:WEN, WEN:US)

Wendy's stocks returned 32 per cent year-to-date (YTD) and surged by 43 per cent in the last three months. The C$ 6.4-billion market cap fast-food company pays a quarterly dividend of US$ 0.1, registering a current dividend yield of 1.4 per cent.
In the first quarter of 2021, Wendy's Company recorded a 13.6 per cent year-over-year (YoY) increase in its total revenues. The net income in the same period was US$ 41.4 million, reflecting a substantial growth of 186.4 per cent YoY.
ContextLogic Inc (NASDAQ:WISH)

Despite the Reddit-induced surge, ContextLogic stock is trading in the bearish zone. Since the beginning of this year, WISH stock has dipped 36 per cent and dipped about eight per cent in the past one month.
Against a 52-week high of US$ 32.4 apiece, stocks of this online shopping store company closed at US$ 11.63 per piece on Tuesday. They hold a price-to-book (P/B) ratio of 7.753 and their debt-to-equity ratio sits at 0.04.
ContextLogic posted revenue of US$ 772 million, up by 75 per cent YoY, in Q1 2021. However, the net loss increased to US$ 128 million in the latest quarter, up from US$ 66 million in Q1 2020.
The above constitutes a preliminary view and any interest in stocks should be evaluated further from an investment point of view. The reference data in this article has been partly sourced from Refinitiv.