Summary

Vancouver-based superfood company Rritual Superfoods has scaled up its third full-scale manufacturing run to meet the growing retail demand.
Given the acceleration in demand, the Company has expanded its capacity to improve production levels.
Rritual is confident that the CROSSMARK partnership will open up new retail channels to distribute its products in the US.
Plant-based consumer wellness company Rritual Superfoods Inc (RSF:CSE) announced that its third full-scale production run, which started in mid-March, has been scaled up to meet the increasing retail demand. The production expansion is designed to serve the CROSSMARK-driven rollout. Notably, CROSSMARK is a US-based sales and marketing services agency, which recently teamed up with Rritual Superfoods to turbocharge the latter's brand growth.
Rritual expands full-scale manufacturing run
On 29 April 2021, Rritual Superfoods announced that it has ramped up the third full-scale manufacturing run, which on the verge of completion, to provide distribution to 2,400 retail stores with nearly 10K points of distribution. The Company highlighted that the scale-up decision came in the wake of CROSSMARK-driven rollout.
Following RSF's strategic sales campaign, large-scale retail response and demand for the Company's products continue to improve.
The Company has developed relationships as well as the capacity to expand the production and fulfilment requirements as the demand is anticipated to increase.
ALSO READ: How is Rritual Superfoods progressing with US retail roll-out of its plant-based superfood elixirs?
Rritual's recent partnership with CROSSMARK supports its strategic focus on building a national presence in the US. The Company highlights that agile and advanced manufacturing capabilities are a necessity to penetrate the US markets.
Rritual-CROSSMARK partnership
Last week, Rritual announced a partnership with CROSSMARK to accelerate its brand growth. The Company also anticipates that the collaboration will open up new retail channels to distribute its products in the US.
The CROSSMARK partnership will also identify early-stage prospects for Rritual's existing superfoods category. Importantly, it will help determine what is required for RSF to become a category leader.
TO KNOW MORE, DO READ: Rritual Superfoods (RSF:CSE) teams up with CROSSMARK Inc. to rev up its brand growth
Mr David Kerbel, Rritual Superfoods President and CEO, commented-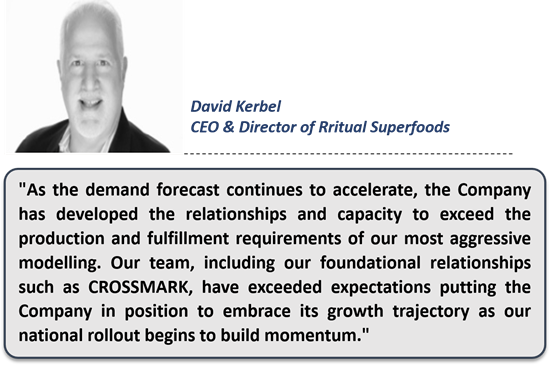 On 29 April 2021, RSF shares closed the day's trade at CA$0.85.
MUST READ: Rritual (RSF:CSE) ropes in Sarton Molnar-Fenton to turbocharge sales strategy