Highlights

Multiple retailers in Canada and other countries have started accepting payment in Bitcoin and/ or other cryptos
SpendTheBits' merchant cryptocurrency payment solution is for all, including small shops and big enterprises
Quick transfers of bitcoin between parties and the security of the underlying XRP Ledger are among many positive aspects of the SpendTheBits app
Could there be a day when the global financial system becomes as accustomed to using cryptocurrencies as it is to accepting fiat currencies? Even though the answer could be open to challenge, no matter whether it comes from a crypto enthusiast or a critic, the penetration of cryptos in the payments system is already underway.
Not many might even know that in 2014, airBaltic became the world's first major airline to allow the booking of tickets using Bitcoin. Today, the mainstreaming of Bitcoin in the payments system is gathering pace, with many retailers worldwide accepting cryptos. In Canada, online retailer Newegg, and used car market participant, HGreg Group, have been accepting Bitcoin payments for quite some time now.
Can participants like SpendTheBits, a secure XRP Ledger-based payments system, prompt the broader adoption of cryptocurrencies in Canada and beyond? Let us explore.
Source: SpendTheBits App Screenshot
Retail merchants and cryptos
Many Canadians hold cryptos in their investment portfolios. Not everyone might be looking at the potential of cryptos in growing wealth. Many also envisage digital currencies- powered by peer-to-peer blockchain technology- becoming a widely accepted medium of exchange.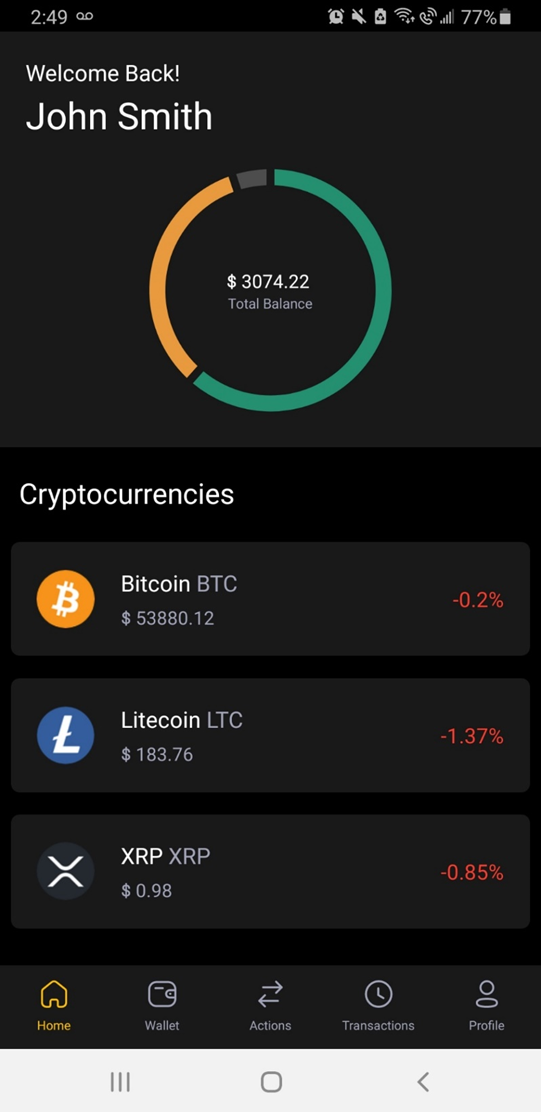 Source: SpendTheBits App Screenshot
For a comprehensive ecosystem to be built around cryptocurrencies, the space needs participants who can enable fast and secure movement of funds between the payer and the payee. SpendTheBits scores a point on both the counts -- speed and protection. It provides an easy-to-use interface to retail merchants with a clean display of the account balance in Canadian dollars.
Also read: How SpendTheBits strengthens security for BTC payments.
Next, registering a business, whether a big enterprise or a small-scale unit, is a few-step process. Accepting Bitcoin from the payer is simple, thanks to the QR code-powered interface.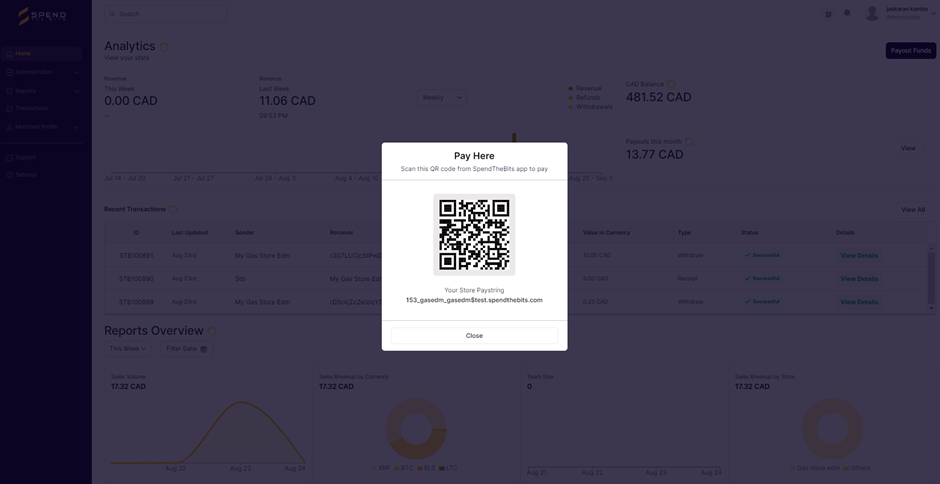 Source: SpendTheBits App Screenshot
The merchant on the dashboard can view a detailed view of transactions in chronological order. The payer can scan the code using the SpendTheBits app installed on their smartphone.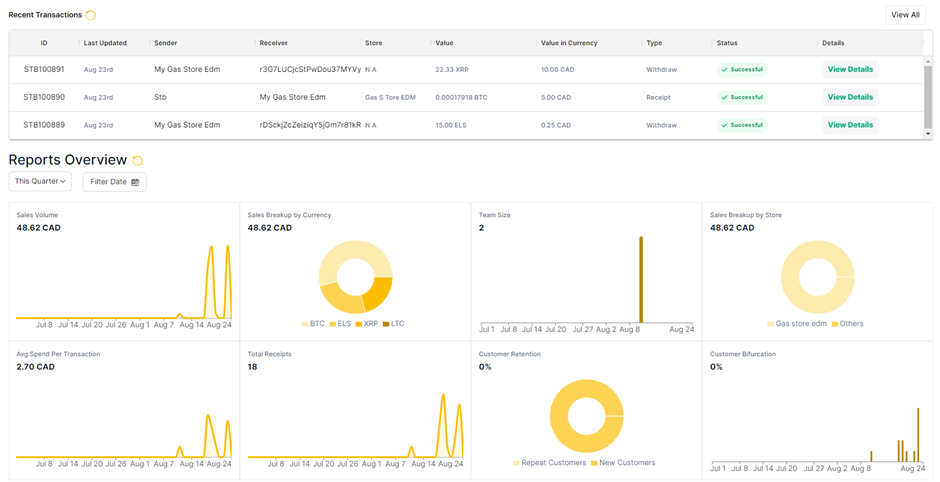 Source: SpendTheBits App Screenshot
SpendTheBits app
For a sender of Bitcoin, the SpendTheBits app comes as a powerhouse. It can store the crypto holding by acting as a wallet. The interface is straightforward and underneath it is the security of the time-tested XRP Ledger tech.
Watch: How SpendTheBits is creating a comprehensive Bitcoin payments ecosystem?
The app will facilitate payments in bitcoin to bricks-and-mortar and online merchants, where transactions will be confirmed in a very fast, efficient manner, unlike the current situation with bitcoin, where transactions are slow to process and inefficient for retail payment. SpendTheBits has created a comprehensive network which connects all stakeholders, most importantly, merchants and buyers.
Win-win proposal
As more and more merchants in Canada and elsewhere warm up to cryptocurrency payments, Using the SpendTheBits platform, all individuals or merchants will be able to spend/accept real-time payments in bitcoin because it's accessible, affordable, and not only green but fast as well. Consumers seek Bitcoin transfer apps that are fast and safe. SpendTheBits can fit the bill with its highlights like recording a transaction on the Bitcoin blockchain in fewer than three seconds and the security of funds enabled by the XRP Ledger.
The penetration of cryptos in the payments system is already underway at a steady pace. SpendTheBits acts as a bridge between merchants and consumers hence trying to bring Canadians, eventually everyone around the globe, into the world of digital finance.
Risk Disclosure: Trading in cryptocurrencies involves high risks including the risk of losing some, or all, of your investment amount, and may not be suitable for all investors. Prices of cryptocurrencies are extremely volatile and may be affected by external factors such as financial, regulatory, or political events. The laws that apply to crypto products (and how a particular crypto product is regulated) may change. Before deciding to trade in financial instrument or cryptocurrencies you should be fully informed of the risks and costs associated with trading in the financial markets, carefully consider your investment objectives, level of experience, and risk appetite, and seek professional advice where needed. Kalkine Media cannot and does not represent or guarantee that any of the information/data available here is accurate, reliable, current, complete or appropriate for your needs. Kalkine Media will not accept liability for any loss or damage as a result of your trading or your reliance on the information shared on this website.