Source: A_stockphoto, Shutterstock
Summary

High-grade gold intercepts received from drilling campaign at the Pilot deposit.
Drilling confirmed the presence of up to mineralising systems with +1 g/t of gold zones.
The Pilot gold deposit exhibits the potential to generate cash flow in near terms.
In an upbeat market update on 10 March 2021, gold explorer Altan Rio Minerals Limited (TSXV:AMO.H) has released drill results from its recently concluded RC drilling campaign.
The campaign involved 10 RC drillholes to test mineralisation at the Pilot deposit within the Company's Southern Cross North Project, located approximately 360 km east of Perth, Western Australia.
Some of the significant intercept results are shown below: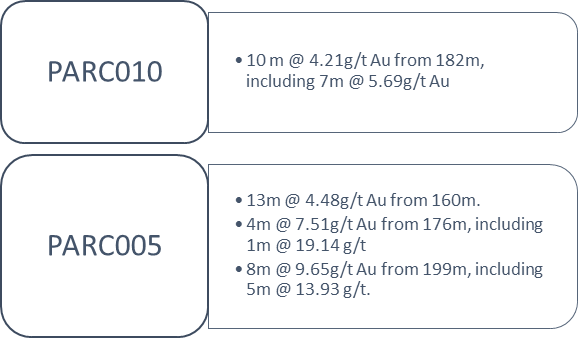 Copyright © 2021 Kalkine Media Pty Ltd. (Data Source: TSXV update, 10 March 2021)
Drilling Campaign
Nine of the 10 holes successfully completed their objective, while hole PARC006 was abandoned due to drilling difficulties.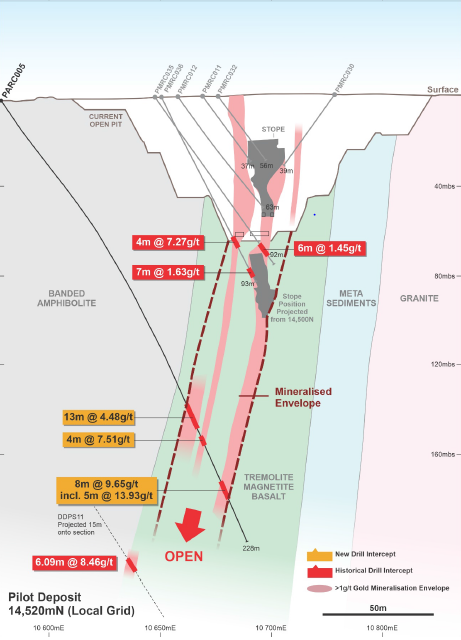 Cross section of Pilot Deposit (Image source: TSXV update, 10 March 2021)
Hole PARC010 was planned to test the mineralisation potential of an interpreted downward plunge directly beneath the historic pilot mine.
The results from the campaign have established the mineralising system lies in near-vertical dip in three zones with a grade of more than 1g/t of gold in the mineralised envelope.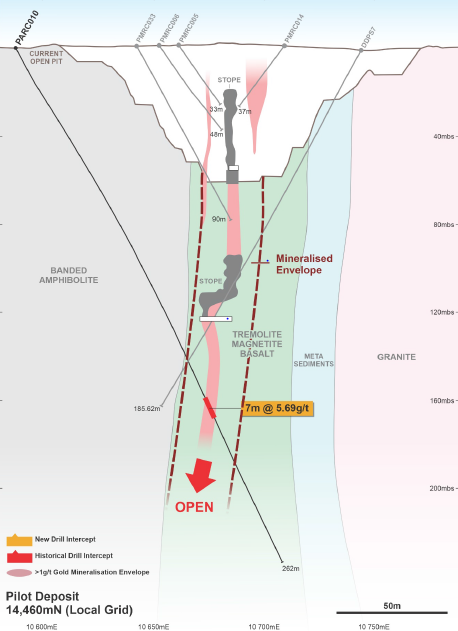 14,460mN Cross section of Pilot Deposit (Image source: TSXV update, 10 March 2021)
Management Commentary
Mr Paul Stephen, CEO, Altan Rio, expressed his views on the excellent intercept results and commented:
The Pilot Project
Altan Rio and Barto Gold Pty Ltd signed the Pilot Agreement in June 2020 for the exploration and development of the Pilot prospect. The agreement between the two leads to a larger exploration area due to combined tenements.
Altan commenced RC drilling on the project in November 2020.
The Company also compiled and analysed historical drilling data from Pilot, employing advanced processes to review them on a 3D platform.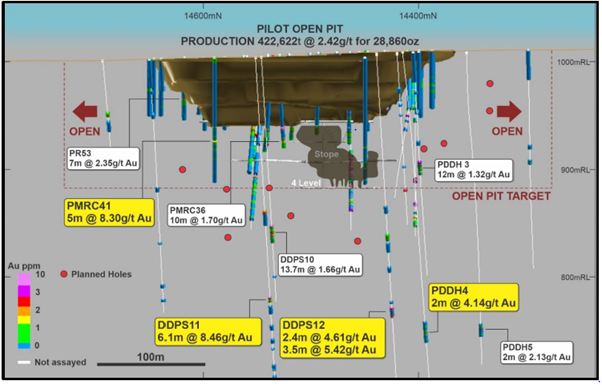 Pilot longitudinal Section (Image Source: TSXV update, 10 March 2021)
The recently concluded drilling program adds clarity to the historic assays. Earlier assay results suggested mineralisation occurred in parallel zones at 20-40m west of the Pilot's mineralised envelop.
These historic intercepts are now seen as zone repetition of the structure and are referred to as 'Hangingwall Lode'. The current interpretation adds significant potential to the Pilot deposit.
Historical Intercept
Copyright © 2021 Kalkine Media Pty Ltd.
Operations planned for next quarter:
Altan plans to reveal the results of the concluded Phase-2 RC drilling at the Pilot deposit.
The Company will undertake a two-hole diamond drill program on the Aries prospect. The hole will be co-funded under the Western Australian Government's Exploration Incentive Scheme (EIS). Drilling may start during late March or early April this year.
Altan Rio will re-commence RC drilling across the project by mid-April.
Share Price: The stocks of the Company closed the day's trade at CAD 0.16 with a market cap of CAD 13.47 million as of 10 March 2021.