The S&P/TSX Composite Index fell 0.7 per cent on Wednesday, October 5, and closed at 19,235.09 points. Meanwhile, the S&P/TSX Venture Composite closed at 622.62 points after declining by 0.09 per cent.
The energy sector was in the green (+1.92 per cent), and other sectors like information technology, industrials, and health care were down by 1.39 per cent, 0.87 per cent, and 0.99 per cent.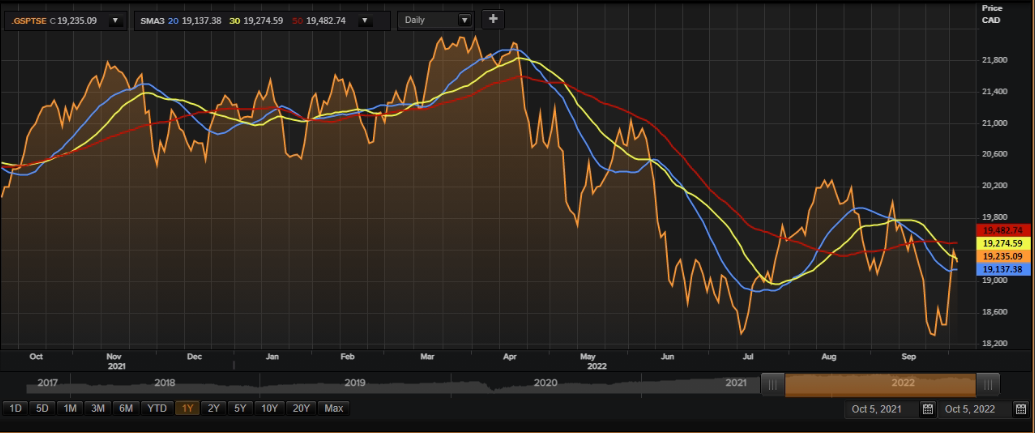 One-year price chart of TSX Composite Index along with SMA 20-day, SMA 30-day, SMA-50-day (October 5). Analysis by © 2022 Kalkine Media®
Volume Active
The Toronto-Dominion Bank (TSX: TD) recorded the highest volume on the TSX as its 8.8 million shares exchanged hands. Meanwhile, Cenovus Energy Inc. and Suncor Energy Inc. were in second and third place, with trading volumes of 8.18 million and 7.84 million.
Wall Street update
Equity markets in the United States also slumped on October 5. The NASDAQ Composite was down by 0.24 per cent and closed at 11,148.64 points.
Meanwhile, the NYSE Composite fell 0.4 per cent to 14,262.03 points.
Commodities
The Gold Futures slumped on Wednesday and were down by 0.56 per cent to US$ 1,720.8 per troy ounce. The WTI Futures were up by 1.43 per cent to US$ 87.76 per barrel.
Meanwhile, the Brent Oil Futures increased by 1.71 per cent to US$ 93.37 a barrel.
Currency news
The CAD/USD slumped 0.76 per cent to 0.7343. Meanwhile, the CAD/EUR was up 0.27 per cent to 0.7429.