Highlights

In Q3 2022, Fortis Inc.'s net earnings was C$ 326 million.
Dollaram's operating income in Q2 FY 2023 was C$ 287.4 million.
In Q2 2022, George Weston's adjusted EBITDA was C$ 1,588 million.
Large-cap stocks are represented with a total market capitalization of C$ 10 billion to C$ 30 billion.
Every portfolio is the reflection of the investor's strategy. This may change in different market conditions and at different periods. To stabilize the portfolio, investors may keep a mix of all the stocks, large-cap stocks being a crucial part. They are mostly known to investors and offer steady dividend payments. Moreover, these companies have a long tenure, so it is comparatively easy to check on profitability and other financial indicators.
In recent months, inflation worries and rising prices have been hovered over investors. Until the inflation level drops to the desired level, it may be on an elevated way. Despite such situations, as a growth seeker, look for stocks that may offer growth potential and risk mitigation. For this, selecting your stocks on an overall analysis is crucial. Along with the financials, scrutinize the company valuations as well.
Primarily, focus on the comfortable stocks for your portfolio and help you achieve your wealth goals. While selecting your large-cap stocks, do not let speculations hinder your research-backed decision. In this roller coaster ride, pave the way for a secure investment. Now, let us look at five large-cap stocks with their financial performances to analyze:
Pembina Pipeline Corporation (TSX: PPL)
Pembina Pipeline Corporation deals in an integrated product portfolio that includes gas gathering and pipelines. Further, it also deals in storage and fractionation assets and serves North American and Canadian markets.
In Q3 2022, Pembina's gross profit rose to C$ 874 million from C$ 682 million in the previous year's same quarter. The revenue rose to C$ 2,779 million from C$ 2,149 million. The earnings too increased to C$ 1,829 million from C$ 588 million. The basic EPS (earnings per share) soared to C$ 3.24 from C$ 1.01. The adjusted EBITDA grew to C$ 967 million from C$ 850 million. Pembina distributes a monthly dividend to its shareholders, which is reported at C$ 0.217 per share. The P/E (price-to-earnings) ratio and the dividend yield are at 9.3 and 5.691 per cent, respectively.
As of November 10, 2022, the stock price of Pembina Pipeline Corporation is at C$ 45.86 and jumped by 9.79 per cent within 12 months.
Fortis Inc. (TSX: FTS)
Fortis Inc. caters to gas and electricity customers and smaller electricity generation stakes. The company has several distribution assets in the US and Canada and utility transmission assets.
In Q3 2022, Fortis' net earnings were posted at C$ 326 million versus C$ 295 million in the year-ago quarter. The revenue also soared to C$ 2,553 million from C$ 2,196 million. The cash and cash equivalents declined to C$ 395 million from C$ 225 million. The operating cash too fell to C$ 633 million from C$ 711 million. The quarterly dividend distributed by the company is c$ 0.565 per share.
The adjusted EPS of Fortis Inc. in two different quarters: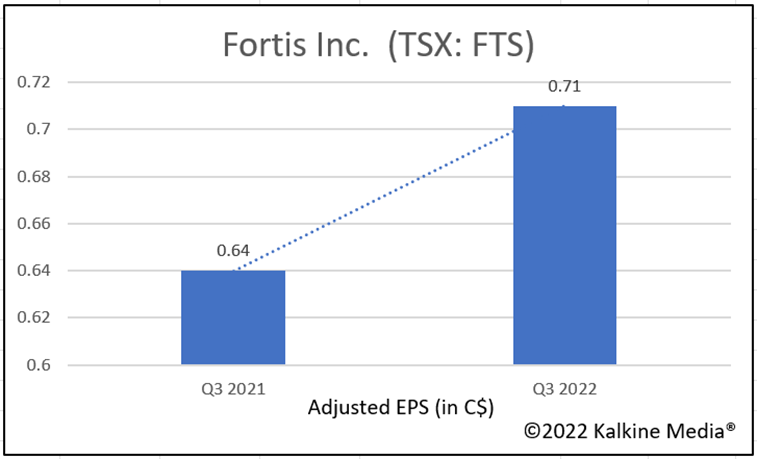 Dollarama Inc. (TSX: DOL)
Dollarama Inc. offers a wide product range through its discount retail stores. The company's major product offering includes consumer products and general merchandise. In addition to this, Dollarama offers seasonal items, too and all of this at low fixed price points.
In Q2 of FY 2023, the sales grew by 18.2 per cent and were reported at C$ 1,217.1 million in the same quarter of the previous year. The EBITDA was noted at C$ 369.4 million versus C$ 293.7 million for the same comparative period. The operating income rose by 30.3 per cent to C$ 287.4 million from C$ 220.48 million. The P/E ratio is at 31.1, along with an EPS of C$ 2.52.
As of November 10, 2022, the stock price of Dollarama was at C$ 81.32, with an increase of 38.93 per cent in a year.
George Weston Limited (TSX: WN)
George Weston Limited operates as a holding company to two subsidiaries- Loblaw and Choice Properties with a controlling stake of 53 per cent and 62 per cent, respectively. Loblaw is a grocer in Canada, and Choice Properties is an open-ended real estate investment trust.
In the second quarter ending on June 18, 2022, George Weston's revenue was reported at C$ 12,979 million versus C$ 12,637 million at the same time as the previous year.
The adjusted EBITDA rose to C$ 1,588 million from C$ 1,462 million for the same comparative period. The company distributes a dividend of C$ 0.66 per share every quarter to the shareholders. With the three-year dividend growth of 4.28 per cent, the dividend yield was noted at 1.704 per cent.
Magna International Inc. (TSX: MG)
Magna International Inc. operates as an automotive supplier that includes roof systems, vision and electronic systems, body and chassis, exteriors, interiors, seating, tooling and engineering, powertrain, closure systems, electric vehicle systems etc.
In Q3 2022, the sales of Magna International rose to US$ 9,268 million from US$ 7,919 million in the same quarter of the previous year. The net income too soared to US$ 296 million from US$ 17 million. The diluted EPS and adjusted diluted EPS rose to US$ 1 and US$ 1.07, respectively, compared to US$ 0.04 and US$ 0.56 last year.
The dividend yield of Magna International was noted at 3.142 per cent with a quarterly dividend of US$ 0.45 per share.
Bottom Line
For new investors, large-cap stocks may prove to be one of the ways to stabilise portfolios. Irrespective of the stock's growth potential and the sector, select your stocks with proper market research and past valuations. It may be unfavourable to you without analyzing the current trends and trends.
Investing must be done according to your future plans and knowledge. If you deviate from the way, it may deviate your portfolio in an unfavourable direction.
Please note, the above content constitutes a very preliminary observation based on the industry and is of limited scope without any in-depth fundamental valuation or technical analysis. Any interest in stocks or sectors should be thoroughly evaluated taking into consideration the associated risks.