Highlights

Technical analysis can be used as a guide for traders to know past price trends and decide on their investments.
Technical analysis involves two different ways proceed-the bottom-up approach and the top-down approach.
Technical analysis indicators are used in sync with other tools such as charts.
Technical analysis is the art to study the market to plan your investments and tap into the current trading opportunities. This is primarily conducted by making effective use of charts for predicting future price trends. Different trends are analyzed and looked at along with different trading activities. The analysis can be used as a guide for traders to know past price trends and decide on their investments.
Most technical traders consider past price movements as a relevant part of the price action in the future. They may make stock evaluations based on such movements.
The two most common forms of technical analysis are chart patterns and technical indicators. Apparently, technical analysis is just one of the ways to ensure and safeguard investments.
Choose the right approach
There are two different approaches involved in technical analysis- bottom-up approach and the top-down approach. Generally, short-term traders prefer going with the top-down approach as against long-term investors who prefer going with the bottom-up approach.
Along with these two ways, there are five core steps, to begin with the technical analysis:
Top-Down
The top-down approach focuses on the macroeconomic aspect, looking at the overall economy followed by individual stocks. In the case of stocks, for a trader, the economies come first. Then they focus on sectors and at last comes the companies. For such traders, short-term gains are on top priority as compared to long-term valuations.
Bottom-Up
The bottom-up approach involves individual stocks as against the macroeconomic view. The focus is on a stock that seems to be interesting for potential points of exit and entry.
Additionally, there are other core steps involved in this that are mentioned below: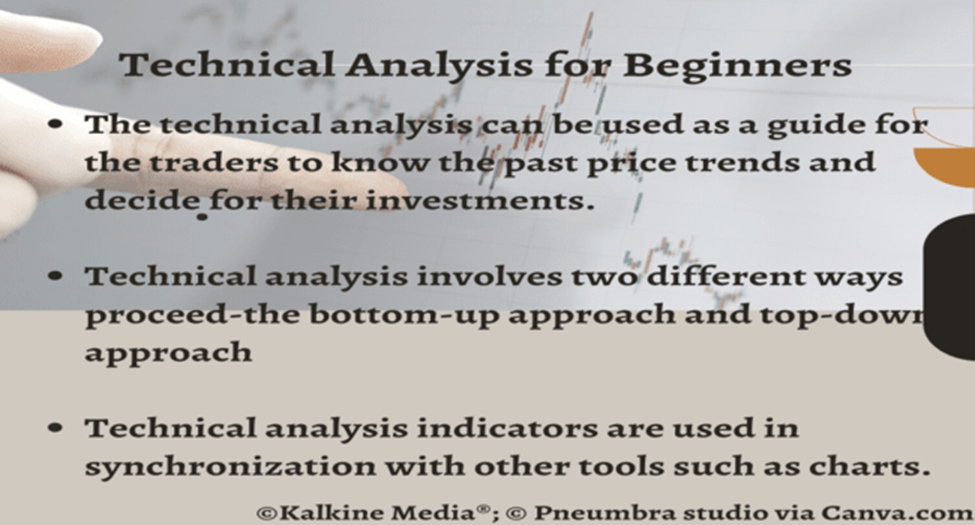 Set up a strategy
The primary step is to set up a trading system or identify a strategy. For instance, a new trader may decide to implement the golden cross strategy. For some, it may work, while for others it may not work. Check with your favorable factors and then select your strategy.
Identify securities
Not all the stocks are perfect for the above-mentioned strategy. It is suitable for volatile and highly liquid stocks. The stocks that are illiquid or stable do not fall under this strategy.
Find the right brokerage
To keep costs low, it is essential to get the right trading account. Without this, it may be tough to move ahead. With high costs, it can hamper the process in the middle and lead to a halt.
Use additional software or tools
Many more features are required to maximize the performance. Some traders may take the help of automated trading systems while others may go for mobile alerts.
Bottom line:
Generally, technical analysis indicators are used in synchronization with other tools such as charts. You should look for your perfect combination to get effective results.
Every investor follows a different approach depending upon their risk tolerance, trading style, individual personality, etc. However, the first step is to have the right understanding of the present indicators. When you are clear in your approach, you tend to make fewer impulsive and emotional mistakes and stay confident in what you are doing.
Please note, the above content constitutes a very preliminary observation based on the industry and is of limited scope without any in-depth fundamental valuation or technical analysis. Any interest in stocks or sectors should be thoroughly evaluated taking into consideration the associated risks.