Highlights:

Breeze Airways is a Utah-based airlines company, and David Neeleman started it.
Currently, Breeze Airways is operating from San Francisco, San Bernardino, Las Vegas, and Los Angeles.
It appears that investors are looking for Breeze Airways stock. Know why.
Since the beginning of this year, equities markets have remained volatile due to macroeconomic factors like the outbreak of a new coronavirus variant, fears over a hike of interest rates, and the recent war between Russia and Ukraine.
That said, despite knowing the risks, the prospect of making money never fails to keep people away from the market.
On Tuesday, March 8, it appeared that investors were looking for a stock of an airlines company after it announced some significant developments.
Why is Breeze Airways gaining traction?
Breeze Airways is a Utah-based airlines company, and it was started by David Neeleman, who has co-founded JetBlue, WestJet, Morris Air, and Azul Linhas Aereas in the past.
The airlines announced its expansion plans in the United States and said it aims to double its network to 77 routes soon. Breeze Airways was created to address the demand between cities which weren't being served by large carriers.
According to the company statement, Breeze Airways has ordered 80 Airbus A220-300 aircraft, and the planes are expected to be delivered one per month for the next six years. In addition, the company will also add more Embraer 190 and 195 aircraft to its fleet.
Breeze Airways will start operations in the west from San Francisco, San Bernardino, Las Vegas, and Los Angeles.
The coast-to-coast fares start from US$ 99 (one way), and the company also expects to add cities from the eastern and south-eastern parts of the US. Breeze will add Jacksonville, Nashville, Savannah, and Fort Myers.
As the world is bouncing back from the crisis of the coronavirus pandemic, it is expected that the travel industry could recover.
Also Read: Genius Group Limited IPO: How to buy this edtech stock?
As Breeze Airways has announced expansion plans, it appears to have attracted potential investors in hopes to invest and getting higher returns.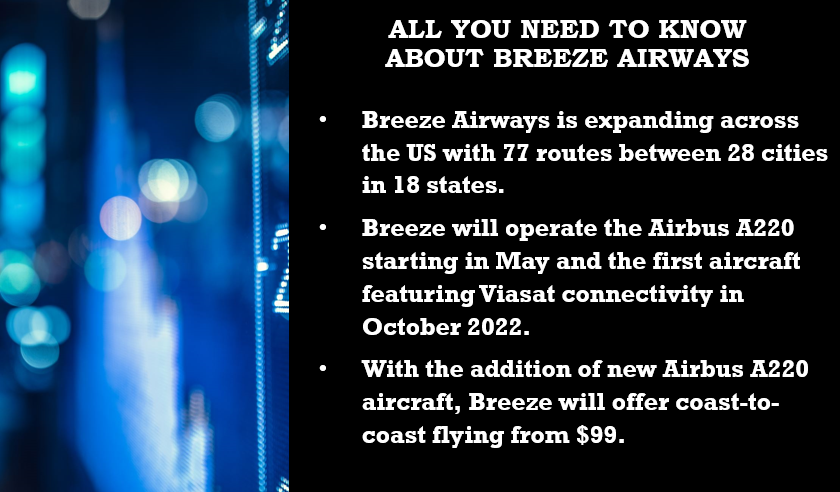 ©2022 Kalkine Media®
Bottom line
Retail investors cannot buy the Breeze Airways stock as it is not listed in the stock market. The airline is a private company and has not announced any plans of going public.
In August last year, Breeze Aviation Group Inc, the parent company of Breeze Airways, reportedly raised US$ 200 million in a funding round led by BlackRock and Knighthead Capital.
So far, the company is believed to have raised US$ 287.3 million through different funding rounds.
Also Read: Intel's Mobileye IPO: When can you buy this stock?
Please note, the above content constitutes a very preliminary observation or view based on digital trends and is of limited scope without any in-depth fundamental valuation or technical analysis. Any interest in stocks or sectors should be thoroughly evaluated taking into consideration the associated risks.