While the Toronto Stock Exchange (TSX) comprises companies from across sectors and with different levels of financial and operational strength, some continue to outperform their peers through their resilience and adaptive techniques.
Let's look closely at some such red-hot stocks that could keep investors interested.
Shopify Inc. (TSX:SHOP)
Shopify is an information technology market leader, with a C$ 225.5 billion market capitalization, that allows small and medium businesses to list as e-commerce layers on several platforms. The company also has as a merchants solutions segments that generates about 57 per cent of its total revenues.
Stocks of the Ontario-based company grew 40.56 per cent in the last one year, as against an 8.14 per cent rise in the TSE 300 Composite Index.
One of the most resilient technology players in Canada, Shopify registered a 110 per cent year-over-year (YoY) growth in total revenues in the first quarter of 2021. Its net income for the same quarter expanded to US$ 1.26 billion, as against a net loss in Q1 2020.
Constellation Software Inc. (TSX:CSU)
A software service provider to public and private sector companies, Constellation software caters to players in North America, Europe, Australia, South America, and Africa. Its customers include companies from various sectors, including some significant ones including hospitality, community care and communications, among others.
This tech stock, with a C$ 39.8 billion market capitalization, returned 13.58 per cent in year-to-date (YTD).
Laurentian Bank of Canada (TSX:LB)
The financial services firm is one of the top performing lenders in Canada. It also offers business-to-business (B2B) services through its subsidiary and brokerage services to investors. Its other business segments include retail, business services and capital market operations.
The C$ 1.9-billion market cap lender presently holds a 3.662 per cent dividend yield, and about C$ 3.68 earnings per share (EPS).
In the second quarter ended April 30, 2021, its reported net income jumped substantially to C$ 53 million, as against C$ 8.9 million in the corresponding period last year.
Lightspeed POS Inc. (TSX:LSPD)
Lightspeed POS, which offers software services to offer commerce-enabling software services (SaaS), is one of the top technology companies listed on the TSX. The company has operations in the United States, Canada, Netherlands, Australia, among others.
Lightspeed stocks are among the top price performers on the TSX, returning 31.28 per cent in the quarter to date (QTD) period.
The tech firm's total revenue in the fourth fiscal quarter ended March 31, 2021, jumped 127 per cent YoY to US$ 82.4 million.
FirstService Corporation (TSX:FSV)
One of the fastest growing real estate players in Canada, FirstService Corporation earns revenues through its business divisions including real estate properties management services and property services through various brands. The C$ 9.3-billion market cap company earns majority of its revenues from its US operations, and the remaining from Canada.
FirstService holds an EPS of C$ 3.06 and a price-to-earnings (P/E) ratio of 70.50. It has an 18.64 per cent return on equity (ROE), as per TMX.
The company exhibited resilience against operational headwinds posed by the pandemic as its stocks rose about 55.5 per cent in the last one year.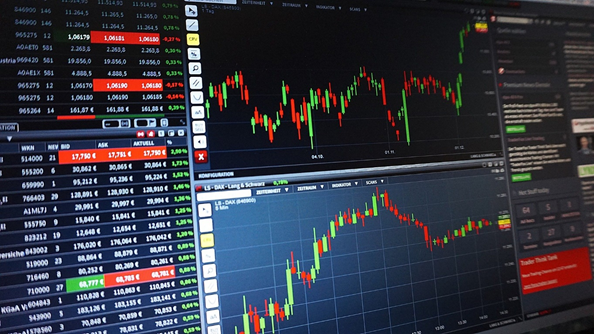 Source: Pixabay
Kinaxis Inc. (TSX:KXS)
Tech giant Kinaxis Inc offers services for supply chain management and planning of sales and operations through its consequence evaluation and alerting, high speed analytics, and scenario simulation capabilities.
The tech company generates revenues through its operations in North America, Europe and Asia-Pacific.
Kinaxis faced COVID-related headwinds, however, its first quarter revenues rose 9 per cent YoY. The tech major has orderbook visibility through its long-term contracts.
Its SaaS services have a US$ 360.8 million backlog, while its maintenance and support order backlog is about US$22.7 million.
goeasy Ltd (TSX:GSY)
A credit services firm and one of the top price performers listed on the TSX, goeasy Ltd offers merchandise leasing services including credit for household furnishings, and home electronics products, among others.
It has a market capitalization of C$ 2.6 billion, and an EPS of C$ 15.12, as per TMX. It also posts a P/E ratio of 10.60 and a price-to-book (P/B) ratio 4.73.
Its loan portfolio jumped 10 per cent YoY to C$ 1.28 billion in the first quarter of 2021, while its adjusted quarterly net income rose 67 per cent YoY to C$ 36.7 million.
Senvest Capital Inc. (TSX:SEC)
Senvest Capital Inc is an asset management company with predominant operations in the US.
The financial services player has a market capitalization of C$ 964 million, a P/E ratio of 0.90, and an ROE of 101.99 per cent, as per TMX.
Senvest Capital stocks noted a growth of 118.39 per cent YTD, as against that of 75.17 per cent for the S&P/TSX Asset Management and Custody Banks (Sub Industry) Index.
Cargojet Inc. (TSX:CJT)
The air cargo carrier company has freight operations in 14 Canadian cities, and has scheduled international cargo operations in USA, Bermuda, Germany and Mexico.
The cargo air carrier is also among the top performers in the industrials sector. Amid the disruptions caused by COVID-19, its stocks grew 15 per cent in the last one year.
Thomson Reuters Corp (TSX:TRI)
Media giant Thomson Reuters is one of the top performing industrials stocks in the TSX universe.
The company has a diversified business model and commands shareholders' stake worth C$ 61.03 billion. It is one of the top price performers on the TSX, and has an EPS of C$ 15.86.
Thomson Reuters holds an ROE of 17.46 per cent, and a return on assets of about 9.63 per cent.
Thomson Reuters' operational performance improved substantially in Q1 2021, as the company reported a 34 per cent YoY increase in its operating profit.
The above constitutes a preliminary view and any interest in stocks should be evaluated further from investment point of view.