After three consecutive days of losses, the broader equity gauge of the Canadian Market, S&P/TSX Composite, gained 49 points or 0.30% to settle at 16,279.36 on Thursday. At the closing bell, the TSX Composite featured a dividend yield of 3.59% and traded at a Price-to-Earnings (PE) multiple of 17.70x.
The index traded above its crucial support levels of 200-day, 50-day and 30-day SMAs, a positive technical indicator. However, it below its immediate support levels of five-day and 10-day simple moving averages (SMAs).
Also, the 14-day and nine-day RSI hovered in a neutral zone and mostly tilted towards the oversold territory.

Five -day Price Chart (as on October 22, 2020, after the market close); Source: Refinitiv (Thomson Reuters)
Sector Summary*
Healthcare sector, Energy, Academic & Educational Services were the top performing sectors, while Basic Materials and Consumer Non- Cyclicals were in the red territory.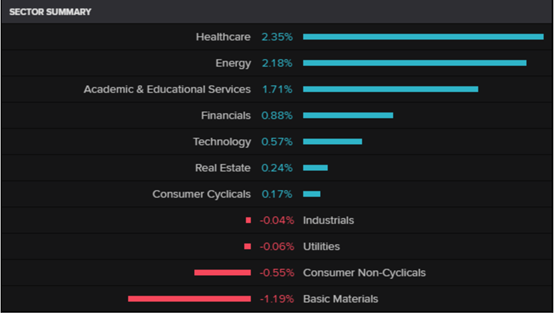 Source: Refinitiv (Thomson Reuters)
Stocks in Play*
Gainers: Roger Communications Inc (up 11.56%), Seven Generations Energy Ltd (up 9.13%) and Vermilion Energy Inc (up 7.98%)
Losers: Enghouse Systems Ltd (down 4.54%), Silvercrest Metals Inc (down 4.35%) and Fortuna Silver Miners Inc (down 4.54%)
Volume Leaders: Air Canada Voting and Variable Voting Shares, Suncor Energy Inc., and Bank of Nova Scotia.
On Wall Street: Bulls were active as investors scouted for positive signals from Washington on economic aid package. Positive data on US weekly jobless claim figures also helped improve investors' mood. The Dow Jones Industrials climbed 152.84 points or 0.54% to 28,363.66, the Nasdaq Composite rose 21.31 points or 0.19% to 11,506.01 and the S&P 500 index gained 17.93 points or 0.52% to 3,453.49.
Commodity News*
Gold futures went up marginally by 0.25% to US$ 1,909.5.
Brent Oil was down 0.42% to US$42.27/bbl and WTI Crude Oil lost 0.64% at US$40.41/bbl.
USD/CAD traded at 1.3133 vs 1.3145 on the previous day. The US Dollar Index traded 0.39% higher at 92.96.
*All details after markets close on October 22, 2020