After six days of continuous declines, recovery in multiple sectors lifted the main Canadian index on Friday, August 20.
The financial sector gained 0.87% in the wake of rising US Treasury Yields.
While lingering worries over rising Delta variant cases continued to hit the oil and other commodity prices, the energy and base sectors were still able to climb up by ~0.52% and 0.85%, respectively.
At close, the S&P/TSX composite index rebounded by 123.66 points or 0.61% to hit 20,339.02.
1-Year Price Chart. Analysis by Kalkine Group
Gainers and Losers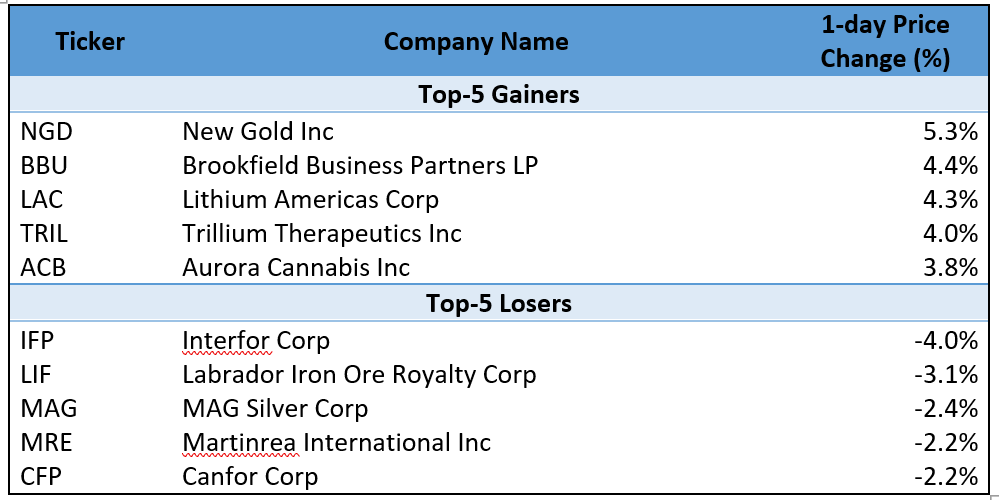 Actively Traded Stocks
HEXO Corp, Suncor Energy Inc and Nevada Copper Corp were the most actively traded stocks, with the trading volumes of 10.70 million, 8.13 million and 5.78 million.
Wall Street
Following a lackluster performance on Thursday, stocks made a significant surge to the upside during trading on Friday. All the main averages finished the day in positive territory. Despite the day's gains, the main averages are all down for the week.
The Dow Jones Industrial Average gained 225.96 points or 0.65% to 35,120.08.12, while the S&P 500 clocked 35.87 points or 0.81% to 4,441.67 and the Nasdaq climbed 172.87 points or 1.19% to 14,714.66.
Commodity Update
Gold traded flat at US$ 1,784.00, up by 0.05%.
Brent oil traded negative at US$ 65.18/bbl, down 1.19%, while Crude oil also traded negative by 2.15% at US$ 62.32/bbl.
Forex Update
The Canadian Dollar stood up against the US Dollar on Friday, while USD/CAD closed at 1.2821, marginally down by 0.04%.
The US Dollar index reported marginal weakness against the basket of major currencies and ended at 93.50, down 0.08%.
Money Market
The US 10-year bond yield gained some ground on Friday and ended in green at 1.255, up 0.94%.
The Canada 10-year yield also ended higher at 1.142, up 1.24%.