The S&P/TSX Composite Index ended a record week with yet another all-time high close of 19,852.18, up 0.39% or 77.7 points, on Friday, May 28.
The broader Canadian benchmark index hit a peak of 19,904.79 on Friday, which was just a few points shy of the 20,000-point threshold.
The increase was driven by strength in the healthcare, energy and industrials sectors, which were up by 2.47%, 0.79% and 0.67% respectively.
Seven out of eight TSX constituent sectors traded in green, barring Utilities, on Friday.

1-Year Price Chart (as on May 31, 2021). Source: Refinitiv
The broader Canadian index was hovering in a bullish territory, trading above all its support levels of five-day, 10-day, 20-day, 30-day, 50-day and 200-day SMAs. However, its 14-day RSI was hovering in an overbought zone at 77.8.
Major Movers and Gainers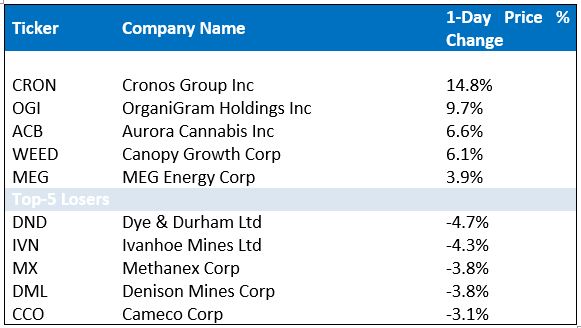 Active Volume
The most actively traded stocks on the TSX on Friday were BlackBerry Limited, with ~19 million shares, Auxly Cannabis Group Inc, with 13.5 million shares, and Zenabis Global Inc, with 12.9 million shares.
Wall Street
As statistics showing hopes for a durable recovery overshadowed inflation concerns in the United States, US equities finished higher on Friday to log weekly gains and a fourth straight monthly improvement.
President Joe Biden-led administration proposed a US$ 6 trillion budget on Friday and anticipated a deficit of US$ 1.8 trillion for the coming fiscal year as the White House pushes for major expenditure on areas like infrastructure and education.
Dow Jones closed at 34,529 on Friday, while the S&P and Nasdaq Composite Index closed flat at 4,204 and 13,749, respectively.
Commodity Update
Gold traded on a positive note, up 0.36%, at US$ 1,905.30/oz.
Brent Oil continued its positive momentum and closed at US$ 69.63/bbl, while WTI Crude Oil witnessed some profit booking and closed at US$ 66.32/bbl, down by 0.79%.
Currency News
On May 28, 2021, the Canadian Dollar traded marginally lower against the US greenback, while USD/CAD climbed 0.03% to close at 1.2068.
The US Dollar Index was up slightly against the basket of major currencies on Friday, closing 0.07% down at 90.03.
Money Market Update
The US 10-year bond yield slid 1.59% to close at 1.581 on Friday after gaining for the last two sessions.
The Canada 10-year bond yield, on the other hand, ended on a positive note, climbing 1.01% to 1.505 on Friday.