The main Canadian index noted a jump on Tuesday, July 6, amid a rally in technology stocks.
The S&P/TSX Composite Index increased by 0.09% to 20,300.03, while the technology sector climbed 1.52%, followed by telecom and utilities sectors.
The overall energy sector, on the other hand, fell by 2.94% as oil prices tumbled in the wake of the Organization of the Petroleum Exporting Countries' (OPEC) meeting falling apart.
The S&P/TSX Venture, meanwhile, fell for the second session to settle at 953.52 on Tuesday.
1-Year Price Chart. Analysis by Kalkine Group
Gainers and Losers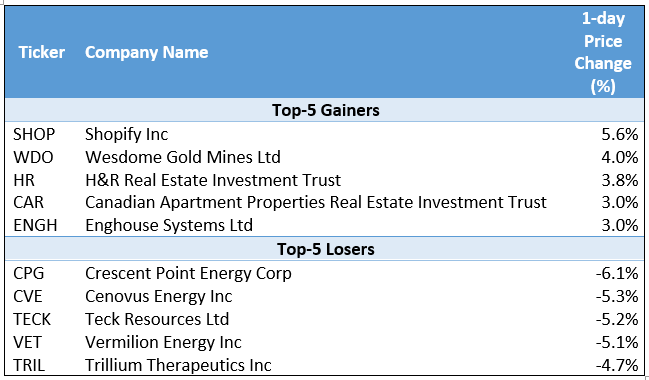 Actively Traded Stocks
The most actively traded stocks on the TSX on Tuesday were Toronto-Dominion Bank, with a trading volume of 25.47 million, followed by Bombardier Inc, with that of 16.73 million, and Suncor Energy Inc, with that of 9.41 million.
Wall Street Update
The major US stock indexes saw a mixed performance on Tuesday, following a big upward rise last week. Stocks slumped after Treasury rates plummeted to their lowest level since February 2021, putting a pressure on banks and small companies.
The Dow and the S&P 500, despite rising from their lows, ended the day in the red zone, with the Dow slipping 208.98 points to 34,577.37 and the S&P 500 dipping 8.80 points to 4,343.54. The Nasdaq, on the other hand, rose 24.32 points to 14,663.64.
Commodity Update
Gold extended its upward trajectory to trade at US$ 1,794.20, up by 0.16%.
After a long winning streak, crude prices witnessed some big correction on Tuesday, as Brent Oil dipped 3.41% to US$ 74.53/bbl and WTI Crude Oil sank 3.78% to US$ 73.37/bbl.
Currency News
The Canadian Dollar continued its losing streak against the US greenback for the second straight session on Tuesday, while USD/CAD grew 1.01% to 1.2462.
The US Dollar appreciated against the basket of major currencies and closed at 92.54, up 0.36%.
Money Market
The US 10-year bond yield recorded its highest single day correction in the last four months on Tuesday, down 5.86% to 1.352.
The Canada 10-year bond yield also tanked 6% on Tuesday to close at 1.317.