There hasn't been much to celebrate off late with regards to the stock market and Monday saw the TSX Composite Index stretch its red streak to five days in a row as it dropped 50.09 points, 0.24 per cent, to 20,571.30.
There was already plenty of uncertainty with an impending rise in interest rates, Omicron, inflation and the supply chain crisis. And now, geopolitical tensions with Russia and the Ukraine situation is only likely to add to it.
For anyone looking for a silver lining though, the technology sector posted a 1.8 per cent gain from Monday's trade and healthcare was in the green too. And for anyone who bet on buying Shopify's stock on the dip Friday, they had some gains as the index's biggest stock was the day's biggest gainer, up seven per cent.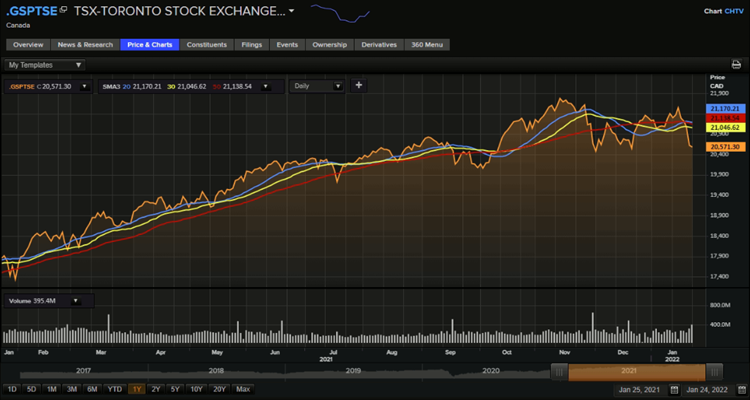 One-year price chart (January 24). Analysis by © 2022 Kalkine Media®
Volume actives

Suncor Energy Inc saw 19.7 million shares traded, making it the most active stock. It was followed by Enbridge Inc that saw over 19.4 million shares switch hands, and Canadian Natural Resources Limited also saw over 11.4 million shares traded.
Movers and laggards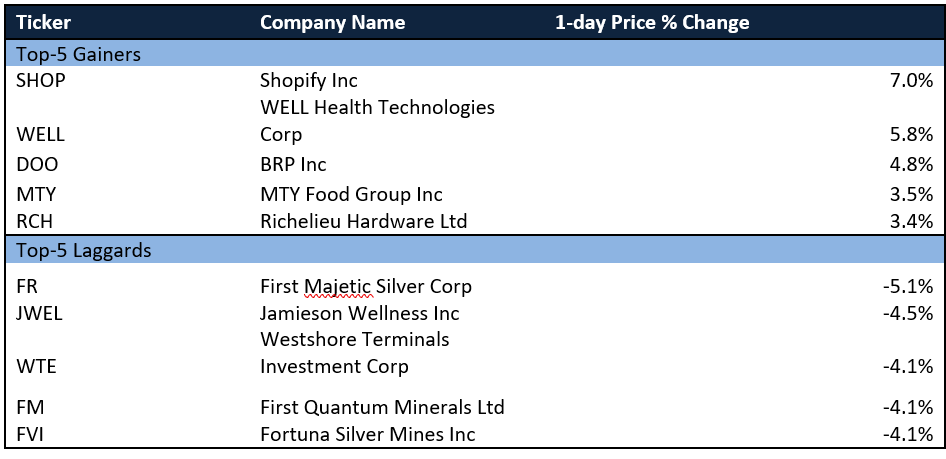 Wall Street update
In what may be another ray of hope, Wall Street rebounded as trade saw an uptick. The Dow recovered 99.13 points, 0.29 per cent, to 34,364.50 points, while the S&P 500 was up 12.19 points, 0.28 per cent, to 4,410.13 points. Nasdaq's benchmark regained 86.21 points, 0.63 per cent, to 13,855.13.
Commodities update
Gold rose 0.35 per cent to US$ 1,841.70. Brent oil fell 1.78 per cent to US$ 86.27/bbl. Crude oil was also down nearly three per cent to US$ 83.31/bbl.
Currency news
The loonie posted a 0.58 per cent loss Monday while USD/CAD ended at 1.2634. The US Dollar Index was at 95.92 against the basket of major currencies, up 0.28 per cent.
Money market
The US 10-year bond yield gained 0.2 per cent to 1.776 and the Canada 10-year bond yield was up 1.12 per cent to 1.812.