The leading index of the Toronto Stock Exchange, S&P/TSX Composite Index, closed 49.06 points or 0.273% lower at 17,909.03 on Friday. Sectors like Academic & Educational Services and Energy slipped ~6.22% and ~2.15%, respectively, while Consumer Non-Cyclicals and Real Estate was up by ~2.50% and ~0.62% respectively.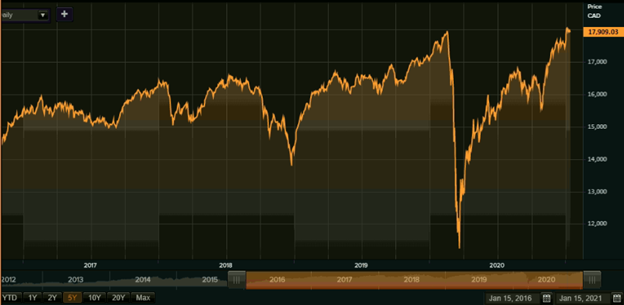 At the close, the index was featuring a dividend yield of 3.32% and traded at a Price-to-Earnings multiple of 19.94x.
The TSX Venture composite index slides marginally by 6.35 points or 0.694% and close at 908.00 on January 15, 2021.
Stocks in Play*
Gainers: Blackberry Ltd (up 8.90%), BRP Inc (up 6.04%), and Cogeco Communications Inc (up 5.99%) respectively.
Losers: Ballard Power Systems Inc (down 10.14%), Fortuna Silver Mines Inc (down 7.58%), and Arurinia Pharmaceuticals Inc (down 7.24%) respectively.
Volume Leaders: Namaste Technologies Inc (TSX: N), Therma Bright Inc (TSX: THRM) and Zenabis Global Inc (TSX: ZENA).
On Wall Street: Global benchmark indices of the United States slipped during Friday's trade, with the S&P 500 index sliding by 27.29 points or 0.72% to 3,768.25. Tech-heavy Nasdaq Composite index was down by 114.14 points or 0.87% to 12,998.50 while the Dow Jones plunged by 177.26 points or 0.57% to stand at 30,814.26.
Commodity News*
The international oil benchmark Brent Futures closed 2.34% lower at $ 55.10/bbl while Crude WTI traded 2.26% lower at $ 52.36/bbl.
Gold Futures traded loses on Friday's trade by 1.16% and closed at $1,829.90/oz.
Currency News*
The Canadian dollar fell against the greenback after adding for the last three consecutive sessions. At the close USD/CAD traded 0.77% lower at 1.2732.
The greenback was up by Friday's close, with U.S Dollar Index (DXY) traded 0.59% higher at 90.77s.
*All details as on January 15, 2021, after markets close.