The TSX Composite Index pulled back owing to a fall in multiple sectors, mainly the healthcare and energy sectors on Tuesday, September 14. The volatility in the crude and natural gas prices dragged the energy sector by 1.32% and the healthcare sector witnessed a fall of 1.87%.
Moreover, the proclamation of a corporate tax hike in the U.S. plummeted the financial sector by 0.59%. Among all the major sectors on the broader index, only utilities gained 0.015%. Hence, the TSX Composite Index shifted into the red zone after losing 113.16 points or down by 0.54%, settling at 20,553.25.
One-year price chart (as on September 14, 2021). Analysis by Kalkine Group
Active volume
Suncor Energy Inc. was the most actively traded stock where 15.43 million exchanged hands, followed by Canadian Natural Resources where 12.54 million exchanged hands, and Baytex Energy Corp. with 8.87 million shares exchanging hands.
Movers and laggards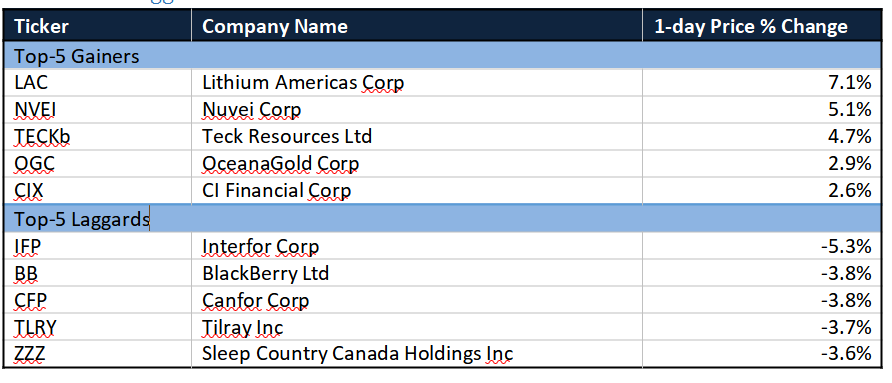 Wall Street update
At the start of trading on Tuesday, stocks were up, but they were under pressure later in the day. As the day proceeded, the main averages retreated from their early highs and sank solidly into negative territory.
The Dow Jones Industrial Average fell 292.06 points, or 0.8% to 34,577.57, its lowest close in two months. The S&P 500 shed 25.68 points, or 0.6% to 4,443.05 points, while the Nasdaq slid 67.82 points, or 0.5% to 15,037.76 points, finishing down for the fifth session.
Commodity update
Gold continued its gaining momentum and traded at US$ 1,807.10, up 0.71%.
Brent oil traded at US$ 73.60/bbl up 0.12%, while crude oil traded at US$ 70.46/bbl up by 0.01%.
Currency news
The Canadian Dollar slid against the U.S. Dollar on Tuesday, while USD/CAD closed at 1.2693, up 0.33%.
The U.S. Dollar stood at par with the basket of major currencies on September 14, and closed at 92.67, with no change from the previous close.
Money market:
The U.S. 10-year bond yield was weak on September 14, and ended in the red at 1.284, tanking 3.19%.
The Canada 10-year bond yield tumbled for the second straight session and closed in the red at 1.172, down 4.01%.