Summary

Canadian-listed Altan Rio makes push into Western Australia's prolific gold-bearing Southern Cross region
The explorer is firing up the drill bit as gold is on a hot-streak, outshining all commodities in 2020
The yellow metal continues to prove a strong investment throughout the COVID-19 pandemic and into 2021
Altan Rio operates two gold projects in two different geographies- Australia and Mongolia
RC Drilling campaign underway to test a number of highly prospective targets
Aspiring Canadian gold explorer Altan Rio (TSXV:AMO) has taken the plunge into Western Australia's historic Southern Cross greenstone belt, executing a joint venture over tenements in 2020 and currently running a highly-anticipated RC drilling campaign to test priority targets.
The Canadian's move into the WA goldfields followed careful analysis of the prospective but well-explored Southern Cross region, aided by a scintillating gold price which breached a previous high to hit US$2,073/oz midway through last year.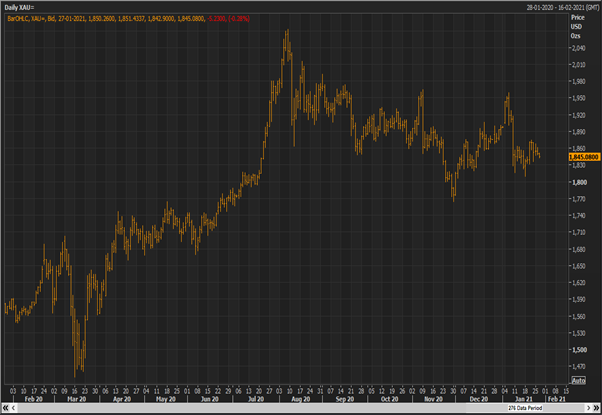 Gold Price Chart of last 1 year (Image Source: Refinitiv Eikon)
While the gold price has peeled back slightly since then, its reputation as a safehaven in uncertain times has ensured robust valuations are here to stay, offering a major tailwind to gold explorers, such as Altan Rio.
Altan Rio holds 15 prospecting licenses covering a total area of 23.7km2 at the Southern Cross North Project, representing the second largest tenement holding over the gold-hosting Frasers Corinthian Shear Zone (FCSZ).
The FCSZ is a high-grade section of the Southern Cross greenstone belt that has supported large-scale mines such as Bullfinch and Marvel Loch, as well as the Frasers (1.2 Moz), Hopes Hill (214 Koz), Pilot (54 Koz), Corinthia (190Koz) and Copperhead (1.5Moz) deposits.
The Company hold two mining licences comprising 12.73km2 area on the Chandman Project in Mongolia.
The Southern Cross belt finds itself in good company, surrounded by several massive goldfield producing regions, including Kalgoorlie (160Moz), Laverton (41 Moz), and Boddington (30 Moz).
The Southern Cross region has produced an estimated 12.3 Moz of gold during the period 1900-2019and is estimated to hold more than 10 Moz of gold reserves.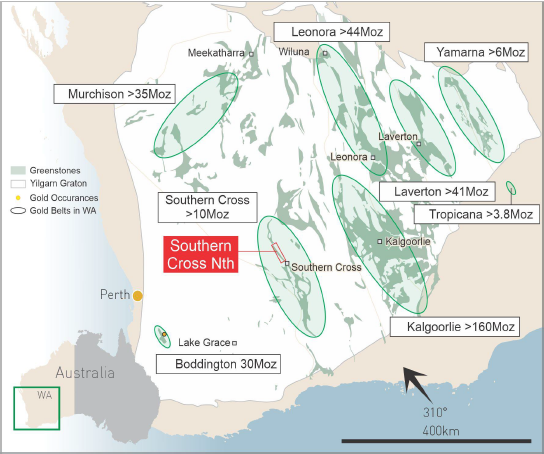 Project Location Map (Image Source: Company Presentation, October 2020)
The Company's latest exploration work is an RC drilling campaign that is testing strike extensions at a number of historic minesites as well as some promising new targets.
Some of these targets have yet to be explored in the FCSZ due to prohibitive farmland access and locationson salt lakes – both of which the Company has been able to resolve due to and consolidation and technical advancements.
A summary of some of AltanRio's high priority prospects is found below:
Pilot (50-50 JV between Altan Rio &Barto Gold
Pilot is a shallow open pit which hosted a toll treating operation that was shuttered in the 90's in response to a despondent gold price. The project offers immediate upside with the potential to host economic gold both in-ground resources and within historic stockpiles.
The project has the potential to generate cash in the short term, with amilling agreement in place with Bartoto supply the nearby Marvel Loch mill.
Marvel Loch is a major processing plant that has recently been upgraded and is actively seeking further feedstock.
Project Location Map (Image Source: Company Presentation, October 2020)
Aries
Altan holds 80% interest in the JV for the prospect. EIS and WA government are set to fund the drilling campaign along with Altan. Approval for drilling is already been secured.The main objective of the drilling campaign is to test the extension of Fraser Mine.
Paddock
Altan has a JV with Surveyor Resources Pty Ltd with the company owning 80% holding. Altan successfully negotiated land access with the native farmers who kept the access blocked for 30 years.
GPN
Altan owns 80% in the JV with Surveyor Resources Pty Ltd. The prospect is an extension of Golden Pig Mine.
Glen Innes
Altan and Surveyor Resources Pty Ltd. are JV partners. Altan owns 80% in the JV. The Company has already discovered gold mineralisation through a drilling campaign of 2019, giving way for further planned drilling.
Some light on the Mongolian 100% controlled mining licences.
Chandman Project
Chandman project is surrounded by gold and copper mineralisation across a large area in western Mongolia. The project comprises of two mining licences, both 100% owned, and is spread across 12.73km2. The tenements having 2.5% NSR are focused on epigenetic, porphyry copper gold mineralization, and stratabound skarn copper gold mineralisation.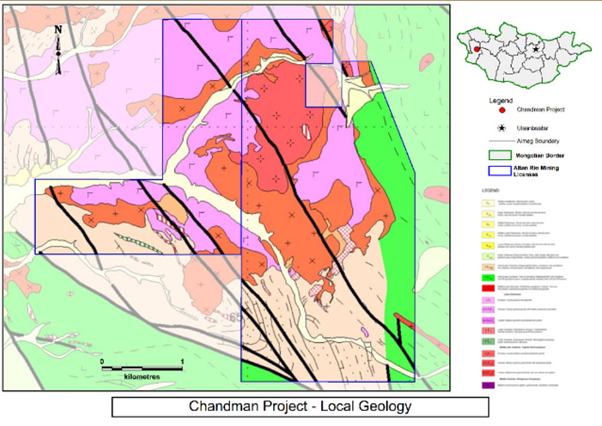 Image Source: Company Website
Seventeen diamond drill holes had been penetrated on various drilling campaigns between 2009 and 2010. Three of the holes hit significant gold-copper mineralisation, and the best result was 32.13m @ 1.49 g/t Au, 0.6% Cu and 8.07 g/t Ag, including 10.39m @ 2.71g/t Au, 091% Cu and 12.11g/t silver.
Cash and Financial Position
During the September quarter of 2020, Altan spent C$130,997 on the Southern Cross North Project's exploration activities. The Company holds cash reserves of C$1.50M as at Sept 30 2020
Share Price Movement
The Company closed the day trade at C$0.20 with a market cap of C$16.99 million as on 8 February 2021.