Highlights

The age limit for TFSA is set at 18 years and any eligible person can open a TFSA.
While making contributions to TFSA, you do not get a tax break.
If you have added money in TFSA in any form, it will be tax-free.
A Tax-Free Savings Account (TFSA) is a registered retirement account in Canada that allows the account holder to save, invest and withdraw without paying taxes on contributions.
TFSA works as an all-purpose savings account and offers flexibility to the owner. Though it is a "savings account," it can hold numerous mutual funds, investments, bonds, stocks, and exchange-traded funds (ETFs).
The age limit for TFSA is set at 18 years. Any eligible person can open a TFSA, withdraw money from it, and make any purchase, including a house, car, or vacation. The withdrawn money is also tax-free as it is an after-tax contribution.
What are the advantages of the TFSA?
TFSA gives a boost to the savings of any Canadian who uses it. It has some advantages that make it outshine compared to other saving options.
Tax-free earnings
If you have added money in TFSA in any form, it will be tax-free. CRA does not tax any amount earned in TFSA. This implies that if you add on stocks in your TFSA, you can get some serious gains without paying the taxes. You can hold various qualified investments without tax, including mutual funds, cash, stocks, and investment certificates.
In a TFSA, the return potential on your investments is tax-free and directly proportional to your savings growth.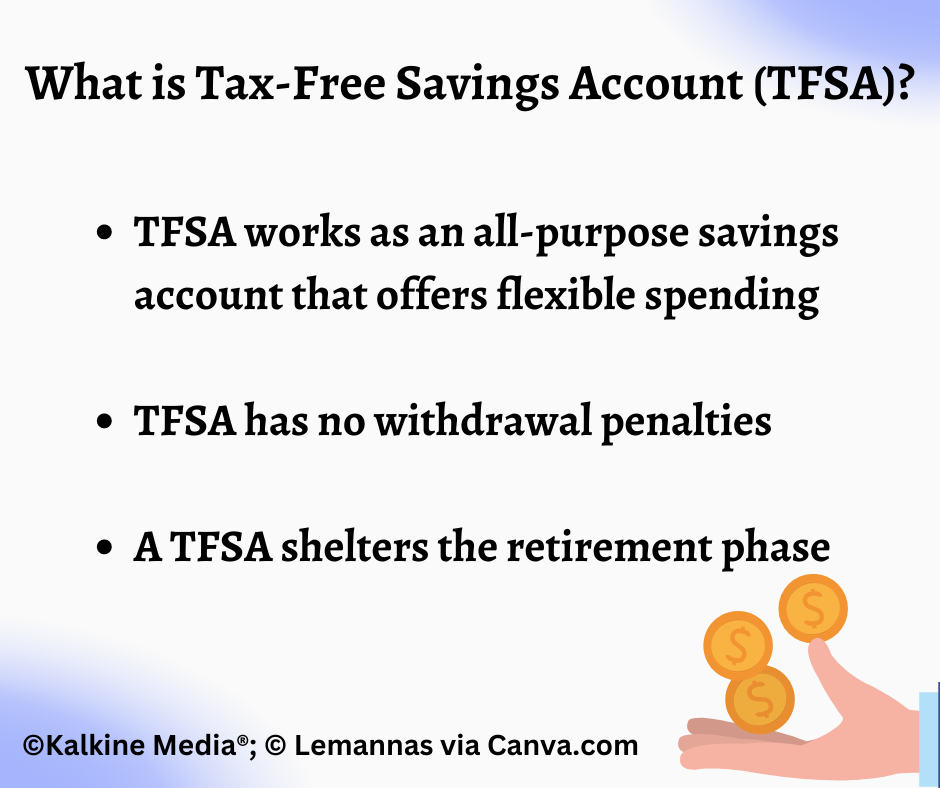 Flexible spending
TFSA is alternatively known as a savings account, not just a retirement account. It allows money savings irrespective of the purpose. It can be either for purchasing a new car or a new house. The TFSA's tax shelter protects everything that you add to your TFSA.
No withdrawal penalties
As against the other accounts specifically for retirement, TFSA does not levy fines on withdrawal. A retirement account may impose charges and penalties for withdrawing money before a specific period, but TFSA allows you to do so. There is no tax applicable on that amount. This makes TFSA a favourable saving tool for bigger and more expensive items.
Whenever you have clarity on the usage of these funds, you can withdraw and put them to the right use. This facilitates you to make more money for the things you want in your life.
Added flexibility
A TFSA offers flexibility for all kinds of goals. Irrespective of your goal term, be it short term or long term, you can save money in your account. Eventually, it makes you meet your financial and saving goals in lesser time. Along with the savings, it gives you the liberty to withdraw them anytime you want.
Retirement planning
A TFSA shelters your retirement phase. It provides additional tax-advantaged savings. Moreover, if you are above 71 years and are not allowed to hold an RRSP anymore, TFSA works in your favour.
What are the cons of tax-free savings accounts?
No immediate tax breaks
While making contributions to TFSA, you do not get a tax break, unlike when you are making RRSP contributions.
Complicated rules
Many people step back and do not use TFSA. Due to the complications in understanding the TFSA rules, people try to avoid them. Hence, they are not able to use TFSA to its maximum potential.
The contribution room must be tracked
No tracking of your contributions and withdrawals by CRA in real time exists. You have to keep track of things independently. If tracking is not done appropriately, it can lead to disorganization and overcontributions and penalties.
Day trading is not allowed
In TFSA, day trading is not allowed as it is considered your business income by CRA.
Bottom Line
TSFA might be a beneficial option for people to save and earn. It can allow people to grow and withdraw their balances tax-free.
The highlight is that withdrawal can be made at any time. Furthermore, TFSAs allow the users to carry out unused portions of their contribution room for the following years. Additionally, the account holder can add back their withdrawn amounts to the account in the next year.