Summary

Sultan entered into a Binding Agreement to acquire Colossus Metals and its Gold-Copper project in Macquarie Arc of East Lachlan Fold Belt
Land holding covers ~330 km2 with Big Hill, Ringaroo and Tucklan targets
As Gold prices surge, the prospectivity of Sultan's portfolio optimises to ensure maximum value generation for its shareholders
2020 has proved to be the year of gold. When many major commodities including coal and crude oil have been under tremendous pressure, gold has proven its worth by offering excellent performance vis-à-vis other assets.
Source: World Gold Council
With Gold' outshining almost all commodities known to mankind, the trajectory has reiterated the Gold's primary nature as a safe haven asset. Amid weak global economic conditions and now the unrelenting coronavirus outbreak globally. The LBMA gold prices have surged by ~15 percent since the beginning of the year and an even greater return of 36 percent in the past 1 year at a time when crude oil has depreciated by over ~65 percent since the beginning of 2020. In terms of Australian currency; the returns are even stronger, the gold industry is experiencing a solid bull run with potential for even further uptick in the future.
Sultan Enters the Lachlan Fold Belt
Sultan Resources Ltd (ASX:SLZ), the diversified Gold and Base metals explorer from Western Australia, is expanding its portfolio upon entering into a binding agreement to acquire Porphyry Gold and Copper project from Colossus Metals Pty Ltd. Colossus owns 3 exploration licenses stretching over 330 square kilometres located in the premier Au-Cu porphyry district in the East Lachlan Fold Belt of the New South Wales. The Macquarie Arc project includes 3 prospective targets at Big Hill, Ringaroo and Tucklan.
Sultan owns gold and base metals projects namely, Lake Grace, Thaduna, East Tallering and Dawallinu in the prospective Yilgarn Craton.
The East Lachlan Fold Belt hosts one of the largest Gold mining operations such as Newcrest Mining's (ASX:NCM) Cadia-Ridgeway operations as well as the biggest recent gold discoveries such as Alkane Resources' (ASX:ALK) Boda prospect. Mining companies of all scales have been seeking to secure exploratory mining ground in the Lachlan Fold Belt.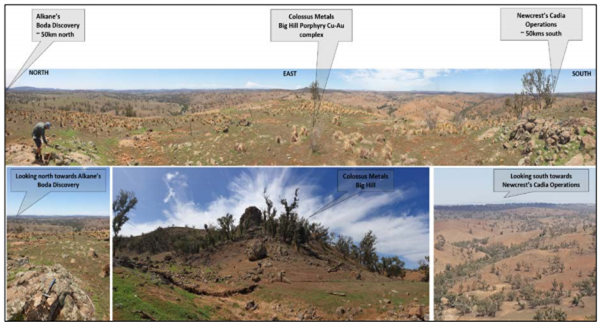 Panoramic views at the Big Hill prospect, with Boda (Alkane Resources NL) in the north, and Cadia Ridgeway (Newcrest) to the south Source: Sultan Resources
Sultan has planned to accelerate the exploration of the Gold and Copper Porphyry project in the Macquarie Arc. In fact, the first phase of assay results of the rock chip and soil samples has been already out within 3 weeks of approval of the acquisition by the shareholders of Sultan. Securing of a project of this scale is unusual and extraordinary for Sultan in the mineral rich regions of NSW.
The recent soil and rock sampling program from the Big Hill prospect resulted in High grade gold & copper rock chip assays which included samples with grades of 24.6g/t Au & 26.1 percent Cu, 2.69g/t Au & 7.55 percent Cu, 1.16g/t Au & 12.55 percent Cu, 0.51g/t Au & 4.49 percent Cu and. 0.94g/t Au & 5.71 percent Cu.
Source: Sultan Resources
The rock samples from the 1.5 Km strike at the Big Hill included high grade mineralisation from altered porphyry rocks of 2.50 percent, 2.21 percent, 2.14 percent and 1.30 percent Copper.
The Way Forward
The results from the Big Hill prospect reconfirms the potential of a large-scale Cu-Au porphyry in the Molong Belt in the lands of Cadia and Boda gold mines. Extensive further assay sampling has been planned for the future, along with an induced polarisation (IP) geophysical survey. The current soil and rock chip sampling program will continue to target gold mineralisation at Big Hill, Ringaroo and Tucklan deposits.
As of 31 March 2020, Sultan holds a cash balance of $2.326 million, which places Sultan in a comfortable position to progress with the upcoming exploration programs at the projects both financially and technologically.
Share Performance: Sultan closed at $0.15 on 26 May 2020, registering an increase of over 87.5 percent since the beginning of May, with a market capitalisation of $7.14 million.