Oro-mucosal drug delivery company, SUDA Pharmaceuticals Limited (ASX:SUD) has announced another set of robust quarterly results for the third quarter of FY2020. During the period, the Company made considerable progress in line with the 2020 targets highlighted ealier.
SUDA continued with the global expansion of ZolpiMistTM and continued to work on the assets from its key partnerships signed in December 2019. Moreover, the Company added another asset to its highly efficient management team. Taken together, it was certainly a busy quarter for the Company amidst numerous activities progressing in accordance with its staged business and marketing strategy.
In this context, let us quickly browse through key operational activities undertaken by the Company during the March quarter:
Signed New License Agreement with MTPK
In March this year, SUDA entered into an additional license agreement with MTPK or Mitsubishi Tanabe Pharma Korea Ltd, which is recognised as one of the top pharmaceutical companies of Japan.
SUDA granted an exclusive license to Mitsubishi Tanabe Korea for the rights to its insomnia drug ZolpiMistTM for South Korea, for a term of 10 years from the product's first commercial sale. The agreement provided further evidence of the Company's capability to advance the commercial potential of its insomnia drug.
The Company notified in the update that it would get an upfront fee of US$100,000, along with a regulatory milestone of a further US$100,000 on regulatory approval by MTPK. Besides, the Company also cited that it would be entitled to commercial milestones of up to US$300,000 and would receive a royalty of 12 per cent.
It is imperative to note that SUDA is continuing discussions with potential partners for ZolpiMistTM for other countries as well.
Commenced Feasibility Studies with Sanofi and Ordesa
SUDA also initiated feasibility studies with its partners Sanofi Aventis Groupe and Laboratorios Ordesa, S.L. during the quarter. The Company entered into a feasibility agreement with Sanofi and feasibility study and option agreement with Ordesa in December last year to conduct two significant feasibility studies.
Sanofi's feasibility agreement was signed to investigate the feasibility of its selected active ingredient and SUDA's OroMist® Technology. While, Ordesa's agreement was focused on conducting a feasibility study on a well-known consumer brand using SUDA's OroMist® technology.
SUDA stated in the latest quarterly report that both the feasibility studies are progressing considerably well.
Key Management Changes
Dr Michael Baker, who was appointed as the CEO of SUDA in November 2019, took charge of his position commencing 2nd January 2020, replacing Mr Paul Hopper.
Additionally, the Company appointed Mr Tony Macintyre as General Manager for its Perth operations. SUDA is delighted to welcome Mr Macintyre in its team, who has strong technical, operations and regulatory background.
SUDA also mentioned in its latest quarterly report that it would no longer commit resources to the ArTiMist project, while it would continue discussions with prospective partners, in line with its strategy to re-focus the business.
SUDA's cash receipts for the March 2020 quarter stood at $323,000, while its bank balance was $1,508,000 as on 31st March 2020.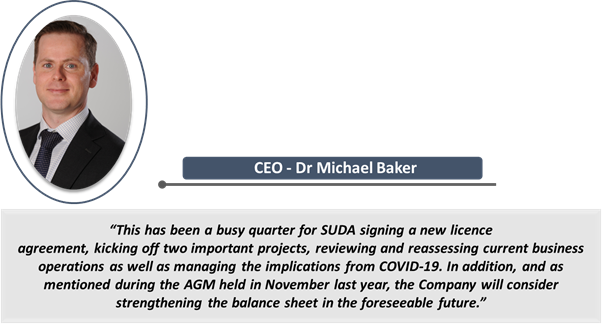 SUDA's progress in attaining partnerships with major pharmaceutical players validate its potential to flourish in the high-value markets. Besides, the Company is uniquely placed to leverage its solid network to strike large target markets including insomnia, cancer, migraine and medical grade cannabis, backed by its growth-driven strategy.
SUD traded at $0.052 on 4 May 2020 (11:34 AM AEST).