The adage "During a gold rush, sell shovels" fits well for this technology & hardware equipment company whose shares are up 16x in 5 years. The Company has managed to ride the gold mining rush successfully. Even in the short term, this Company has managed to report its highest half yearly profit.
The stock in discussion is Codan Limited (ASX:CDA), an AU$3.20 billion technology & hardware equipment company with a global footprint. Codan has offices in Australia, Europe, Middle East, Asia and America. The Company has a diversified range of electronic products backed by over six decades of operations. It has multiple innovative technological solutions in the electronics, communication and metal detection space. In addition, it has diversified its offerings by growing inorganically via multiple successful acquisitions.
Stock up multifold in 5 years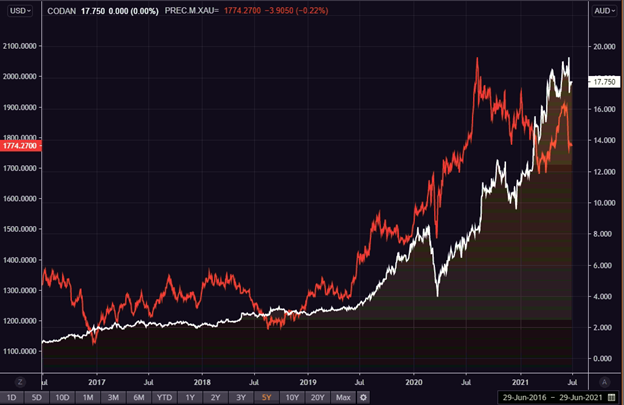 Image Source: REFINITIV, Analysis Kalkine
As can be deciphered from the above chart, we can clearly see that the upswing in gold prices is matched by Codan share price movement. Codan share price has shot up 16x from AU$1.09 to AU$17.58 in the past 5 years, and the share price has in fact apricated by 55% in the past 1 year alone. Let us understand in detail how the fundamental factors helped Codan to script a successful journey thus far.
Codan's work horses
Codan has two main business verticals- Minelab and Communications.
Minelab -the metal detection equipment business.
Gold and treasure hunters use Codan's metal detectors. Detectors under the Minelab brand are known for exceptional quality and are ISO 9001 certified.
The increase in the development of the transit sector significantly drives metal detector market growth.
Sector trend: The metal detector market is believed to have a sizeable growth potential, thanks to the boom in the commodity market. Vendors in the metal detector market, like Codan, usually focus on expanding their product offerings with an eye on innovative products.
Codan is a key player in this sector. Its' Metal Detection Sales grew 55% in H1-FY21. The Company is currently focusing on expanding its product portfolio & network presence.
Codan Communications – tactical communications business.
Codan provides trusted, long-range communications solutions, including HF technology and Land Mobile Radio technology. It also provides complete hardware deployment support through its partners.
Sector trend: The Tactical Communication Market is estimated to grow to a billion-dollar by 2030. The rapid shift towards asymmetric warfare is forcing militaries to increase investments towards network-centric warfare. The US is the largest military spender globally and is expected to generate huge demand for Leader and Manpack radios.
Codan Communications has recently produced the markets' smallest and lightest manpack, the Sentry-H 6110-MP. In addition, it is currently innovating with software-defined radio technology to overcome the inherent limitations of HF technology.
Recent key fundamental developments-
Codan recently sold its tracking solutions business-MINETEC. The subsidiary was sold after a strategic review, to Caterpillar Holdings Australia Pty. Ltd., for approximately US$14 million. The sale will result in a one-time pre-tax gain for Codan worth $AU3 million.
The funds received are planned to be used to pay down its loan facility. The sale will allow Codan to focus on the growth of core communications businesses.
It also acquired Domo Tactical Communications (DTC) and Zetron Inc. to expand its tactical communication business in the US.
Insider sales of AU$2.49 million took place in Q2-FY21. Codan's Managing Director & CEO Donald McGurk sold these shares in February 2021. Insider sales calls for more scrutiny by investors as it could be perceived as a loss of insider's trust in business potential. However, in the larger context, considering Mr McGurk's over all holding in the Company, the sales figure might not be considered substantial.
Codan delivers consistent growth in financials
4-year financials of Codan Limited, Data Source: REFINITIV. Analysis by Kalkine Media
Codan has been successfully growing its revenue in the past 4 years. The revenue growth is also accompanied by growth in free cash flow, net income and dividend. The topline has increased at a CARG of 20% while the operating profit, EBIT, grew at a much healthier clip of 46%. The Company managed to reward the shareholders with a 33% CAGR growth in divided during the same period.
Codan delivered an impressive set of numbers in H1-FY21 too. The Company reported its highest half-year profits of AU$41.3 million a 36% rise on pcp. The Group revenues were at a record high of AU$194 million, a 14% increase on PCP. Its fully diluted EPS was 22.8 cents, up 36% PCP.
CDA paid a fully franked interim dividend of 10.5 cents per share and the directors expect to pay dividends in future as well. It will help CDA align with its policy of paying shareholders 50% of the company's full-year profits as dividends.
How is Codan poised for the Future?
Growth Drivers-
The Communications business has reported a strong backorders in H2 FY21. Its recent acquisition of DTC will give it access to DTC's existing clients. DTC is expected to contribute approximately AU$90 million of sales, AU$14 million in EBITDA and AU$9 million profit before tax.
DTC is headquartered in the US, with locations in the UK and Denmark. It is expected to provide synergies for Codan. It will align with Codan's strategic growth plan for its Tactical Communications business, focusing on transitioning from a traditional voice platform to video communications.
Demand for Codan's metal detection products remained strong in H1-FY21. It expects stronger sales in Q4, ending Jun 2021. Minelab is expected to benefit from full-year sales and the release of a new gold detector. It has 5 other Key products under development in this segment.
Let us now look at some of the key business risks.
Business Risks
Codan's GPX6000 gold detector has been quite popular in the market. Strong sales numbers for the gold detector are expected in Q4-FY21. But its popularity in the recreational metal detection segment makes it prone to metal price speculation. Codan's share prices fell 11.8% on 21 June 2021 when gold prices dipped.
Codan has shifted its growth focus towards the tactical communication & critical communications segment. Any potential new waves of Covid-19 can pose a risk to this business. Even, Current travel restrictions may impact the business development initiatives in this segment. Though Codan's sales reduced in H1-FY21, it has backorders of AU$40 million and a strong sales pipeline.