Summary

The technology stocks have been performing well despite ASX 200 fluctuating because of economic instability.
ASX listed BrainChip gained 58% within a fortnight, backed by technological collaborations and development.
Texas based VORAGA signed the Akida early access program agreement to support a Phase I NASA program.
The Australian stock market has been long volatile due to the ongoing prolonged virus crisis. In last one week ending 15 September 2020, the benchmark index of ASX, S&P/ASX 200 (ASX:XJO) declined to 5,894.80 points from 6,007.80 points, representing a dip of almost 2%.
However, the ASX 200 technology sector has been giving much higher returns compared to ASX 200. The technology sector has played a pivotal role during the pandemic, facilitating work from home, video calling, online shopping, digital payment and e-health care facilities. Day to day challenges in the business and personal level has created a demand for intricate technology based solutions that called for more sophisticated tools. The need for such novel tools also augmented the development pathway of the technology sector.
On that backdrop, let us discuss ASX 200 listed artificial intelligence and machine learning solutions provider, BrainChip Holdings.
Share price skyrocketing, technological collaborations and investor's preference doing tricks
Within a fortnight, the share price of BrainChip Holdings Ltd (ASX: BRN) experienced a tumultuous movement with net rise of 58% from 1 September to reach A$0.49 on 15 September at day's end. The rise in share price has been mostly driven by high-end technological collaborations and development announcements released during the last 14 days.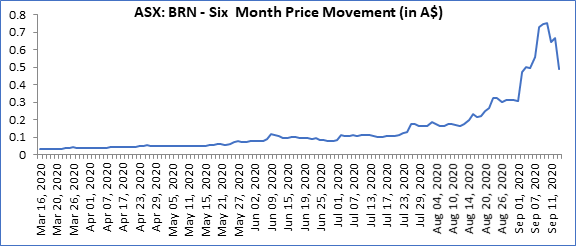 Stock up 53.23% to A$0.475 backed by collaboration announcement with VORAGO Technologies to support NASA program
Dated 1 September 2020, BrainChip, provider of ultra-low-power high-performance Artificial Intelligence technology, announced next day that VORAGO Technologies had signed the Akida early access program agreement with BrainChip. The alliance is to support a phase I NASA program through a neuromorphic processor that satisfies spaceflight requirements.
The device is a neural processor and addresses issues such as reduced component size, count, and power consumption which are extremely important in aerospace and spacelight applications. Also, with its incremental learning, new classifiers can be added to the network without reskilling the entire network. Real-time local incremental learning facilitates continuous operations in aerospace and spaceflight applications when discoveries or circumstances occur.
Texas based VORAGO Technologies has been providing radiation-hardened and extreme-temperature solutions for over 15 years to the Hi-reliability marketplace. One of Inc 5000's Fastest Growing Private Companies, VORAGO has a patented HARDSIL technology that uses cost-effective high-volume manufacturing to harden any semiconductor part designed for commercial purposes suitable for extreme environment operation.
The combination of both these technology companies will bring significant new capabilities to the spaceflight and aerospace applications.
Further boost in share price
On 4 September ASX announced adding BrainChip to S&P/ASX 200 Information Technology Index. Stock price touched intraday high at A$0.535, up by 7% from the previous close, though settled below 1% at the closing of the trading session.
ON 8 September, the Company again gained 30.36% on ASX. While there is no answer explaining the gain, the Company did announce promising developments regarding the VORAGO collaboration the previous week, boosting investor confidence.
Share Price gained 24% on the back of Akida NSoC design approval
On 14 September, the Company announced that it has approved the Akida Neuromorphic System-on-Chip (NSoC) design using functional silicon. Share price gained 24% from the previous close to reach an intraday high of A$0.800.
Approval of Akida NSoC design
Akida NSoC is an intricate integrated circuit to execute an entire neural network with no external components needed. It comprises - a CPU complex, multiple interfaces, Data-to-Event Converters, on-chip memory and a neuron fabric.
The neuron fabric comprises cores set in groups of four creating nodes that are mesh networked. The nodes help to implement various networks on a single device. The cores can be used for either fully-connected layers or convolutional layer, enabling users to form networks with Incremental Learning as well as ultra-low-power Event-Based Convolution. The Akida device was manufactured at a Taiwan Semiconductor Manufacturing Company (TSMC) plant.
CEO on technological milestones achieved
Louis DiNardo, BrainChip CEO has confirmed the validation of the functionality of the Akida silicon and the devices received from the Multi-Project Wafer will provide engineering samples and evaluation boards for early access customers.
Mr DiNardo said that their current focus is continued development of firmware and software drivers. Production mask set manufacturing is expected in Q4 of 2020, followed by volume production wafer fabrication, assembly and test operations.
He further added that the BrainChip team is very proud of achievement and milestones covered in their quest to introduce Akida and to get commercial success with a groundbreaking product that solves the practical challenges of implementing AI at the Edge.
Also read: An Exciting AI opportunity That Is Shaping Up Again – BRN
Recent stock performance going south
The share price took a 14.57% dip on 11 September and closed at A$0.645. Post a 3.88% gain on 14 September backed by the approval of Akida NSoC design, share price declined further by 26.87% on 15 September.
However, the Company delivered a return of 590.72% in the last three months and 2069.2% in the last six months, reflecting the technological boom in the pandemic era.