Source: Vitalii Vodolazskyi, Shutterstock
Summary

Despite their volatility, penny stocks provide a massive opportunity to make huge gains. Investing in such stocks requires thorough analysis.
LiveTiles has delivered a strong performance in the last year aided by strategic acquisitions including CYCL, Wizdom, and Hyperfish.
Redflex delivered an impressive first half FY2021 performance and is poised for further growth.
ALC recently entered a Medications Management deal with NZ DHBs. The Company also signed key contracts in 1H FY2021.
Penny stocks, although volatile, are appealing to investors seeking high returns. With bond yields rising, more investors are shifting their focus towards penny stocks, despite the risk involved. February 2021 witnessed multiple penny stocks offering substantial potential, giving investors one more reason to consider them.
With this backdrop, let us look at three ASX-listed penny stocks worth looking at in March.
LiveTiles Limited (ASX:LVT)
LiveTiles Limited is a workplace technology company that provides expertise and software products to improve productivity, innovation, and connection at the workplace.
On 01 March 2021, LiveTiles announced that CYCL achieved its first earn-out target for the period ended 31 December 2020. LVT acquired CYCL in December 2019, with earn-out conditions announced a month earlier.
LVT acquired CYCL to fast track its product roadmap and add CYCL's core product offerings Condense and MatchPoint. In its media release, LVT stated that LiveTiles Reach (known as Condense previously), as a market-leading employee communications tool, has propelled an improved demand for LiveTiles product bundled deals at an Enterprise scale.
CYCL's acquisition, coupled with previous acquisitions, including Wizdom and Hyperfish, has positioned the Company as a global leader in the Employee Experience Platform space. LVT believes that this segment has a huge market opportunity of ~US$300 billion.

1H FY2021 Performance:
LVT's 1H FY2021 performance was impressive, with a significant growth of 23% seen in annualised recurring revenue to A$64.7 million compared to the previous corresponding period. The total customers' cash receipts grew to A$47.1 million while the cash balance, as of 31 December 2020, stood at A$19.4 million.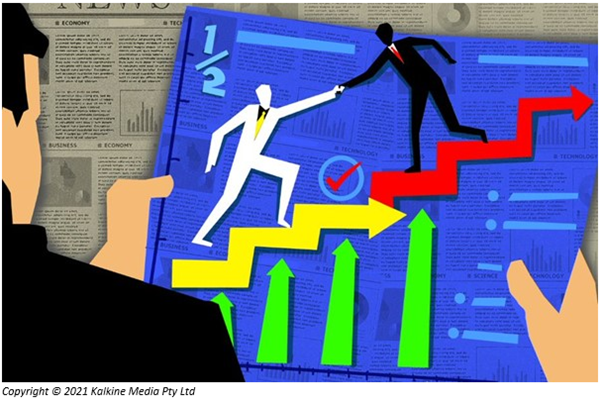 Redflex Holdings Limited (ASX:RDF)
Redflex Holdings Limited has proved itself as a global leader in creating and employing intelligent traffic management products & facilities offered in APAC, North America, the UK, and the middle east regions.
The Company delivered a healthy performance in the first half of FY2021 with 14% growth in EBITDA to A$6.7 million and a 6% rise in revenue at A$52.3 million. RDF noted that its recurring revenue contracts were over 80% of the Group revenue during the period. Once the new programs in the US become completely operational, the Company expects further growth in 2H FY2021.
The total contract value won in 1H FY2021 was A$33.9 million. The breakdown comprises recurring revenue contracts of A$17 million, and the remaining A$16.9 million is via project orders.
In the present time, RDF is well placed to expand revenue and earnings in 2H FY2021 and beyond.
Cash Flow Highlights:
Binding Scheme Implementation Agreement With Verra Mobility Corporation
On 22 January 2021, Redflex Holdings entered into a binding Scheme Implementation Agreement with Verra Mobility Corporation under which Verra Mobility would acquire 100% of the share capital of Redflex.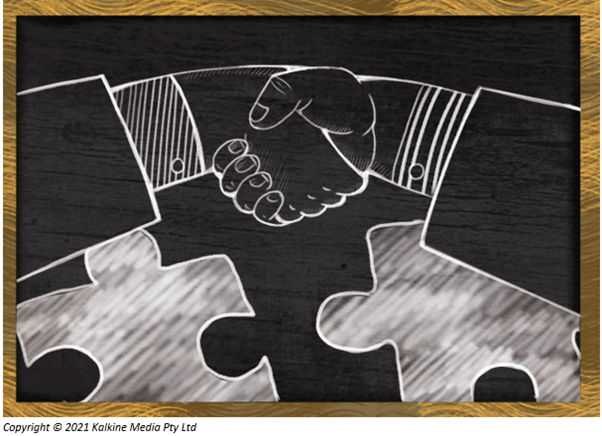 Alcidion Group Limited (ASX:ALC)
Alcidion Group Limited, the intelligent informatics software provider for high-performance healthcare, has entered into a deal for a pilot implementing Better's OPENeP Electronic Medication Management solution. The contract was signed with NZ's Te Manawa Taki (TMT) region District Health Boards.
OPENeP supports full closed-loop medication management that addresses five rights, including the right patient, right drug, right dose, right route, and the right time. It was developed in alliance with the clinical teams to line up with their workflows. It offers competencies, clarity, along with decision assistance to the critical care processes linked with drug management.
In April 2019, Alcidion was selected as a reseller & implementer of this solution for the UK and ANZ. This is the initial implementation of the OPENeP solution in the Southern Hemisphere. It would give New Zealand DHBs options when choosing closed-loop medication management solutions to enhance care delivery & medication security.
The initial pilot project would be undertaken to the value of A$0.6 million over 6 to 7 months (approx.)
Once the pilot gets completed successfully and funding for each District Health Boards (DHB), the implementation would be rolled-out to across all five DHBs. Further, the Company is in the process of employing OPENeP at Dartford & Gravesham NHS Trust. The Company also updated that a project with South Tees NHS Foundation Trust would start soon.
Through this project, the Company would be able to enlarge its presence in New Zealand and its other products in use across 7 DHBs.
1H FY2021 Highlights:
In 1H FY2021, the Company's performance was strong, with 36% growth in revenue to A$11.1 million and gross profit of A$9.8 million.
ANZ Miya Precision contracts:
These contracts were signed for 12 months with a scope to expand timelines and scope.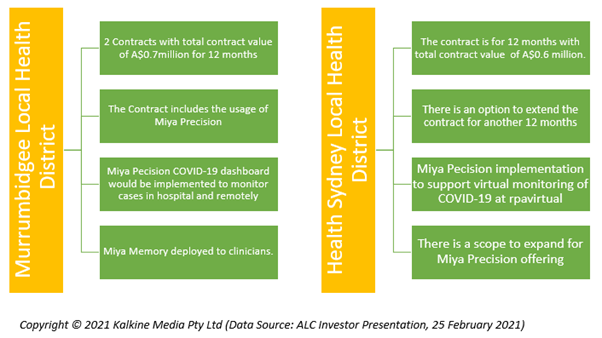 The Company also has contracts in the UK and ANZ with possibilities of further extension.
Stock Information (as of 4 March 2021)