Highlights

Warrego informed today (9 December 2022) that Beach Energy has surrendered in the takeover fight for Warrego Energy.
Beach Energy will be focusing on developing its current onshore gas assets in the Perth Basin.
Now, Hancock Energy is ready to acquire Warrego unless there is any further bidding.
Warrego Energy Limited (ASX:WGO), on 9 December 2022, shared it has been informed by Beach Energy Limited (ASX:BPT) that it intends to withdraw its takeover offer for Warrego. It is likely that now Warrego might move forward with the Hancock Energy's proposal.
Meanwhile, the share price of Warrego Energy was quoted at AU$0.295 apiece, down 3.278% at 12:00 PM AEDT on the ASX today. Around the same time, Beach Energy shares were trading at AU$1.670 per share, up 1.519% on the ASX.
Key details of the Warrego's proposed acquisition by Beach/ Hancock:
Warrego announced earlier that Hancock Energy Pty Ltd had increased the offer price under its takeover bid for Warrego from AU$0.23 per share to AU$0.28 per share.
Warrego by then had started the matching rights process in the Scheme Implementation Deed with Beach Energy Limited, under which Beach had 5 business days to match the revised Hancock takeover offer.
Warrego informed today that now Beach does not want to match the revised Hancock offer.
The Warrego Board has therefore recommended that Warrego shareholders should accept the Hancock's offer, in the absence of a superior proposal.
Warrego also informed that Strike Energy, on 7 December 2022, raised its ownership of Warrego to 19.9%, and that does not affect any future transaction with Hancock.
Warrego informed that the Hancock offer will remain open until 31 January 2023 after it is opened.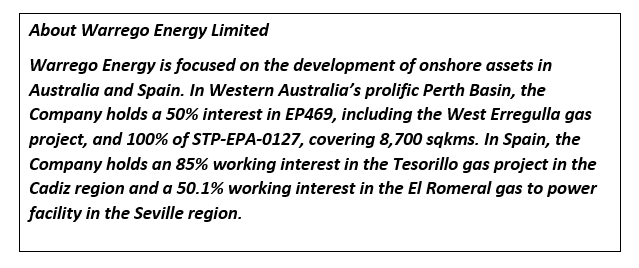 The share price performance of Warrego Energy Limited on the ASX
Warrego shares have shed 2.62% in the last five trading days on the ASX. However, in the last one month, the shares have surged 74.71% on the ASX. During the last six months, Warrego shares have moved up by 112.14% and have increased by 147.50% in the last one year of trade on the ASX. On a year-to-date basis, the shares have gained 147.50% on the ASX charts and in the last five years of trade, the company has moved up by 35% on the ASX (as of 12:12 PM AEDT, 9 December 2022).