Highlights

The share price of Narryer Metals has gained around 50% on the ASX today.
The company has announced high-grade Rare Earth Elements and scandium results from the drilling at Rocky Gully Project.
Recently, Narryer Metals managed to access pulps from six Herron Resources RC drill holes at the Ivar Prospect.
ASX-listed Ni-Cu-PGE (platinum group elements) exploration firm Narryer Metals Limited (ASX:NYM), on Tuesday (22 November 2022, shared that it has encountered high-grade Rare Earth Elements (REE) and scandium (Sc) results from the re-assay of pulp samples obtained from previous reverse circulation (RC) drilling at the Rocky Gully Project, Western Australia.
After this significant update, the company's shares zoomed up by 48.387% on the ASX and were quoted at AU$0.230 apiece at 1:00 PM AEDT.
Key takeaways from the assay results: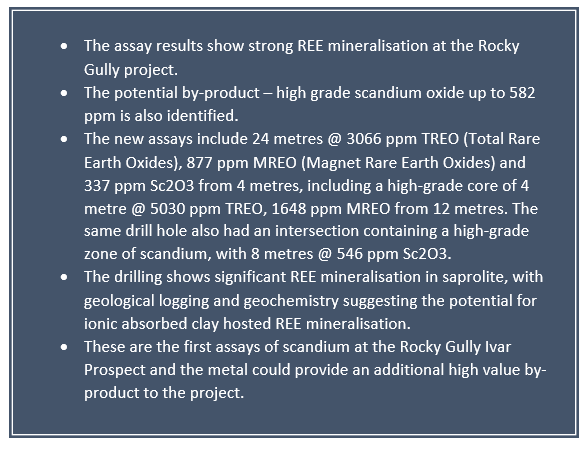 Dr Gavin England, Managing Director, stated:

The share price performance of Narryer Metals on the ASX
The shares of Narryer Metals have gained 79.17% in the last five trading days on the ASX. The shares have gained by 53.57% over the previous one month and have moved up 19.44% in the past six months on the ASX. However, during the last one year, the shares have shed 25.86% on the ASX (as of 1:35 PM AEDT, 22 November 2022).