Summary

Ora Banda Mining had completed several milestones during the September 2020 quarter and is nearing production at Davyhurst.
Besides $55 million raised through equity capital raising, the firm restarted several workstreams related to the processing plant, mining, infrastructure, and services.
OBM declared a maiden Mineral Resource, totalling 650,000 tonnes @ 2.1g/t for 43,000 ounces for the Riverina South Project.
OBM has maintained a robust, debt-free balance sheet with a cash balance of $53.1 million on 30 September 2020.
Distinctively placed gold exploration and development company, Ora Banda Mining Limited (ASX:OBM) has presented its operations update for September quarter. Broadly, the Company attained several milestones, including:
Completion of a $55 million equity capital raise
Commencement of several workstreams that are anticipated to return to production in the Q1 CY21
Continued progress with the structured regional exploration program
Interesting read: Ora Banda Mining Advancing Towards Production At Davyhurst, Open Pit Mining to Start This Week
Let us discuss the key developments of OBM during the quarter ended 30 September 2020 in detail.
OBM Nearing Production at Davyhurst
OBM has been seeking to advance towards production at Davyhurst project and awarded an engineering, procurement and construction contract in connection with the restart of the existing Davyhurst Gold Processing Plant to GR Engineering Services.
The refurbishment, optimisation and recommissioning of the existing 1.2 Mtpa Davyhurst Gold Processing Plant, bore fields and associated infrastructure are included in the scope of work and GRES had mobilised to site and initiated work in July.
The remaining work is being undertaken to high-ranking standard and stay on schedule and within the limits of the budget.
Ahead of the arrival of the operational workforce, the 172 room Davyhurst Village was upgraded to improve the village amenities
Engagement and mobilisation of the village services contractor to the site were completed.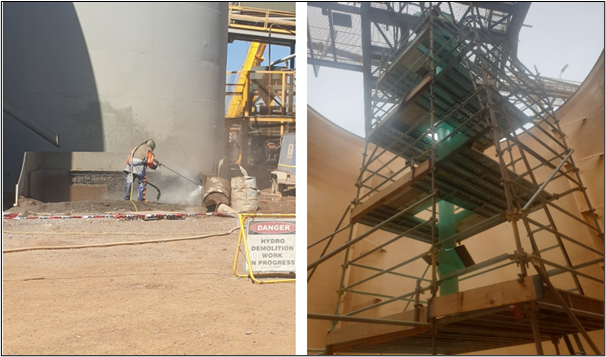 Hydro blasting ahead of concrete repair (Left) Surface treatment within the leach circuit (Right) (Source: ASX Announcement 29 October 2020)
Related: Ora Banda Reports Significant Increase in Mineral Resources at Riverina Project, A Walk-Through Yearly Developments
In addition to this, OBM commenced a 21,000-metre grade control drilling program, ahead of the beginning of mining operations and a total of 10,098 reverse circulation metres were completed during the quarter.
Presently, grade control drilling is continuing, and water bore drilling has been executed with a focus on fulfilling the water supply requirements of the mining operations.
During the quarter, OBM had engaged with an open-pit mining contractor and mobilisation of the mining fleet had started. The mining operations are expected to begin in October 2020.
Ongoing Grade Control Drilling (Source: ASX Announcement 29 October 2020)
Related: Ora Banda Reports 46% Increase In The Underground Mineral Resource At Riverina Project
Phase 2 Infill Reverse Circulation Drilling Program Completed At Riverina South
At Riverina South, OBM also completed Phase 2 infill reverse circulation (RC) drilling program that focussed on mineralisation in two discrete areas within the 1.0 km long target corridor. This was further focused on the area
Adjacent and immediately to the south of the main Riverina open-pit
Over the British Lion Prospect located at the southern end of the target corridor
The highlights from the assay results of the Riverina South exploration include the following:
Did you read: Ora Banda Mining Announces underground Mineral Resource at Callion, Updates Total Mineral Resource to 2.13M ounces
Furthermore, OBM reported maiden Mineral Resource totalling 650,000 tonnes @ 2.1g/t for 43,000 ounces for the Riverina South Project declared during the quarter. This includes an open-pit, as well as an underground component, and the Company's Mineral Resource statement now stands at 24.3Mt @ 2.3g/t for 2,170k ounces of contained gold.
OBM Maintaining Strong Financial Position and Robust Balance Sheet
On the balance sheet front, OBM stands strong with a well-capitalised and debt-free balance sheet, having cash of $53.1 million as on 30 September 2020.
OBM has been striving to engage actively in promoting its activities; however, several activities were halted due to travel restrictions in light of the COVID-19 pandemic.
Interesting Read: Ora Banda Mining Ready to Get the Boots on the Ground; Highlights Key Validations from DFS at Davyhurst Project
Key events subsequent to the reporting period include the release of all shares subject to voluntary escrow on 9 October 2020. Further, the Company has also completed open-pit mining fleet mobilisation and is currently progressing with the open-pit mining footprint.
Also, OBM has scheduled mining operations to commence toward the end of October. Moreover, the construction of a 50-room village had begun at Riverina to house the open-pit mining workforce under the scope of the project infrastructure package. This new camp shall offer operational efficiencies by eliminating shift travel time.
Related: Ora Banda Finalises DFS at Davyhurst Project; Results Indicate Strong Economic Returns
Importantly, gas storage bullet which was constructed in China for power station gas supply, has been delivered to the site.
All in all, OBM looks suitably positioned to commence production at Davyhurst Project subsequent to receipt of major approvals and permits.
On 29 October 2020, OBM share price quoted at $0.310 with a market capitalisation of $268.29 million.