Summary

Australian mineral explorer, GTI Resources has projects in the world-class uranium and vanadium producing district in the US (state of Utah) and in the central goldfields of Western Australia.
June 2020 quarter saw GTI making progress in the Henry Mountains Utah projects- positive results from a sampling program at Rats Nest project, completion of the maiden drill program at Jeffrey Project and entering a binding agreement to acquire two mineral leases from Anfield.
The preparation for Q3 exploration activity in Utah is progressing with field checks of the recently secured historical data package currently in progress.
Developments are accelerating at the Niagara gold project in Western Australia - progressing grant of previously announced new prospecting licence applications, acquisition of new licenses and completion of airborne magnetic survey in advance of September drilling.
Engaged in the exploration and evaluation of mineral and energy resources, GTI Resources (ASX:GTR) has acquired uranium & vanadium properties in Utah, USA and is also rapidly advancing its gold project in the central goldfields of Western Australia. Based in Perth, the Company's strategy in the first half of the year has been to focus on its high-grade USA uranium portfolio, having recently satisfied its expenditure commitments on its Western Australian gold assets.
GTI has been under the spotlight lately amidst promising market announcements, including conclusion of a significant data package review on its US uranium projects, entering into binding agreements to acquire three additional gold prospecting licences in Kookynie and delivering impressive quarterly results.
On 11 August 2020, GTI's stock quoted $ 0.030, up 7% during early trade hours. The stock has delivered over 250% return in the last six months.
GOOD READ: Walk Through GTI Resources' Splendid Journey in June 2020 Quarter
In this backdrop, let us acquaint with the Company's project portfolio-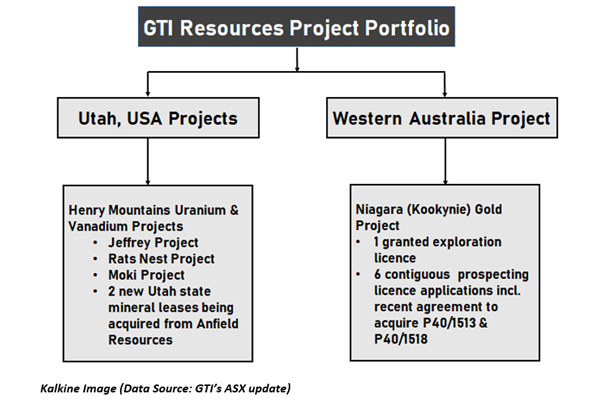 Uranium & Vanadium Utah Projects & Developments
GTI believes that it is well-positioned to add value to the US domestic uranium supply squeeze and has acquired a number of highly prospective uranium and vanadium properties located in the Henry Mountains, Utah. Most recently, it announced that it will acquire two State of Utah mineral leases from Anfield.
The region has a profound history of producing 92 mlbs U3O8 and 482 mlbs V2O5 at average grades of 2,400ppm and 1.25%, respectively from the Morrison Formation sandstones. Besides, the Company's properties are situated within trucking distance of White Mesa Mill, the only operating conventional uranium mill in America.
Image Source: GTI's ASX update
The Company's projects demonstrate sandstone-hosted mineralisation and shallow ore horizon, suggesting low-cost exploration. Further, walk-up drill targets suggest historical drill holes and accessible UG workings. Processing for uranium/vanadium ore follows a known conventional flow sheet.
Developments at the Projects are progressing well:
Maiden drill program was recently completed at the Jeffrey Project. This phase of exploration has quickly yielded data from 44 drill holes (new and historical drill holes combined) that can support GTI's understanding of the mineralisation and guide the next phase of exploration.
The Company also outlined eU3O8 downhole gamma assay results and vanadium XRF results from the maiden drill program at Jeffrey Project, confirming depth, thickness, and grade of mineralisation within and around historic production adits.
Sampling and mapping have been completed at Rats Nest, and GTI is planning for further exploration. Recently completed sampling program conducted on outcrop and underground workings saw samples return assay values ranging up to 0.87% U3O8 and 1.07% V2O5, confirming prospectivity of the Rats Nest project.
Further, GTI has entered into a binding agreement to acquire 100% of two mineral leases from TSX.V listed Anfield Energy Inc. The properties serve to connect its current ground positions in the area and more than doubles the size of GTI's land position in the area by conjoining its most prospective projects at Jeffrey and Rats Nest.
The Company has completed technical due diligence on the two mineral leases, including a number of XRF analyses to characterise exposed uranium and vanadium mineralisation.
More recently, GTI concluded the review of a recently acquired data package that contains valuable information regarding Jeffrey, Rats Nest and Moki claim groups and is targeted to support and enhance exploration activities, following the Anfield agreement.
ALSO READ: GTI Resources Acquires Extensive Historical Data Package: Head-Start To Next Utah Uranium and Vanadium Exploration Phase
Gold-based Western Australia Project & Developments
The Niagara project is located ~6km southwest of Kookynie in the central goldfields of Western Australia, within the central part of the Norseman-Wiluna greenstone belt. It comprises one granted exploration licence (E40/342) for which GTI was recently granted a 5-year extension of term until 07/05/2025. Four prospecting licence applications (P40/1506, P40/1515, P40/1516 and P40/1517) were recently pegged and applied for. The Company continued to progress the grant of these new prospecting licence applications through the June 2020 quarter.
The geology of the Kookynie-Niagara area is described by large rafts of semi-continuous greenstone stratigraphy within the Mendleyarri monzogranite batholith. Several historical workings occur within and to the north of the project area, with a number of key historical mines located near Kookynie.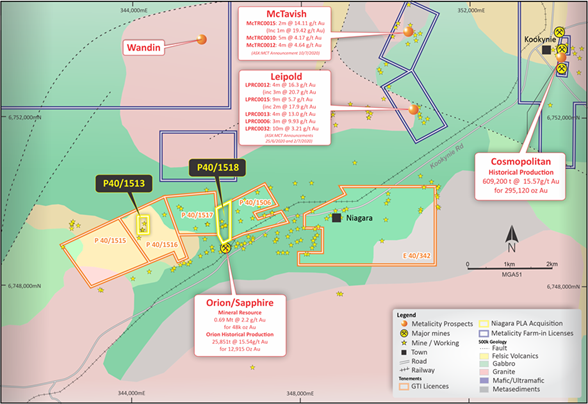 Image Source: GTI's ASX update
Developments at the Project are progressing well:
GTI completed an auger soil sampling program during March 2020, to investigate the potential for economic gold mineralisation within E40/342.
During June quarter, GTI undertook an airborne magnetic survey over the Niagara Project that aimed to follow up anomalous soil sampling results.
The Company entered into binding agreements to acquire three prospecting licences in the Kookynie region of WA's goldfields- P40/1513 and P40/1518 that adjoin GTI's existing applications at Niagara near Kookynie (New Niagara PLAs) and P40/1492 is a granted prospecting licence located ~15km northwest of Kookynie (Reach PL)
ALSO READ: Significant Developments at GTI Resources: Conclusion of Placement & Aeromagnetic Survey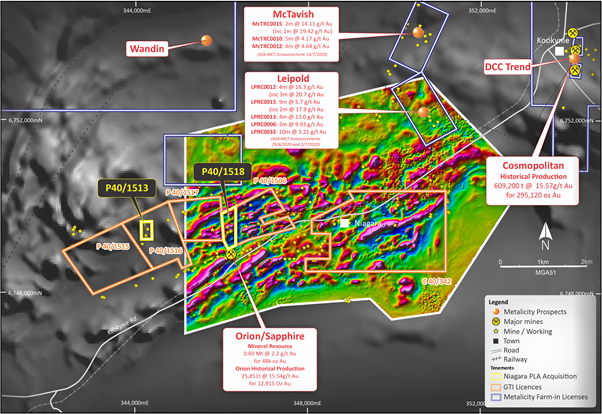 Image Source: GTI's ASX update
Way Forward
Reportedly, preparation for Q3 exploration activity in Utah is progressing with field checks of the recently secured historical data package currently in progress. Besides, the Company is awaiting drill core assay results from the drilling completed at the Jeffrey project in June 2020.
GTI is also moving to complete the Anfield acquisition within 3 months of the agreement being signed in accordance with the Term Sheet.
At Niagara Project, where term extension has been granted, future exploration is set to include ground truthing, surface sampling and drill targeting with a program of work (PoW) approved for up to 5,000 metres of drilling. Moreover, further interpretation of magnetic data from the recent aeromagnetic survey is being completed to help understand the mineralising geological system and target exploration work.