Summary

The benchmark S&P Goldman Sachs Commodity Index has gained as much as 30.86% since the start of the year 2021.
The Delta variant of coronavirus is expected to cap the commodity price gains.
Various ASX-listed metals & mining stocks have delivered significant gains amid rallying commodity prices.
The S&P Goldman Sachs Commodity Index (GSCI) has been on a trajectory of growth since the start of the year 2021. As per trading on a contract for difference tracking the benchmark market for this commodity, the index has gained as much as 30.86% or 610.10 points.
Commodity prices have been rallying, with the prices of crude oil, precious metals, and base metals on fire since the beginning of 2021. However, increasing number of new infections caused by the Delta variant of coronavirus is likely to cap the commodity price gains.
Good Read: APAC markets a mixed bag; commodity price swings in focus
10 hottest ASX-listed gold space players
Source: © Theohudayanto | Megapixl.com
In the precious metals space, the prices of gold continue to follow an upward trajectory, recently trading near their one-month high at US$1,808 per ounce. The trend is attributed to the growing demand for yellow metal amid increasing uncertainty, owing to rising cases of the new variant of coronavirus.
Must Read: Top ten fully franked gold stocks with high dividend yield
In that backdrop, let's have a look at 10 ASX-listed gold stocks that have delivered substantial returns in the past one year.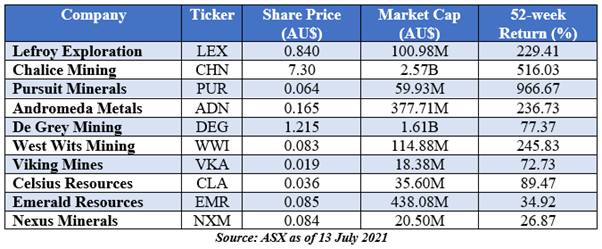 Lefroy Exploration Limited (ASX:LEX) is an Australia-based gold exploration company with its flagship Lefroy gold project in Kalgoorlie. The company is targeting multi-million-ounce gold discoveries in Western Australia.
Chalice Mining Limited (ASX:CHN) is focused on advancing its greenfield Gonneville PGE-Ni-Cu-Co-Au discovery at the Julimar Project, Western Australia. The company under its belt has another gold project, Pyramid Hill Gold Project in Victoria.
Pursuit Minerals Limited (ASX:PUR) is an ASX-listed mineral exploration company focused on gold, vanadium, PGE-Ni-Cu, and nickel projects in the world-class mining jurisdictions of Finland, Australia, Sweden, and Norway. In Western Australia, the company has the Gladiator Gold Project.
Andromeda Metals Limited (ASX:ADN) is an ASX-listed company with a vision to supply the world with superior quality industrial minerals​. The company is also engaged in developing several copper and gold prospects across Australia.
De Grey Mining Limited (ASX:DEG) is a Western Australia-focused gold explorer, advancing one of the most exciting gold discoveries of Australia at Hemi in the Pilbara region.
West Wits Mining Limited (ASX:WWI) is an Australia-based gold-focused exploration and development company targeting gold in South Africa and the Pilbara region in Australia.
Gold-focused company Viking Mines Limited (ASX:VKA) has its flagship First Hit Project in Kalgoorlie, Western Australia.
Celsius Resources Limited (ASX:CLA) is an Australia-based exploration company focused on copper and gold assets located in the Philippines.
Emerald Resources NL (ASX:EMR) is an Australia-based exploration and development company with its flagship gold projects in Cambodia.
Resource company Nexus Minerals (ASX:NXM) has a portfolio of gold projects in Western Australia.
Top 10 ASX stocks in the base metals space:
Source: © Gavinp101 | Megapixl.com
In the base metals space, the price of iron ore traded near the US$220 per tonne mark at the beginning of July. However, the stockpiles of imported iron ore at Chinese ports declined for four consecutive weeks to 123.95Mt as of 25 June 2021, the lowest in past eight months. The commodity prices have fluctuated lately due to the bad weather conditions in China and the country's push to cut steel output to achieve emission targets.
Must Watch: How to pick good iron ore stocks?
Let's skim through 10 ASX-listed iron ore players that have outperformed in the last 52-week period.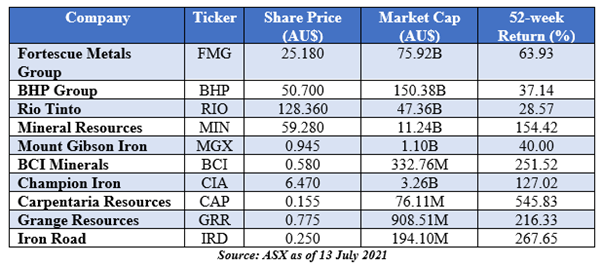 Fortescue Metals Group (ASX:FMG) is engaged in mining, processing, and transporting iron ore from the Pilbara region of Western Australia to various parts of the world.
BHP Group (ASX:BHP) is the world's leading resource player which deals in the exploration and production of iron ore and other minerals including coal, copper and manganese ore.
Rio Tinto (ASX:RIO) is the world's second-largest metals and mining company that is engaged in producing gold, copper, iron ore, aluminium, borates, coal, titanium dioxide, and other metals.
Mineral Resources (ASX:MIN) is iron ore, manganese, and lithium miner with a particular focus on the iron ore and hard-rock lithium sectors in Western Australia.
ASX-listed independent iron ore producer Mount Gibson Iron (ASX: MGX) has its assets in the Mid-West and Kimberley regions of Western Australia.
Supported by iron ore royalty earnings, Australia-based resource player BCI Minerals (ASX:BCI) is focused on developing a salt and potash business.
Champion Iron (ASX:CIA) is an Australia-based iron ore mining and development company that holds major assets in the southern Labrador Trough, Canada.
Carpentaria Resources Ltd (ASX:CAP) is engaged in exploring and producing high-grade iron ore projects with the flagship Hawsons Iron Project near Broken Hill, NSW.
Grange Resources (ASX:GRR) is an iron ore pellets producer that holds and operates one of Australia's largest integrated pellets production and iron ore mining business in the northwest region of Tasmania.
Iron Road Limited (ASX:IRD) is an ASX-listed iron ore player that holds and operates the flagship Central Eyre Iron Project, located on the Eyre Peninsula of South Australia.
10 ASX-listed battery metals space players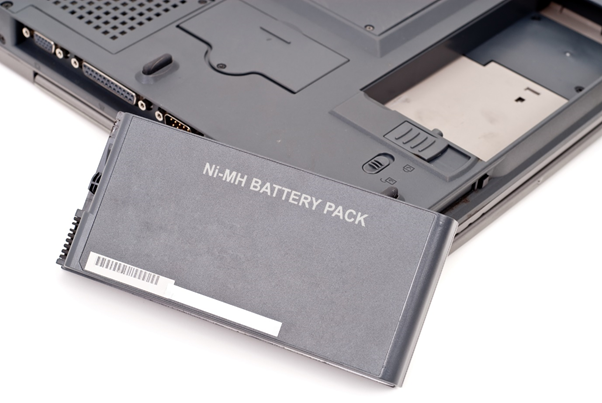 Source: © Jcjgphotography | Megapixl.com
In the battery metals space, the prices of lithium carbonate traded close to three-year highs of CNY90,000 per tonne buoyed by a global surge in demand for electric vehicles (EVs) and tight supplies. The demand for lithium is fuelled by most economic recovery plans which are betting heavily on EVs.
Must Watch: Which are the hottest ASX listed lithium stocks?
On the back of this let's glance at ten ASX-listed lithium stocks that have performed well in past one year.
Galaxy Resources Limited (ASX:GXY) is a leading lithium producer and developer, striving to become a major global producer of lithium. The company has an impressive and diversified asset portfolio.
Emerging lithium producer Core Lithium Limited (ASX:CXO) is developing one of the most cost-competitive and capital-efficient spodumene lithium projects in the Northern Territory.
ASX-listed pure-play lithium player Pilbara Minerals Limited (ASX:PLS) has a wholly owned hard rock lithium operation in Pilbara, Western Australia.
Australia-based Galan Lithium Limited (ASX:GLN) is developing high-grade lithium brine projects located in Argentina's Hombre Muerto Basin. The projects are located within the lithium triangle region of South America.
Dynamic lithium carbonate supplier Orocobre Limited (ASX:ORE) operates the world's first brine-based lithium mine.
Vulcan Energy (ASX:VUL) is an ASX-listed mining company that is advancing towards battery-grade lithium production using a direct lithium extraction process with zero carbon emission.
Australian-listed minerals company Infinity Lithium Corporation (ASX:INF) is seeking to develop the San José Lithium Project.
European Lithium Limited (ASX:EUR) is focused on advancing its 100% owned Austrian lithium project, Wolfsberg.
Lithium Power International Limited (ASX:LPI) is focused on advancing its lithium mine in Chile.
Novonix Limited (ASX:NVX) is a battery metal technology company. NVX develops and provides high-performance equipment, materials, and services for the international Li-ion battery industry.